The Guaguas intends to recover the ambition and offer subscriptions at 50 euros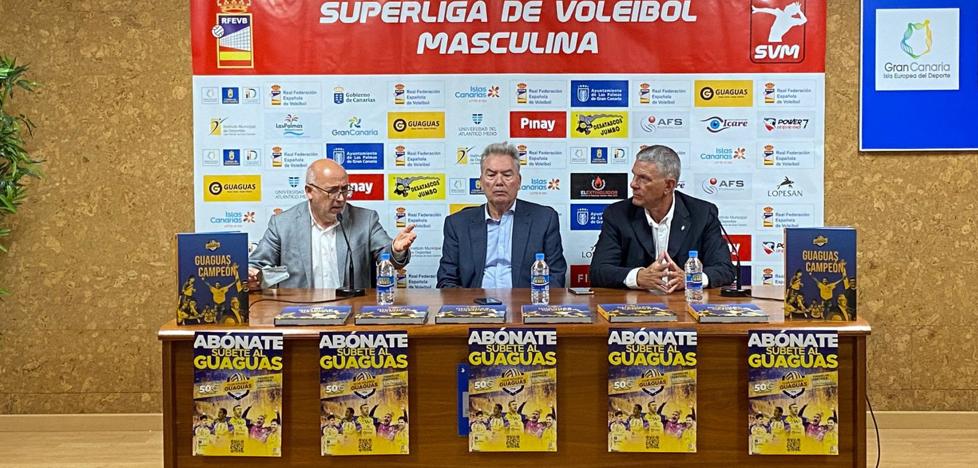 volleyball
The Gran Canarian club presented its season ticket campaign with the slogan 'Get on the Guaguas', with affordable prices to fill the Insular Center
Get on the Guaguas.
the buses presented the new subscriber campaign for the 2022-2023 academic year with the illusion of reliving glorious afternoons at the Insular Sports Center. Precisely, the Avenida Marítima venue was the place where Juan Ruiz, president of the yellow squad, announced the details of a campaign with which the club intends to reach more people for a season that is going to be exciting and exciting.
Also present at the event were José Luis Sánchez Ramón, secretary of the club and in charge of organizing the campaign, and Antonio Morales, president of the Cabildo de Gran Canaria, who wanted
accompany the entity on this important day.
The price of the subscriptions will be around 50 euros. With this subscription you will be able to access all the matches of both the Super League and the European competition that Guaguas will play this coming season. Likewise, those under 14 years of age will be able to enter the matches of the yellow team for free. On the other hand, each subscriber will have a completely free ticket for each match, so they will be able to come to all the matches with a companion.
The Guaguas will try to fight for all the titles next yearand looks for the fans to be the seventh player. The proposed goal is to reach a figure close to 700 subscribers.
Precisely, Ruiz said that «last season we had capacity restrictions except in the last games, where we managed to get around 1,400 and 1,500 fans to attend.
Now people are already going to sports venues in a normal way. The season ticket campaign is supportive and social».
«The price is 50 euros and includes both league matches and European competition. Children under 14 enter free. Therefore, a married couple with their two children can come at the price of a subscriber
. The Guaguas lends itself so that everyone can come and see us play at the CID"plot.
Likewise, Morales pointed out that "the history of the Guaguas is a success story, successes shared with Gran Canaria society. Despite the covid has withdrawn people, we are returning to normality and I am convinced that this
Centro Insular is going to fill up again to live good times with the Guaguas. I encourage everyone to fill this Insular Sports Center as we did in the nineties. I wish you success."
In addition, Sánchez commented that "this campaign is characterized by two words:
social and supportive. This year we need all the possible support in all areas from our fans. From today you can already acquire your subscriptions ».