The Guaguas imposes its law before the descended Almoradí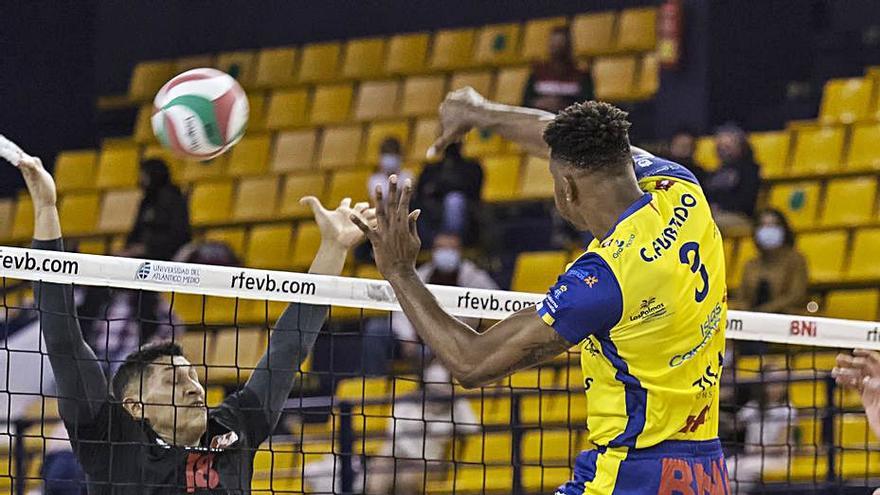 Guaguas knocked down a combative Almoradí who took home the second set and who appeared at the Insular Sports Center as the bottom of the competition.
The first set began with a partial 3-0 for a Guaguas (4-1) that should not be trusted before the position of the table occupied by Alicante, who have already confirmed their demotion for next season. The current leaders of the Super League showed from the start of the game their null intention of letting themselves win at home and, a few minutes after starting, they added an income of eight points: 10-2.
Sergio Camarero's players set the pace of play in the capital of Gran Canaria against an Almoradí Volleyball that was also successful and was able to cut a large part of the advantage gained by Guaguas (14-10). However, the approach of the Alicante players alerted the yellow players and they once again tipped the balance in their favor (20-11). In the end, the set stayed on the island by an incontestable 25-14 run.
Matter of pride
The second round started with a score tied at 6 that did not decide to lean towards either team, until CV Guaguas added a 3-0 (11-8) partial with which the yellow players once again certified their intention to finish as soon as possible with this penultimate commitment of the regular course. The Almoradí, following its objective of saying goodbye to the league in style, equaled 12 and took the lead (12-13). The emotion returned.
The people from Alicante added a partial 3-0 (17-20) when the final stretch of the second period approached and forced coach Sergio Miguel Camarero to request a time-out to reverse this situation, especially in the face of a first set led from start to finish for the Gran Canaria. However, Guaguas lost 23-25 ​​in the second set. The descendant was not considered dead.
The weight of logic
The yellows entered the third set with energy and determination to reverse the situation. A few minutes after the start, Guaguas, led by Guilherme Hage who conceded three points in a row, put the score 5-1 in their favor. The yellow rent continued to increase and every time it made it more difficult for Almoradí to cut back (14-6). With the 16-8 box, those from Alicante fought but could do little to change the dynamics of the set, which ended with the victory of Guaguas 25-13.
The crash was flying to a room and Camarero's wards aborted any concessions. It would be the last heat if the Gran Canaria maintained the level seen in the first and third sets and, with the score 9-3, they were ever closer to achieving the goal of consolidating their first position in the table (17-6). Ruthlessly, those of Camarero imposed their law.