The Guaguas dispatches Melilla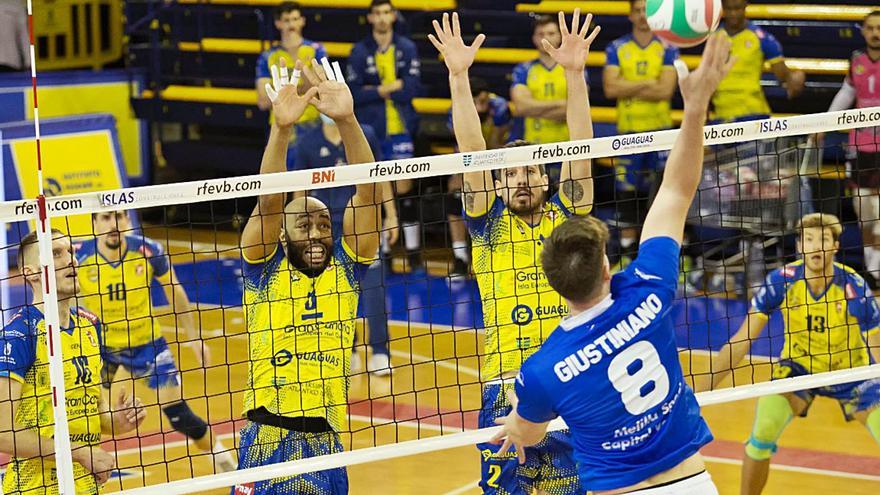 The Guaguas closes the year 2020 in style. The Gran Canaria team won yesterday, in a postponed match of the thirteenth day of the Men's Volleyball Super League, on the fast track to a Melilla who never felt comfortable in a match in which he was in tow of the locals from start to finish. end (3-0). The island team equals the 40 points of the leader Teruel, who will have to score points in his duel against Ibiza Ushuaïa Vòley to break the existing co-leadership between Teruel and yellow.
Guaguas entered the game in the best way, making blocking its main weapon against the attacks of a Melilla that ran into the response of Matt Knigge, Kukartsev and Moisés Cezar to force his coach to stop the game with a 10- 5.
Guaguas' errors in the resumption of the game gave Melilla some air, but Almansa, Hage and Kukartsev kept the visitors at bay and widened the differences: 25-15 (1-0).
In the second heat, the yellow players put the direct to finish the match on the fast track, taking advantage of their coach Sergio Miguel Camarero to reward the less common players who responded to the confidence of their coach closing this round with a clear 25-15, after a winning shot by Luca Biliato, who made his debut with the team in an official match, making it 2-0 in the Centro Insular's electronic scoreboard.
A 6-1 start in the third set, with Matt Knigge giving a recital in the block, served the locals to present their credentials to another partial victory. But Melilla kept the guy in front of a Guaguas that kept setting the pace at will.
The errors of the Gran Canaria and Giustiniano side allowed the North Africans to cut the difference to one point (11-10). Then, between Hage, Matt Knigge and Kukartsev pressed in attack to take off again to three points of advantage forcing the visiting coach to stop the clock with a 14-11.
But the locals did not seem willing to extend the last game of the year more than necessary. Hage and Kukartsev put the direct to certify the thirteenth triumph of the Guaguas course: 25-21 (3-0).