The green recovery is also built with brick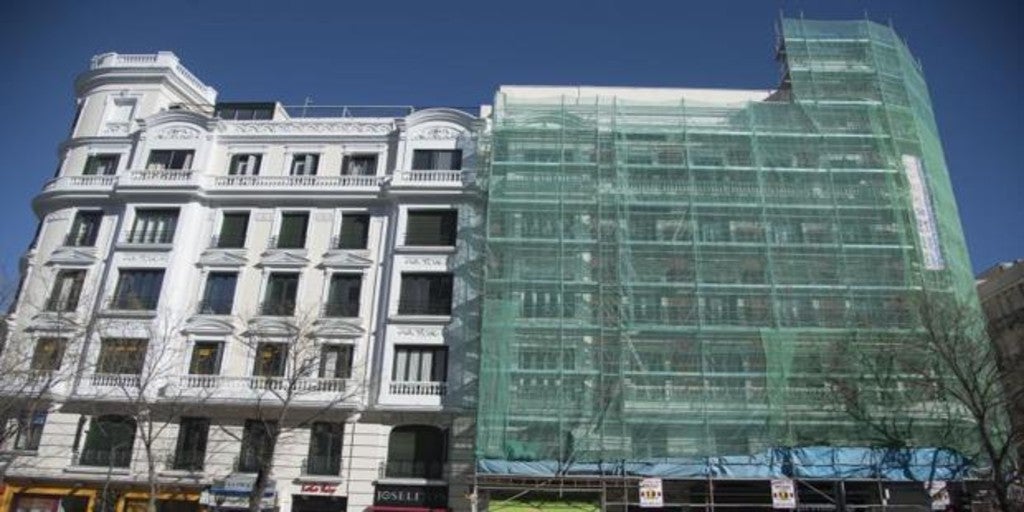 MADRID
Updated:
Keep

The time has come for our neighborhoods, buildings and homes to decarbonize. In the coming years they will have to be more sustainable and improve their energy efficiency. This means that they must consume less, isolate themselves more and even incorporate renewable energy sources. But our real estate stock (25.7 million homes, of which 19.3 are main) will also have to cover many of the cracks where there is water. The Government also wants better preserved, more comfortable, accessible, safe and digitized buildings, as stated
the Urban Rehabilitation and Regeneration Plan, which endowed with 6,820 million euros is one of the ten driving axes of the Recovery, Transparency and Resilience Plan sent to Brussels. Therefore, it is possible to think that the construction and real estate sectors will become two of the great pillars on which the architecture of the economic reactivation that our country will undertake after the pandemic in the coming decades. And that translates into more jobs and business for large companies, SMEs and the self-employed. In fact, According to estimates by the Executive, the rehabilitation of buildings and homes will generate 188,000 direct jobs and will inject 13,500 million euros more into GDP.
The work is colossal especially considering the X-ray of the Spanish real estate park, which needs many reforms in many other aspects apart from energy. It is an old park: 50% of the buildings for residential use, that is, 9.7 million dwellings, are older than 1980. One million of those homes are even in poor, bad or dilapidated condition. 75% are not accessible. Furthermore, around 40% of buildings that have four or more floors do not have an elevator. And from an energy point of view they leave much to be desired. In a classification from A to G, where A are more efficient buildings (they consume up to 40-50% less energy than a building with an E or G classification), 81% fall between the letters E, F or G. Just 0.2% rose with the type A energy label. "The Spanish housing stock is in dire need of energy improvement and many other factors," he warns Lluís Comerón, president of the Higher Council of Architects of Spain (CSCAE).
Do not forget that buildings are responsible for 30% of energy consumption in our country and 40% of CO2 emissions, responsible for the greenhouse effect. Therefore, in a decarbonized Europe, and in light of the situation of our housing stock, our buildings and homes need a profound transformation.
In order to renovate, improve and make this entire real estate park more sustainable, the Urban Rehabilitation and Regeneration Plan includes several lines of action. The finishing touch is the "Rehabilitation program for economic and social recovery in residential settings", endowed with 3,420 million euros, which will go to the reform of entire neighborhoods (976 million) and complete buildings and even private homes (1,994 million). Another 450 million will be dedicated to cover tax deductions.
The Government has opened the field of action, explains Lluís Comerón. «He is aware of the changes that our housing stock requires. The European funds are for energy actions, but it opens the possibility of other actions such as improving accessibility and the state of conservation, for example ". Because, as detailed Dolores Huerta, general director of Green Building Council Spain (GBCE), the Council for Green Building of Spain: "It makes no sense to put solar panels, if there are cracks in the facade."
The program includes direct aid and subsidies to improve the envelope of a building (on facades and roofs); incorporate renewable energies for heating, cooling and sanitary hot water; to improve accessibility or the lighting system, digitize buildings … For example, the comprehensive reform of a building may receive a subsidy of between 35 and 100% of the investment made. And in this case there will even be help for, in the same comprehensive reform, to be able to change the windows of the houses and "other construction elements" at a private level. The program aims to carry out half a million actions in the next three years in 300,000 homes.
Tax deductions
Tax deductions are also included for "works that contribute to improving the energy efficiency of the habitual residence". For example, they will be 20% if the demand for heating and cooling in the home is reduced by 7%, similar to the replacement of windows with a high-performance one. And there will also be deductions of 60% for the rehabilitation of buildings for residential use.
Of course, all aid will be conditional on compliance with certain requirements. In general, they will be obtained if the reform reduces energy consumption by at least 30% or improves the energy rating, reaching label A and B. "In order to obtain a subsidy, a comprehensive reform must be carried out that requires several interventions at the time. It is not only about changing the windows, but also about better insulating the building, improving the envelope of the facade and roofs, making the facilities use less energy, changing to less polluting energies, especially electrifying since that electricity will come from renewable sources. Each building is a world. There are many technological solutions, such as low-temperature water heating, underfloor heating … There are chalets with plots where wells have been dug to take advantage of geothermal energy, the heat from the interior of the earth. And comprehensive renovations have been carried out in buildings where, by removing two or three garage floors, it has been used to install these geothermal systems. There is also no one-size-fits-all solution. In the neighborhoods, you can build district centrals that heat the entire area, solve parking problems, improve equipment … Reforming an entire neighborhood is more efficient and they are also dynamics that generate a tractor effect among the neighbors ", explains Dolores Vegetable plot.
But so far the rehabilitation of entire buildings and neighborhoods has not exactly been our strong point. And that "it is always more efficient to fix an existing building than to make a new one, because it leaves less carbon footprint," he says. Artur García, Sustainability consultant at Zero Consulting. But our rehab values ​​are very low. According to data from CSCAE, the rate of major renovation ranges between 0.2 and 0.4% each year, while in European countries it is between 1.5 and 2% (that is, between one and two buildings of every hundred). "The comprehensive reforms leave the building prepared so that no action has to be taken for 50 years," Comerón comments.
Against this background, the construction sector, and more specifically rehabilitation, have a great development ahead. «There is work for 40 years. In large and medium-sized cities there is much to rehabilitate. We have to get more used to comprehensive rehabilitation or change of uses and not demolish buildings that go to the landfill and build new ones that generate C02 emissions for their construction ", recommends Dolores Huerta. "A new rehabilitation sector is going to be built that will make the leap to modernization", predicts Comerón.
The Government program estimates that the population employed in the rehabilitation sector currently represents 2.2% of the labor market in Spain, one of the lowest figures in European countries. Neighbors, such as Italy, Germany and France, have that higher percentage: around 4%. If the level of rehabilitation activity in these countries were reached, the Executive estimates that the sector could generate 400,000 new jobs.
Workforce
"Construction has the capacity to absorb many workers and to recover those who come from the hospitality industry. But we need skilled labor. The construction sector in a modern country is not that of brick, wheelbarrow and sand, but it is an activity that uses new technologies, new machinery, new ways of building, new recycling methods … Now we have the opportunity to change the culture, to change the neighborhood, the building and the house. To develop it, there are large companies that will be driving forces, but the last mile will be for SMEs and self-employed workers. In addition, the construction and housing sectors have an enormous driving effect on other economic activities, "he says. Pedro Fernández, president of the National Construction Confederation (CNC).
Qualification
"Getting a more efficient building is more complicated. More knowledge and expertise are required to carry out projects. It requires the use of new materials, more special enclosure systems, more attention to detail and how the finishes are made. Qualified workforce is needed, and make this sector attractive to generate quality employment ", maintains Artur García.
In fact, in the residential rehabilitation program, the Government states that it will be addressed "taking into account the innovative approach to training in the rehabilitation sector, which will have as essential objectives the training and stabilization of the specialized workforce, to avoid the cyclical nature that has characterized it "in recent decades.
Homes of the future
Plans for the rehabilitation of buildings and houses, which will be endowed with European recovery funds, are only the first step. «Next Generation funds are a catalyst, but afterwards you have to continue rehabilitating without European funds. For this reason, it is important to promote private activity ", considers Lluís Comerón. Because there is also a lot to do. "Society has changed," he continues. And the homes we are in are not made for the people we are. We need homes designed for the elderly, with spaces for teleworking, with bedrooms for children who not only sleep in them but make their lives in them, we need terraces, galleries, more comfort … We need healthier homes, with sufficient ventilation to improve air quality, with paints that can absorb CO2, with better acoustic insulation … We need homes that will continue to be useful in the medium term.
Neighborhood community
The program for the rehabilitation of buildings and houses has accelerated other government initiatives that are aimed at making reforms in buildings to make them energy efficient. One of them is the Long-term Strategy for Energy Rehabilitation in the Building sector. And another is the National Integrated Energy and Climate Plan. This latest plan of the Government proposes to change the Horizontal Property Law to provide legal personality to the communities of owners. Thus they will be able to access bank loans more easily. Until now the banks were reluctant to grant these credits since if a neighbor did not pay they had to act against that owner. By providing the neighboring communities with legal personality, they will be the ones that have to demand payment from the delinquent owner.