The Granca nursery as a shuttle to the elite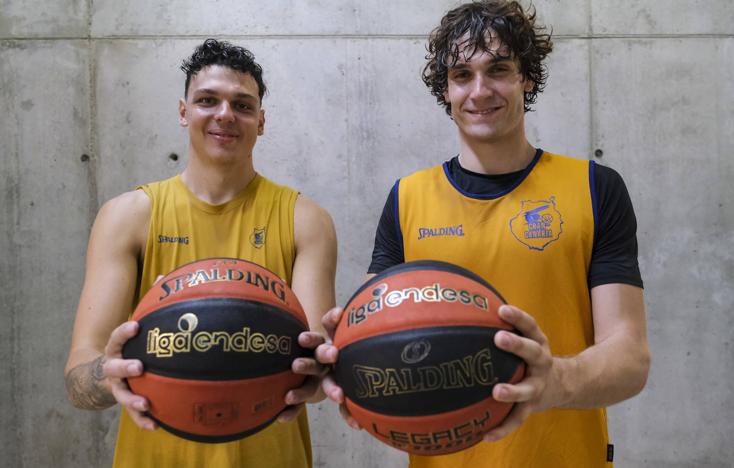 endesa league
The Turkish outsider David Mutaf and the Madrid insider Rubén López de la Torre promote the first yellow team for this 2022-2023 season after standing out in the LEB Plata subsidiary
Talent, energy and ambition. Two of the strongest promises of the generation of 2002 chose the Gran Canaria Basketball Club to fulfill their dream of reaching the national and continental elite. Rubén López de la Torre (Madrid, March 13, 2002) and David Mutaf (Istanbul, Turkey, June 14, 2002) are completing stages in the Claretian entity and, for the 2022-2023 academic year, they will form part of the
first template for all intents and purposes after standing out in the subsidiary that plays in the LEB Plata and, in addition, having debuted under the Segovian coach Porfi Fisac.
Rubén López de la Torre landed on the island in the summer of 2019 after leaving Real Madrid in the junior category, competing in LEB Plata for the last two years and
averaging 18.9 points and 8.8 rebounds in a final in which the squad coached by Gabi Alonso obtained permanence in the final tie against Gijón.
"I am very happy and looking forward to this beginning. I came here to be part of the LEB Plata team, in which I have been for the last three years, and also for a few days in the dynamics of the first team.
Now I am very excited about this new challenge of being part of the first team at last. Let's see how the season goes, let's hope everything goes very well, "says the Madrid player to this newspaper in the first weeks of preseason with the Slovenian coach Jaka Lakovic.
Rubén López de la Torre, who debuted in yellow against Barça at the Palau in the 2020-2021 campaign, indicates that the Balkan coach has asked him «
a lot of intensity, that I give everything of myself in defense mainly and that he leave me everything he has inside for the team ».
«
With colleagues very well. Whenever I have been training with them they have treated me like one of them and now that I am part of the team as such, much better », he adds.
As a personal goal, it is marked that the season goes «
the best possible, have minutes and give everything for the team».
Rubén López de la Torre considers that his progression has gone "just as he intended. I didn't expect last year's injury, but I was able to recover well after seven months off. I started with a little fear because I didn't know how I was going to come back and everything was on the fly.
I started playing good games and, in the end, I ended up having a very good campaign».
The international power forward for Spain in training categories sees the Claretian team «
fairly good ahead of this campaign.
"A priori it seems like a strange team with so many young people, but
we are going to show our faces and we are going to get as high as possible», he says, while highlighting the figure of Oliver Stevic with young people.
"Oli is here to help us, as he said.
He is a wonderful person and will help us in any way he can.. Besides, he is a great player », he comments.
Balcerowski, Diop, Kljajic...

The Granca nursery can boast of having
five players in the first team from the formation combinations.
"Indeed, there are five players from the subsidiary who are already with the first team.
A priori it seems like a very young team, which can be complicatedbut we are going to show that we are a great team", he exposes while having words for his coach in the subsidiary
Gaby Alonso.
«
Gabi is a great coach and a great person too. It has helped me a lot, especially when I have had bad moments, such as the injury.
Knowing how to channel the desire to play and be able to recover. I have very good times with him, "she analyzes.
For its part,
Mutafcanterano of the powerful Fenerbahce, arrived in Gran Canaria in February 2021, last year being a capital piece with 21.3 points and 3.4 rebounds per game. Likewise, he played three games in the ACB and four in the EuroCup.
«
I am really excited about this great opportunity. I hope to give my best every day», explains excitedly a player with enormous offensive talent, considered one of the future names of the Ottoman senior team.
Mutaf states that "I am trying to give
great energy the team on the pitch.
«
I came to Gran Canaria to play in the ACB, it's my dream. I want to work hard to make the most of this great opportunity for myself", underlines the sniper Mutaf.