The Gran Canaria Stadium gives the flag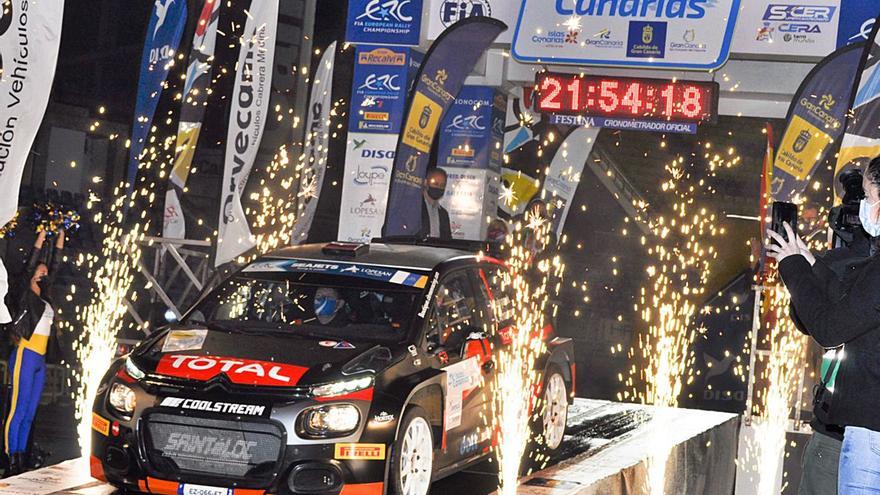 The facilities where Unión Deportiva Las Palmas plays, the Gran Canaria Stadium, hosted for the first time in history the formal start of the Rally Islas Canarias, the last round of the European Championship. Andreas Mikkelsen and Anders Jaeger-Amland, with Skoda Fabia R5, chose to start the sections of the first stage first, after choosing that box in the turn of the selection of the starting order.
The moment of truth has come for all the teams registered in the 44th Rally Islas Canarias, a test that will end the season in the FIA ​​European Rally Championship.
From the very facilities in which UD Las Palmas competes, the teams asked themselves the same question: the weather. The rain and the wind have been felt since last morning and could continue to do so during the first stage.
The first to know the state of the asphalt will be the Norwegians Andreas Mikkelsen and Anders Jaeger-Amland. Those in the Skoda Fabia R5 chose the number one position in the selection of the starting order of the test, a tactic with which they hope to repeat the triumph achieved just a few weeks ago in Hungary.
The first Spanish team to go to the special stages will be the one formed by Luis Monzón and José Carlos Déniz from Gran Canaria. Those of the Citroën C3 R5 left today behind the backs of Adrien Fourmaux-Renaud Jamoul (Ford Fiesta R5 MKII) and Nikolaus Mayr-Melnhof-Poldi Welserheimb (Ford Fiesta R5 MKII).
On the other hand, some twenty teams made some signed photos available to fans so that they could download them on the rally website. An initiative to try to be as close as possible to motor fans, who this year will not be able to enjoy the roars of the motors through the island's roads due to the protocol measures that have been applied to avoid crowds of people and that there is no possible infection among Rally fans due to coronavirus.
For this first stage, which has about 100 timed kilometers, the 'Valsequillo' special tests will be held (11.91 kilometers at 10.19 am and 2:54 pm); 'San Mateo – DISA' (12.01 kilometers at 10.41 a.m. and 3.16 p.m.), 'Artenara' (12.21 kilometers at 11.13 a.m. and 3.48 p.m.) and 'Tejeda' (12.95 kilometers at 11.35 a.m. and 4.10 p.m.) . The day will end with the urban special called 'Las Palmas de Gran Canaria – DISA' (1.53 kilometers at 6:33 p.m.