The Government will study with municipalities and councils the aid to the sports sector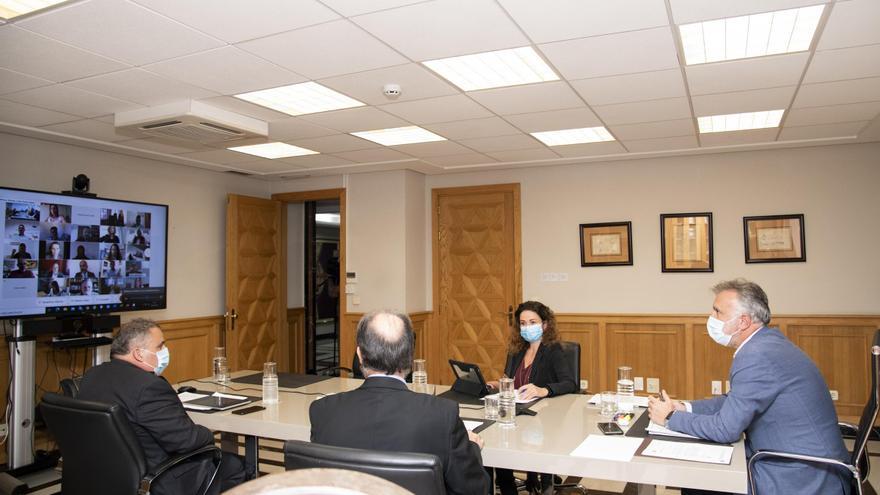 The President of the Government in the Canary Islands, Angel Victor Torres, has known this Monday the claims of the recently created platform Más Deporte Canarias, which brings together some 400 entities and seeks the reactivation of the sector in the Archipelago, although it has clarified that the measures of the different phases to contain the coronavirus pandemic are stipulated by the Interterritorial Council of the National Health System.
Anyway, the meeting has served so that the representatives of the platform have exposed to the president "important" proposals and questions, many of them being related to the restrictions, on what Torres affirmed has been "clear" because the measures that adopt autonomies through health authorities come from what was adopted in the inter-territorial council. "There can be no discussion because it is stipulated," he pointed out.
Anyway, he pointed out that this week Fecam and Fecai will be summoned to talk about the aid that will be allocated to this sector, while adding that he has noted fiscal aspects and possible decisions that have been transferred to him.
In addition, he added that the platform will hold a meeting with Public Health on Tuesday. Anyway, the president hopes that it will get better in the next few days and the economic activities that have had to be restricted can be recovered because "sport is health and it is necessary to look for formulas to make it coexist with the development or containment of the pandemic ".
For his part, the platform's spokesperson, Antonio González Molina, explained that the organization's first action is to develop a work plan that establishes a roadmap with strategic proposals that sets out a line of action in the 2021-2023 periods .
He also added that the platform is in a "positive key", hence the search for "consensus", at the same time that he promised to present, before February 14, a document that brings together the protocols to follow where, "working from prevention, the necessary reactivation of the economy will be taken into account, the promotion of the social cohesion of the citizens and the promotion of a culture of healthy habits of the population ".