The Government seeks to calm the agricultural and fishing sectors with an aid package of 430 million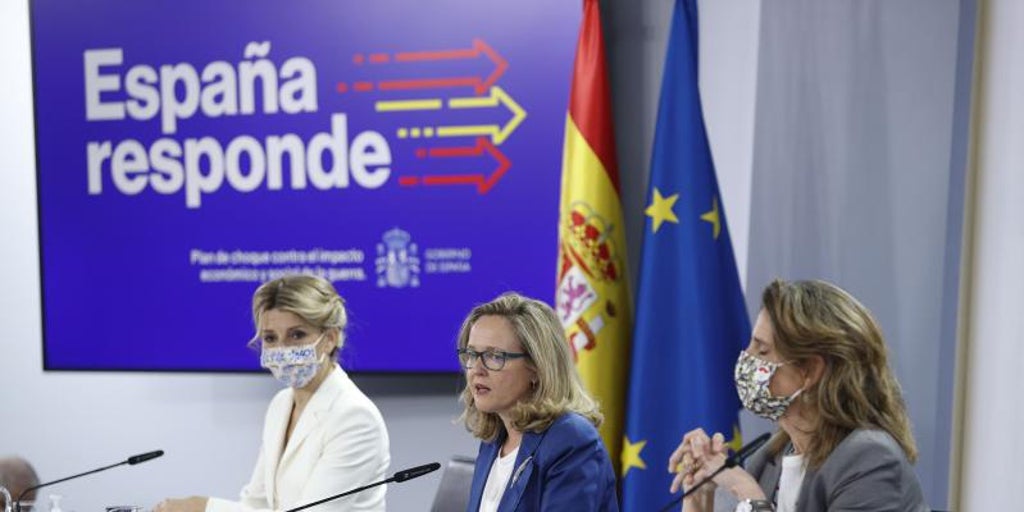 Carlos Manso ChicoteFOLLOW, CONTINUEMadrid Updated: 03/29/2022 14:32h
Keep
RELATED NEWS
The Executive has also collected this Tuesday measures destined to the agricultural and fishing sector for a total amount of 430 million euros within the Royal Decree-Law that is part of the National Plan of response to the economic and social consequences of the conflict in Ukraine. As ABC announced on Friday, in Chapter II it has approved aid for farmers and ranchers for a total amount of 193.47 million euros, of which 64.5 million come from the crisis reserve approved by Brussels last week, after activating article 219 of the Common Organization of Agricultural Markets (OCMA), and which the State and autonomous communities will complement by 200% (128.16 million). For its part, the fishing activity, apart from the total of 50 million euros that it will receive from the European Maritime, Fisheries and Aquaculture Fund (Fempa) after activating article 26 that contemplates extraordinary funds for strong market disturbances, other measures are enabled such as the deferral in the payment of Social Security contributions for three months.
Agriculture Minister Luis Planas plans to meet with representatives of both sectors this afternoon at the Ministry's headquarters in Madrid. Similarly, from the Government, they have highlighted that the reduction of 20 cents for three months in the price of diesel will have a positive impact for farmers and ranchers in 78 million sectors, as well as 10 million euros for fishing.
The package of measures is for a total amount of 430 million euros: 193.47 million for farmers and ranchers, 169 million for dairy producers and 68.18 million, between the Fempa and direct aid, for fishing
The Royal Decree-Law also contemplates the exemption of the port fee for fresh fishing and the fee for the use of hydraulic domain assets for inland aquaculture facilities for 6 months. Which represents an impact of three million euros. Direct state aid is also promoted for shipowners for 18.18 million euros to compensate for the increase in diesel and this support will range between 1,550.523 euros per ship for those vessels with a gross tonnage of less than 25 tons) up to a maximum of 35,000 euros for ships with a gross tonnage of more than 2,500. Similarly, they have recalled from the Executive, that fishermen can now benefit from the ICO - Saeca line of credits with the main bonus, as well as the guarantees of Saeca (State Limited Agricultural Surety Company).
For their part, milk producers will receive 169 million euros in direct aid to offset the sharp increase in inputs such as electricity, feed and fuel. Of all this amount, 124 million will go to cow's milk producers at a rate of 210 euros per cow up to a maximum of 40 animals per beneficiary, 145 euros per copy between 41 and 180 heads and 80 euros per head for more than 180 cows. . Similarly, producers of sheep's milk will receive 32.3 million euros (15 euros per animal) and 12.7 million euros those of goat milk (at 10 euros per head).
Spain declared last year 10% of arable land as fallow, 2.2 million hectares out of a total of 21.5 million declared 2.8 million hectares to plant cereals
The Royal Decree also includes the relaxation of the crop diversification requirement within the Common Agricultural Policy (PAC) that forced farmers to reserve 5% of their cultivated areas for fallow. This will no longer be so. In this way, the Government intends to mobilize more than 600,000 hectares declared of ecological interest, as well as another 2.16 million hectares destined to meet this requirement to produce cereals. Especially corn.
Specifically, Spain declared fallow last year 10% of arable land, 2.2 million hectares out of a total of 21.5 million hectares declared in total.
View commentsTopics



Source link