The Government guarantees supply despite the war and the transport strike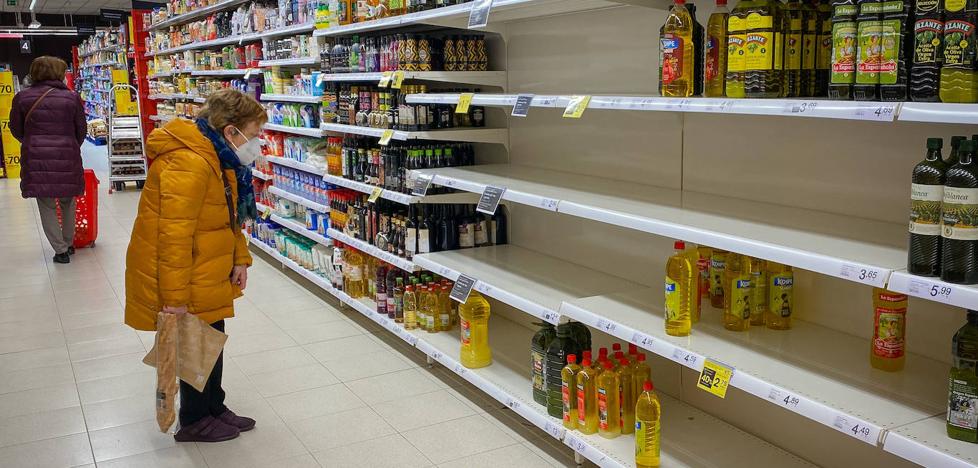 Minister Raquel Sánchez will meet this week with the sector and appeals for "calm and serenity" in the face of the indefinite strike that began this Monday
Calm and guaranteed supply. The Government wants to prevent the population from opting for excessive food stocking due to the nervousness generated by the war and the truckers' strike. The Minister of Transport, Raquel Sánchez, has therefore appealed for tranquility and "serenity" and has assured that the supply of supplies is "guaranteed" because the indefinite strike in the sector that began this Monday is not having "too much impact". "The situation is under control," said the minister.
The strike called by the Platform for the Defense of the National and International Road Freight Transport Sector, distancing itself from the action by the country's main federations, has taken place with little incidence at the national level, but with some isolated and intermittent roadblocks in different parts of the country. This is the case of the Port of Bilbao, where there were partial stoppages throughout the morning demanding the revision of transport rates due to the increase in fuel prices. Circulation was also affected by partial cuts on the A-6 and the N-640 in Lugo, as well as on the A-27 at the height of Tarragona, according to data from the DGT, which did not report "remarkable incidents".
Minister Sánchez asked the carriers "not to raise alarm or confusion" because "no more uncertainty should be introduced into the citizenry" in days like these marked by the war in Ukraine. She reproached them that this "is not the best time" for the mobilizations, but to "consider what we can all do to get out of this situation and cushion the effects of the crisis."
In the next few days, the head of Transport will meet with the sector and assured that the Government is already studying "global" measures to mitigate a rise in fuel and energy prices that affects the transport sector very especially.
Extra-community imports

In this sense, the Minister of Agriculture, Fisheries and Food, Luis Planas, stressed at an informative breakfast organized by Europa Press that in Spain we have a high level of food autonomy, so the food supply is "absolutely guaranteed", although it has recognized contacts with countries outside the EU to import some raw materials such as corn and have a greater supply.
In relation to sunflower oil, the minister specified that imports from Ukraine did not involve large quantities and that Spain "is not badly situated", since we have a significant volume of olive oil, in all its categories.
In addition, he announced that tomorrow the Council of Ministers will approve a royal decree with measures to support the agricultural sector to deal with the drought. It is a tax, social and liquidity aid package.