The Government freezes investment in Madrid but increases that of Catalonia by 48% since 2018 | Economy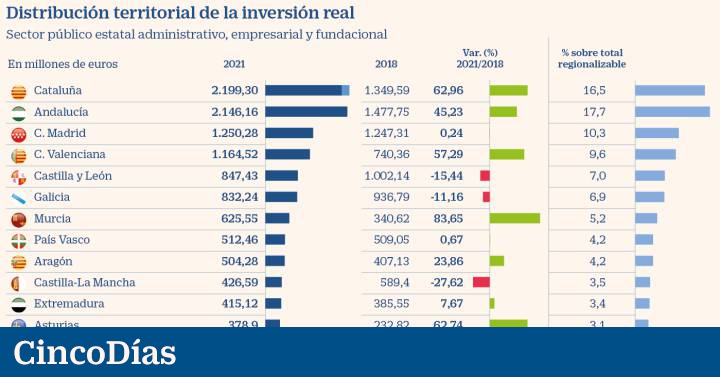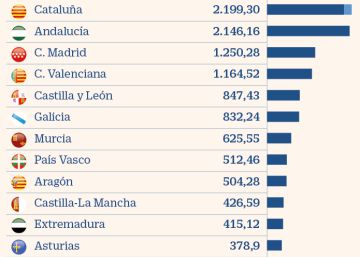 The autonomous communities will have 146,008 million euros of financing next year. A "historic" amount, according to the Minister of Finance, María Jesús Montero, yesterday in the presentation of the General State Budgets for 2021, the result of the sum of payments on account, the extraordinary transfer and European funds. The communities will receive 13,486 million euros for transfers and about 113,729 million for updating the accounts.
This financing implies a reduction of 1.7% with respect to the 115,662 million that the autonomies have received in 2020, although the Treasury explains that this year the financing received rose by 7.1% compared to 2019 due to the anti-Covid measures by updating the payments on account and the settlement of 2018. By communities, Catalonia will be the one that receives the largest item, with 21,380 million, which implies a cut of 1.8% compared to a year earlier. Andalusia will obtain 20,612 million (-1.7%) and Madrid, 15,965 million (-0.9%). To these figures are added another 10,793 million that come from the first advance of European funds (see page 26). In addition, Montero explained that the autonomies will receive another 8,000 million from the React-EU fund, which will be accompanied by the Autonomous Liquidity Fund.
In the investment section, the communities will receive a total of 19,500 million euros, a figure that has risen 30% compared to that contributed in 2018, the last year with approved Budgets. Catalonia and Andalusia continue to be the autonomies that receive the most money. Catalonia will receive 1,999.30 million euros next year, 48.14% more than in 2018. To that figure must be added 200 million euros in compliance with a judgment of the Supreme Court that identified an investment deficit in the infrastructure of the area, so the registered increase reaches 63%.
In this way, investments in Catalonia now reach 18% of the total, in line with the Catalan GDP and complying with the provisions of the Statute. Andalusia will obtain 2,146.16 million euros, 45.23% more. The Valencian Community achieved the greatest increase, 57.29% more to 1,164.52 million. Against them, the Community of Madrid will receive investments for 1,250.28 million, a figure only 0.24% more than what was achieved in the public accounts approved by the popular Cristóbal Montoro.
The greatest increase in investments corresponds to Murcia, which will obtain 88% more, while Castilla-La Mancha will receive 27.62% less and Castilla y León has seen investments reduced by 15.44% since 2018.