The Government confirms the umpteenth delay of the Mediterranean Corridor before the clamor of the business elite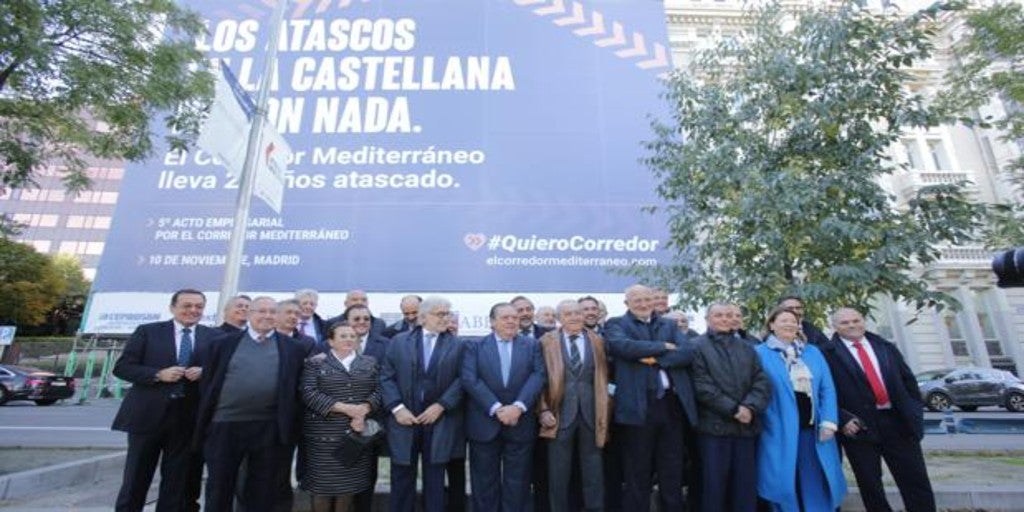 MADRID
Updated:
Keep

The stretch of Mediterranean corridor that will join Almería with the French border will be executed between 2025 and 2026. It is the new date that the Minister of Transport, Raquel Sánchez, has promised to mark on the calendar so that, at least, that connection of the railway line that must arrive until Algeciras, it will be ready in four years. A new scenario that confirms the umpteenth postponement of a key project for the development of the country.
A broad representation of the business community and civil society from all over Spain – 1,300 people, according to the organization – met this Wednesday at IFEMA to demand an infrastructure that, despite being declared a "priority" by the European Union in 2011, accumulates 25 years of delays.
"I do not know if I will be the minister who finishes with the works but, of course, we are making every effort to make that happen" with "one tender a week" in the last three years, said Sánchez. On the horizon set by his predecessor in office, José Luis Ábalos, -who indicated that it would be finished in 2025- the minister recalled that European funds must be executed before the end of 2026. To do this, the General State Budgets for next year contemplate an item for the Corridor that "exceeds 1,700 million."
However, as the president of the Valencian Association of Entrepreneurs (AVE), Vicente Boluda, has indicated, "it doesn't matter if you put a billion in, if you then run a hundred". "At least what is consigned in the Budgets is executed," he demanded.
Boluda has focused on the fact that deadlines are not being met and has regretted that "if the governments of Spain had taken this infrastructure seriously", it would have ended more than a decade ago. «There is very little to celebrate. The state of the works is far from finished and, in too many cases, from beginning. And this is a disaster for Spain. Our country cannot lose the train of the backbone ", assured the leader of the organization behind the initiative 'I want to run'.
For this reason, the president of Valencian businessmen thinks it is "phenomenal" that the European Parliament is going to ask the Government for explanations for the delay in the start-up of the railway line, "because we constantly ask for them and we have very good words, but here we're". "Not ending the Corridor is literally leaving out half of Spain", with territories that represent 45% of GDP, he stressed.
In the 'check' the state of execution of the works have still been detected five milestones pending for 2021: the completion of the works of the Castellbisbal tunnel (Barcelona); the award of the gauge change between Tarragona and Castelló; the Murcia-Cartagena section and the Reguerón bypass (project being drafted); the tender for the works in Totana (Murcia); and the Almería-Granada section, which is under study and pending a project.
Juan Roig: «It is discrimination»
In a media attention prior to the event held in Madrid, the owner of Mercadona, Juan Roig, described as "discrimination" for half of the Spanish that the Mediterranean Corridor is not yet underway and has called for European funds to be earmarked to this infrastructure. "There are always priorities and for me, economically, this would be a great development for all of Spain," he stressed, while also indicating that "if all Spaniards ask for one thing, in the end the politicians will do it."
For his part, the Chairman of CaixaBank, Jose Ignacio Goirigolzarri, who also spoke during the event, was "convinced of the enormous potential that -the project- has to connect territories, to equalize opportunities and to make our companies more competitive."
Finally, the economist Fernando Trías de Bes has highlighted that «in a global world and with online commerce, which has advanced in one year what had to advance in five, the nexus between port and land transport it has become one of the geopolitical competitive advantages. Therefore, "without the Mediterranean Corridor, we continue to pursue a model of interconnections that goes against nature."