The Government and Airbus sign an agreement to protect the technological assets that it develops in Spain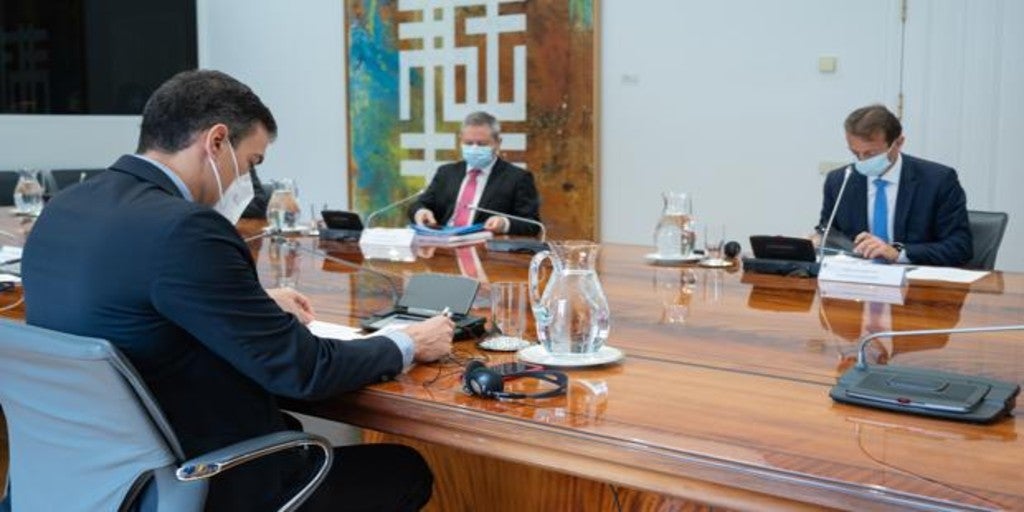 Madrid
Updated:
save

The President of the Government, Pedro Sánchez, and the CEO of Airbus, Guillaume Faury, held a meeting this Thursday to reinforce the «Strategic relationship» between the Government and the company, in which they have signed a security agreement to establish a protection mechanism for the strategic technological assets developed by Airbus in Spain.
This Thursday's meeting has made it possible to analyze the situation of Airbus at a global level and the future perspectives. The aerospace sector has suffered a sharp reduction in activity, especially with a 35% drop in aircraft production short-haul commercials and 45% in long-haul commercials, requiring support to overcome the crisis.
Sánchez and Faury have reviewed the progress made on the collaboration commitments agreed at the meeting on July 30. Progress has also been made in supporting space programs, reiterating the commitment to military programs linked to European defense and confirming the acquisition of military aircraft and helicopters.
Regarding the security agreement, both parties recognize the R & D & I policy as a key element to ensure that the aeronautical sector can overcome the crisis without losing market share and prepare a new generation of commercial aircraft with technology that allows aviation more efficient and neutral from an environmental point of view.
At this time, they are working on a series of support measures for the aeronautical sector, such as the Aeronautical Technological Plan (PTA), linked to the EU recovery funds and which will be managed by the CDTI.
The commissioning of a Aerofondo endowed with 100 million euros to support SMEs in the sector's value chain. In addition, a Support Fund for Productive Industrial Investment has been created, endowed with 600 million in the General State Budgets of 2021 and managed by Sepides, whose purpose is to provide financial support to promote industrial investments that help promote development and industrial competitiveness.
The Sociedad Española de Participaciones Industriales (SEPI) currently owns 4.16% of Airbus, which is why the meeting also addressed the need to give "adequate" access to Spaniards in managerial positions in the company.
The meeting also addressed the future of Airbus in Spain and the Government has pointed out the importance of defining a strategy for the company in Spain, which allows it to overcome the current crisis in the sector, develop technological and industrial capacities and protect employment.
The Minister of Defense, Margarita Robles; the Minister of Industry, Commerce and Tourism, Reyes Maroto; the Minister of Science and Innovation, Pedro Duque; the Secretary General for Economic Affairs and G20 of the Presidency of the Government, Manuel de la Rocha; the president of Airbus Spain, Alberto Gutiérrez; Airbus' director of strategy, M&A and Public Affairs, Antoine Bouvier; the director of Airbus Amparo Moraleda and the director of Institutional Relations of the company, Jorge Domecq.