The Gofiones delight on the Womad stage 29 years later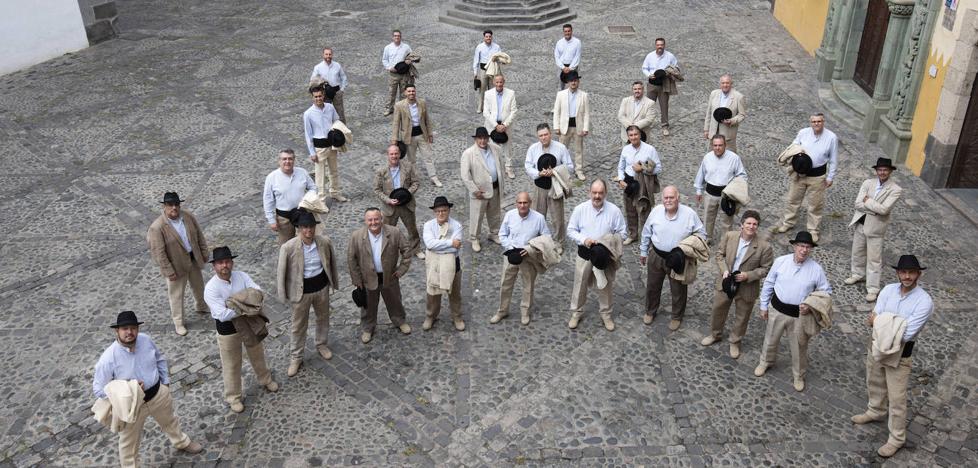 womad 2022
They presented the songs from their new album, 'México en el corazón' in Santa Catalina. Kyekyeku & Super Opong Stars (Ghana) and Beat Bronco Organ Trio closed the program for this edition
Los Gofiones opened this Sunday on the main stage located in Parque de Santa Catalina. The group from Gran Canaria, which has been in existence for 54 years, presented on this occasion the repertoire of its latest album, the 23rd of its recording career, entitled México en el Corazón, in which they take some of the most popular songs « that influenced our parents and grandparents and that they saw in the movies on TV, "said Alexis Santana, one of the members of this large group, at a press conference.
The program was completed
with performances by Kyekyeku & Super Opong Stars, an artist who comes from Casa África; and Beat Bronco Organ Trio.
The Gofiones went back up on a festival stage. WOMAD's oldest followers still remember their participation
on the first day of the first edition, held on November 26, 1993 in which they performed the song Borracho til dawn, with Los Coquillos, in a year that was also important for the group from Gran Canaria, since it was then celebrating its first 25 years of existence.
It was a moment that has been etched in the memory of those who gathered on Las Canteras beach that night.
With more than half a century of existence (54 years since its foundation), the trajectory of Los Gofiones is marked by the purpose with which the group was founded: the committed work in research, rescue, creation and dissemination of the popular music of Canary Islandsboth traditional and popular roots, as well as music from other communities with which Canarians have had some relationship throughout history.
His career is reflected in 23 of his own albums, collaboration in the recording of another 18 albums, more than 1,000 concerts in all the Canary Islands and a good part of the peninsula and America. Recognized with the Canary Islands Prize 2018 in the category of Popular Culture, (Government of the Canary Islands), Gold Medal of the Canary Islands 2002 (Government of the Canary Islands), Roque Nublo de Plata 1999 (Cabildo de Gran Canaria) and Silver Medal of the City 1996 (City Hall of Las Palmas de Gran Canaria), among many other distinctions, the impact of Los Gofiones has transcended beyond the musical sphere itself.
Currently, the group 40 is made up of instrumentalists and singers belonging to more than three generations.
In 2018 the group celebrated its half century of existence, in which the spirit with which Los Gofiones was created on October 3, 1968 has survived.
The show 50 YEARS FOR YOU was the first of the big events of that year and with him the music of Los Gofiones toured each of the islands to celebrate and share the anniversaries with an audience. They also took that celebration concert to Madrid and other Spanish regions.
Kyekyeku & Super Opong Stars' music explores their country's palmwine folk, highlife and modern Afro fusions. His new album, Funky Pangolin, offers highlife with a blessing of funk.
The eight-song album, among other things, explores the longstanding close connections between funk and African popular music since the 70s.
Beat Bronco's sound has the perfect mix of Jazz, Soul and R'n'B with those old school grooves. and deliciously soulful guitar and organ melodies. After publishing in 2020 Road Trip (Rocafort Records, Switzerland) and several singles -Easy Baby (2019), Missoula-Nairobi 2019-, the band records for the Denver (USA) label, Color Red.
This Soul and R'n'B trio, already known for its success at Holi Groove (Switzerland), León Jazz Festival or Euro Ye-Ye, are presenting previews of some of the songs that are about to be released at their concerts. Beat Bronco is made up of Gabri Casanova (hammond organ), Lucas de Mulder (guitar) and Antonio "Pax" (drums). all of them known for being part of bands like The Sweet Vandals, Speak low, Anaut or Mighty Vamp among others.