The goatherd 'youtuber' with millions of views: "If the town finds out what I earn, they'll kill me"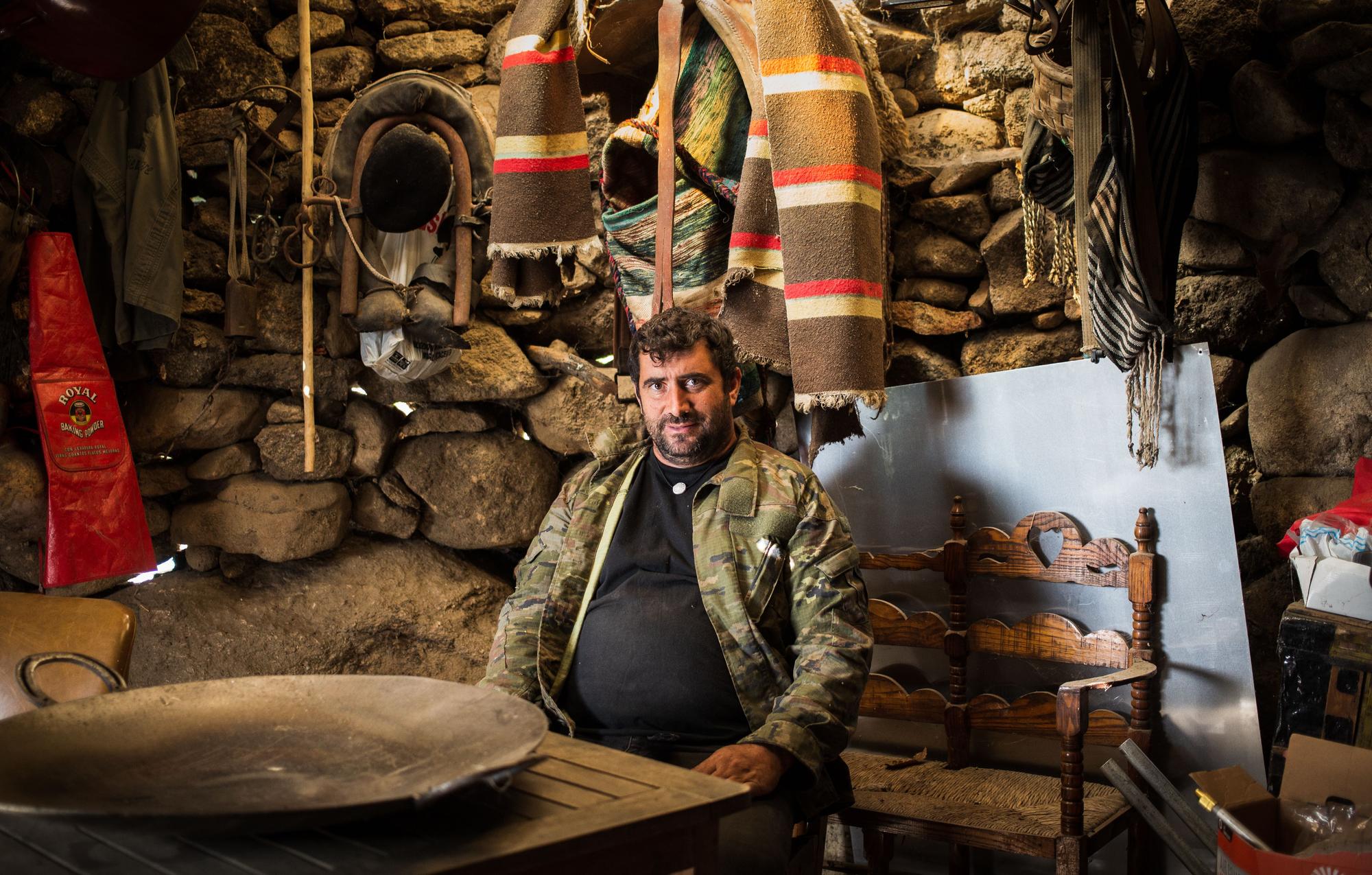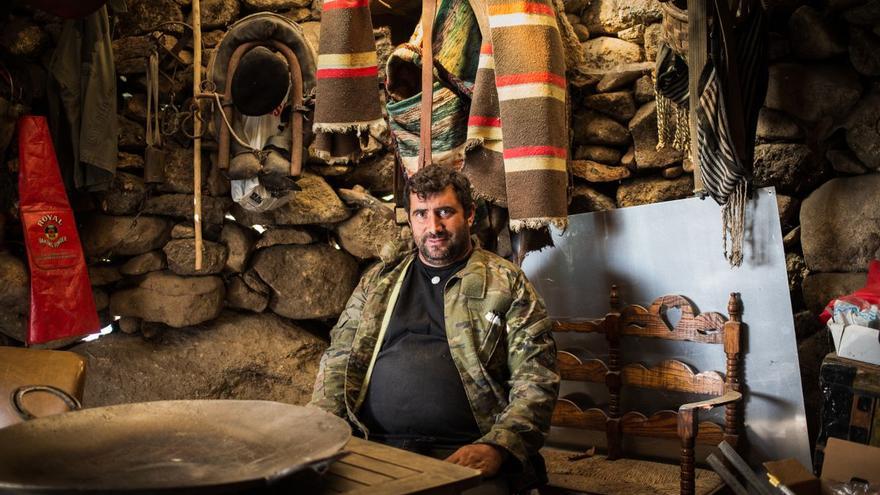 He has become a viral phenomenon with his recordings from his farm in the Sierra de Gata: "Every day they call me to offer me business and I tell them no"
"Come on up, it's a bit like that … but it's a country car." Jesus Manuel Martin Crespo He opens the door to his blue Ford Courier from the early 2000s, the kind that had the Tare and PMA (Maximum Authorized Weight) plate on the wing on the side. The floor is upholstered with straw, probably from carrying alpacas in the back.
We are at the beginning of a dirt road that leaves from Torre de don Miguel, a charming town north of Cáceres with a Jewish quarter, few neighbors – less and less – and quite a few tourists.
"This was a wealthy town; I was born here, but my parents are from Las Hurdes ", Jesus Manuel says with that sing-song accent that is repeated among all his countrymen as he dodges potholes at will. The car is rock hard. The sinkholes on the road that goes up to Sierra de Gata make you stumble more than if you were traveling by camel.
Oaks, cork oaks, strawberry trees and chestnut trees are scattered on both sides of the road. The skin of the fruits of the latter carpets the ground as if there were hundreds of sea urchins belly down.
"People tell me to cut down the trees, to put more grass, but I like it that way, in a Mediterranean forest plan, it is better for the goats, which eat chestnuts, these goats of mine do not take antibiotics nor do they ever eat feed; now I'm giving you a little organic barley because I take them to a fair ", Jesús Manuel excuses himself when he finally arrives at the Las Barruecas farm, the scene of hundreds of recordings that can be seen on Youtube and Facebook and that accumulate tens of millions of visits.
José Manuel, with a beard that has been unshaven for several days and his brown face tanned in the sun, wears worn jeans, a pair of high mountain boots that have long passed their time of splendor, a black t-shirt and a lagarterana jacket with a crossed fanny pack.
He dresses with the same naturalness that he appears in the videos that have made him a viral phenomenon for three years, with 180,000 subscribers only on his YouTube channel, where he has videos with titles as suggestive as' La tía pescueza ',' I tell you what one from Vitoria has done to me ', 'What a night of water' or 'What a scare the carter has taken'. Some accumulate more than a million views.
To give you an idea of ​​the phenomenon, he has a 90-second recording entitled "How's it looking with this new mobile?", Where he goes out recording his cows saying "faithful companion" and making appreciations about the quality of the recording. Accumulate 134,000 visits.
The success is such that it has already been a victim of hacks. "In August they stole my page and impersonated me. Facebook blocked me and it took me two months to get it back. There are times when they kidnap her and ask you for money, you know? These were Latinos, "he reveals as still hallucinating as he sits in a worn-out desk chair that he has as an office next to the fire pit and tools." From here I made my Christmas speech, "he recalls.
His videos are addictive. If one gives the play one of them, you can't stop seeing them. At least for a little while. "We add a little bacon, stale bacon, this is good and not the macaroni those that people eat," he says in one of them while pouring a good mazacote of bacon to the pot where he cooks a goat stew.
It all started three years ago, when he sold a horse for which he got a BMW and bought his first mobile. "I did it to claim the field. I recorded a video saying that it is very easy to send and dispose of with the money of others. then I took out the goats and they went back up ". In the target of his criticisms, almost always, "the corbatinas"; read, politicians.
"Spain has turned it into a great company, they have shielded themselves, they are gods, no one can touch them. Politics is corrupted; they are all the same," he says as he passes by two ties hanging from the branch of a tree that usually take to the demonstrations of the farmers, of which it has become the most visible face.
Being a goatherd comes from afar to Jesús Manuel. At the age of three, he was already escaping to milk a neighbor's goats. School was not his thing. "The teachers didn't understand me and I didn't understand them either. They told them I wanted to be a goatherd, and they laughed at me," recalls the shepherd, who bought his first animals when he was only 20 years old.
And so far, it has more than 350 verata goats, in danger of extinction, and for which it receives a grant. He does not earn anything from the milk, he only makes a profit from the meat and from selling copies to other farmers.
He says that he does not intend to leave his profession despite the fact that he earns thousands of extra euros with his recordings – he repeatedly avoids saying how much -: "The videos bring a lot of money; they would kill me in the town if they found out."
"I continue working the same way, many people say that I live from social networks, but my hands are full of calluses!" Exclaims the 42-year-old pastor, with three teenage children, who says he never went on vacation. "The goats have to go out to graze every day."
"No matter how much money they offered me, I continue with my life; many people call me and tell me that I can earn three times more if they manage meBut why do I want so much money? "he asks himself and then affirms that he pays a lot of taxes but pays them" very comfortably. " "Every day they call me to offer me business and I say no."
He feels lucky, which is why he does not usually deny favors to people, although he admits that sometimes he cannot accommodate all requests. Thus, in his videos he announces free products "because you have to help start-up companies", help NGOs and "people with problems", like a few weeks ago, when an unemployed woman "who had broken a boiler, asked me for help and I paid for it; she chose the cheapest one."
The videos are some of the most homemade, which gives the content even more authenticity. He shoots for them several 'cameras': his son; his shepherd, Martín, who is the one who takes out the goats on days when it doesn't rain – "I take them out with rain" -, his wife, or himself sometimes, just like he does the editing, with his own mobile. "Every day I hang up two or three. People want new things and new things happen to me all the time. "
Recently, his brother Feli Martín Crespo, also a farmer, has set up another YouTube channel on the field. It has 12,400 subscribers. "I do not know how it will go, he did not ask me, and we never talk about it, we talk about cattle things; I did not mind that he opened it, but I do not know if it will lastHe doesn't know how to put up with criticism much, "says Jesús Manuel, who there are days in August in the town square where he still has to take 100 photos because tourists recognize him.
"It is that it is a tourist claim for the town," they admit in the town's interpretation center, where there have not been one, not two, or three times that a tourist makes the route through the Jewish quarter when what they really want is meet Jesús Manuel. "And he always takes care of them when he can ", acknowledges the person in charge while we hurry with Jesús Manuel a bottle of Águila, which has risen from 1.10 to 1.20 euros. The price increase due to the crisis of raw materials also reaches here, on which the youtuber goatherd also has an opinion: "There is going to be a brutal food crisis, if nothing is planted or done, cattlemen are needed …".
Related news