The goals come from Barca B, not from La Masia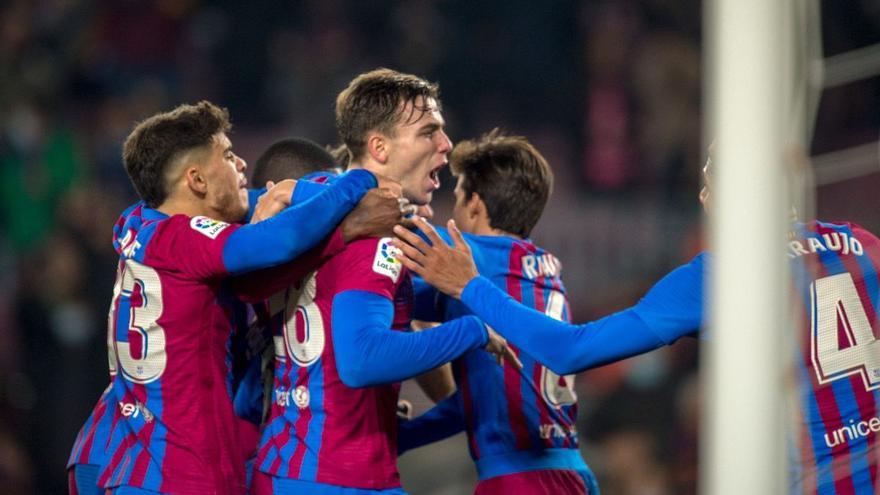 The need presses on Xavi. And drowns the Barça, a team where the goal has been a rare commodity this season. An expensive product, which was almost impossible to buy, stripped of his greatest treasureMessi), yielded Griezmann on the last market day. No, it was not a cliché. Not much less.
The team did not have a goal. He had for years and years, he had so many left over that he lived in the opulence portrayed in the trident formed by Messi-Suárez-Neymar. Those times full of glamor and luxury, even excessive, gave way to times of misery and hunger. Xavi, surprised how he is doing because "the model has been lost" in that transit, paid for this serious deficiency, as before also happened to Koeman.
And as the need presses, now, but does not bury, he found the solution where it always is, no matter how much it has been forgotten. If there is no money out, look at your house. In a drawer you will find what you need to go pulling. Even if it is rough.
Without Ansu, without Pedri
With Ansu injured (not a minute has played with Xavi yet) and Pedri collecting prizes In a tuxedo and a bow tie, while his muscles were recomposed after a heavenly but devastating first year for his body, the coach turned his gaze to the Johan Cruyff Stadium. There was the remedy for his chronic problems with the goal.
In his first five games, the drama was constant. 450 minutes, 4 goals and two were penalties. The symptom of the deepest decline. And three of those goals went to Villarreal which gives the true dimension of the offensive chaos. Barça stayed dry against Betis, Benfica and Bayern. Memphis, with two goals, one from a penalty, Frenkie de Jong and Coutinho, also from a penalty, signed those works. Four of the players that make up the middle class and upper class. A minutia.
"I hadn't scored a single goal in Second B and now I've had two with Barça" - Nico, Barça player
A trifle because young people have come to show that the goal can be reached in much simpler and, above all, cheaper ways. In the last two games, Barça has scored five and none from penalties. They all come from Barça B, not from La Masia. Nico has been uncovered in a surprising way. Even for him.
"I had not scored a single goal in Second B and now I have two," said the 19-year-old midfielder, who signed the decisive 3-2 over Elche in a stormy moment where the Camp Nou was once again looking into the abyss.
Two from Nico, one from Abde (20), signed this past summer from Hercules for two million euros, one of Gavi (17) and another from Jutglà (22), a striker whom the Spanish decided not to renew for its affiliate just six months ago.
Therefore, two worlds coexist in those young people signed for Barça B who are now solving serious, very serious ballots for Barça. Products worked over low heat coexist, Nico type. He was able to leave this past summer, free as he was (his contract ended on June 30, 2021), tempted by many offers. But he decided to stay.
Gavi is the work of the recruitment, astute and intelligent of Barça in Andalusia, whose wild talent has allowed him to star in a colossal irruption. "I am very happy for my first goal," said the young man, aged 17 years and 135 days, who has crept into history after Ansu (16 years and 304 days) and Bojan Krkic (17 years and 53 days) as the third scorer youngest of the Barça.
"This kid is a machine"
"This child is a machine," said Araujo euphoric on his way to the Camp Nou dressing room after the triumph over Elche. The Uruguayan central defender was behind the young Andalusian who turned the game upside down. Camp Nou, who ended up chanting his name, delivered to his irreverence and self-confidence that has been a luminous appearance at such critical moments for Barça-
Abde, on the other hand, is a club bet to reinforce Barça B. A bet that could be made because the sale of Ilaix Moriba (15 million euros) to Leipzig left liquidity to hire the shameless Moroccan winger. The club also chose Jutglà, a forward who has traveled secondary roads before being chosen by Espanyol for its quarry where he was trained as a versatile forward.
A winger disguised as 'nine'
It's extreme and not a pure nine Although he made his debut as a starter at the Camp Nou in the center of the attack (he measures 1.75 m), but he is used to fighting with expert centrals, who make the job of defending a matter of sporting life and death.
"At the end of training, Xavi told me: 'Today you play, eh! You must not do anything special! You have to do what you know how to do and why you are here!" - Jutglà, Barça B player
Accustomed as Jutglà is since his time in the Sant Andreu first team, the parakeet club gave him up there, to fight with guys bigger than him. He was also at Valencia in that training period, but they did not stay because he returned to Espanyol B, where he played two seasons before heading to the Estadi Johan Cruyff.
"At the end of Saturday's training, Xavi approached me and said: 'Today you play, eh! You must not do anything to write home about! You have to do what you know how to do and what you are here for! You have to generate chances for the team, for yourself and stretch the team to the maximum, "the striker born in Sant Julià de Vilatorta admitted in amazement.
In a week, two games and three goals with the Barça first team. Trip to Saudi Arabia and goal to Boca. Return to the Camp Nou, header and goal (the first from a corner this season) after starting the match against Elche with a goal canceled for offside. "I came here to add, I'm a Barça B player, that's my team," he stressed after recalling that he followed Xavi's orders. Disciplined like he's always been So. And stubborn because the end of his stage at Espanyol, which lasted up to nine seasons, did not discourage him.
"He told me to attack the first post in the corner and that's what I did"; Jutglà said. "Xavi told me to face and I face", revealed Abde last week in Pamplona.
Xavi Cala's message to young people
The coach sees how his message penetrates the first time among the young people, all from the Johan Cruyff, although some have not even stepped on La Masia. With the children everything is going well, the problem now is the others, abandoned and lost the model that Xavi is now desperately trying to recover.
The goals of Xavi's Barça
Four goals in the first five games
Barça-Espanyol (1-0)
Memphis (penalty)
Barça-Benfica (0-0)
Villarreal-Barça (1-3)
De Jong, Memphis, Coutinho (penalty)
Barça-Betis (0-1)
Bayern-Barça (3-0)
Five goals in the last two games
Osasuna-Barça (2-2)
Nico, Abde
Barça-Elche (3-2)
Jutglà, Gavi and Nico