The future of employment is through dual VET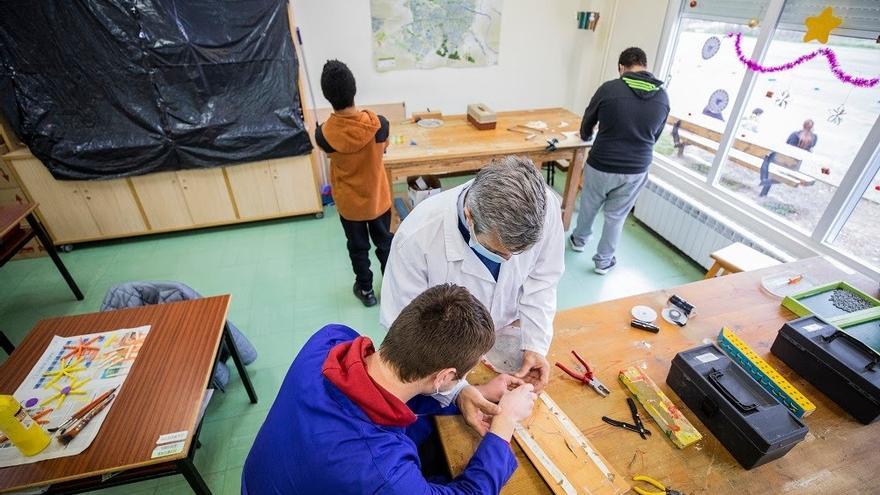 Juan García started just two months ago your internship in a computer consulting firm after finishing the Vocational Training (FP), a short time in which he has matured and discovered "the good vibes" of the world of work and teamwork. A little extended formula that also serves companies to attract talent and bring their needs closer to the classroom.
The government wants all VET to be Dual (combines the theory of the teaching center with the practical application of what has been learned in a company) to become a key for him job quality of young people, a sector of the population that in Spain has one of the rates of unemployment highest in Europe (almost 40%).
In Germany, Dual FP is implemented in more than 60% of its cycles while in our country it only reaches 4%, they explain to EFE from the Bertelsmann Foundation, a member of the Alliance for Dual Vocational Training, a network of companies, educational centers and institutions that has around 1,500 members. On the occasion of the Dual FP Week, promoted among others by this Foundation and the Spanish Chamber of Commerce, and the celebration tomorrow of the International Student Day, Juan García, 20, his company tutor, Isidoro Ruiz, and the Bertelsmann Foundation explain to EFE the situation and advantages of this modality.
Low skilled workforce
The main change perceived by Juan García in this new stage, an apprentice of the double higher degree in Multiplatform Applications Development and Web Application Development at the IES Clara del Rey in Madrid, has been to distinguish "theoretical knowledge from those that are later applied to a real job. It is not the same to be in class and do all the same as arriving here and seeing what that future job is going to be like".
Isidoro Ruiz, his tutor, who gives the IES a quarterly report on how Juan's performance has been, what can be improved or what aspects can be promoted from class to meet the company's needs, explains to EFE the serious deficit that sectors such as yours to find qualified professionals. In fact, 90% of the young people who take training scholarships at his company, Habber Consultoría Tecnológica, are hired later.
Annually they have between three and five VET students with a paid scholarship, but his wish would be to reach ten, explains Ruiz, whose company has two agreements with institutes in Madrid and this year has started talks with the university.
The new FP law, a profound reform of the system which began its parliamentary procedure a few weeks ago, also intends to update up to 80% of the existing professional qualifications and double the number of workers trained in Spain, where half of its workforce (11 million) cannot prove their professional skills, a of the worst rates in Europe. For its implementation, the Executive will allocate 5,474 million euros over four years.
Permeable people
The FP Dual, adds Ruiz, whose company has around 50 workers, "allows us to identify people with basic knowledge, which is the way to fill in the company from the base because all kinds of profiles are needed, and it allows us to test which people are suitable, give them the specific training you need and incorporate them "into the workforce. Apart from the knowledge, he adds, Above all, they need people who know how to work in a team, who are open, willing to work and learn and who "are not afraid of failure."
When Juan arrived at Habber just two months ago, he was particularly surprised by the welcome and "the good vibes" and that the stress generated by the delivery of the projects "He calmed down by leaning on teammates. Having them supportive is a very important relief."
Isidoro Ruiz stresses that it is a formula that can help close the gap or imbalance in Spain between the labor market and training and warns that it is not about having cheap labor but to see what knowledge the students are receiving and establish feedback with the academic world.
In turn, Juan García recognizes that in this short time he has matured "perhaps because of group responsibility. Not doing things not so much for me but because I know that there are other people who have the same goals and run the same risks as me. when it comes to not reaching a delivery and things like that. "
The Bertelsmann Foundation explains to EFE that there is a wide range of degrees associated with growing professions and the job placement rate for Dual Vocational Training is very high, widely exceeding that of Vocational Training itself.
In the years to come, they point out, the majority of vacancies that will be created will require professional training, and "we must be prepared to face the demand. Dual has proven to reduce youth employment, improve the competitiveness of our companies and our economy."
Without the desired profile
According to data from the CEOE, 55% of companies have difficulty finding workers with the appropriate training for their needs, while youth unemployment in those under 25 years of age in Spain represents 39.5% in the first quarter of 2021. It is expected that 50% of job opportunities in the second half of this decade will be reserved for people with qualifications intermediate (VET technicians and senior technicians), and only 16% of jobs will require a low level of qualification.
However, 48% of the Spanish workforce, 11 million people, do not have a vocational training qualification or have their professional skills formally accredited, and the rate of young people enrolled in vocational training is 12% compared to 29% of the European Union.
For the first time, the number of enrolled in FP has exceeded one million students this academic year, after more than five years of sustained growth in this educational stage.