The 'Friends' actresses, united again: "We have lived together since 1994"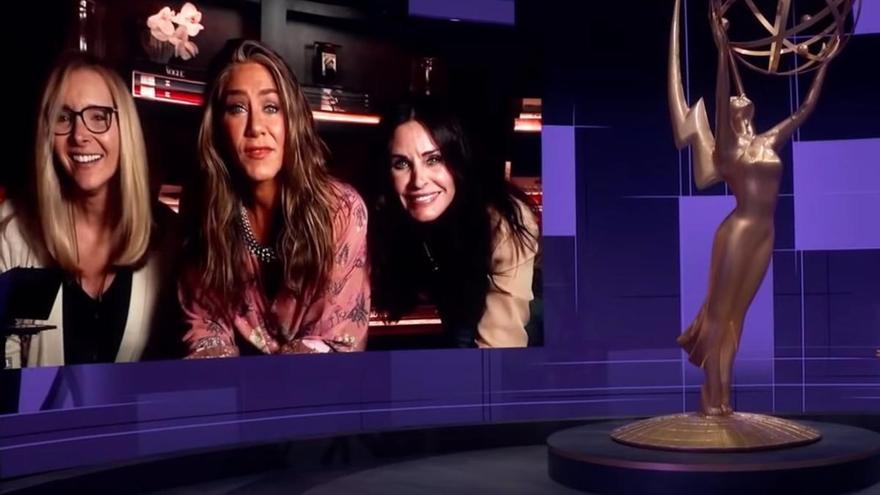 Despite the fact that the meeting of 'Friends'HBO Max has been postponed twice, the ceremony of the Emmy 2020 from the series: Jennifer Aniston, Courteney Cox and Lisa Kudrow.
During the 72nd edition of the awards, held on Sunday, September 20, presenter Jimmy Kimmel connected with Aniston by video call. The interpreter was nominated for best leading actress in a drama series for The Morning Show.
The host of the gala contacted the actress to make sure she was ready before the award was presented in her category. As she greeted Aniston, Courteney Cox appeared. "We live together," said the actress who gave life to Monica.
"We've been roommates since 1994," Aniston said., referring to the year 'Friends' started. Right now entered the scene Lisa Kudrow. Although no more Friends actors appeared, alongside the performers was Jason Bateman.
Aniston was competing against Olivia Colman for 'The Crown'; Jodie Comer for 'Killing Eve'; Laura Linney for 'Ozark'; Sandra Oh for 'Killing Eve'; and Zendaya for 'Euphoria'. It was the latter who won the recognition.
Although Aniston did not win the award, 'The Morning Show' did win the statuette for best actor in a drama supporting role for Billy Crudup. The fiction did not win more recognitions, but it also was up for best supporting actor in a drama for Mark Duplass; Best Drama Direction for Mimi Leder; and best drama lead for Steve Carell.
Aniston, Cox and Kudrow were scheduled to reunite with Matt LeBlanc, Matthew Perry and David Schwimmer to shoot an unscripted special.. The recording was to take place last March, but the coronavirus pandemic forced it to be postponed until August. At the moment the project has been postponed indefinitely.