The French Government is committed to toughen the response to sexist violence | Society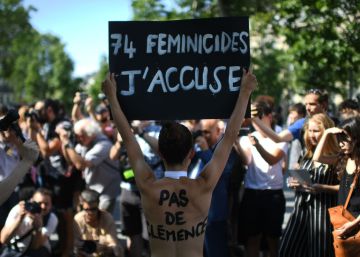 A great conference to discuss new measures against sexist violence, the possibility of even tougher laws ... Emmanuel Macron's government has not been slow to respond to the call of groups of relatives of victims of feminicide, feminist organizations and various politicians who on Saturday they went out to the street to protest for what they consider an official "silence" before this scourge that only so far this year has cost the lives of 74 women in France.
As announced by the Secretary of State for Equality, Marlène Schiappa, in the Sunday Le Journal du DimancheOn September 3 there will be a big conference headed by the Prime Minister Éduard Philippe, with the participation of all the ministers who have a responsibility in the matter -Interior, Justice, Health or even Education-, actors in the field, representatives of public services, associations and relatives of victims of sexist violence. The objective, Schiappa advances, is "to build a set of effective measures to stop this phenomenon". In addition, the government wants to launch a "large national consultation" and a campaign to "involve the whole society." According to Schiappa, even the first lady, Brigitte Macron, will participate in these efforts.
The results of the discussions and negotiations will be announced on November 25, on the International Day for the Elimination of Violence against Women. In addition, Schiappa said that this week he will talk with prefects throughout the country to "mobilize" them and that he will meet with associations funded by the State to "advance" in the matter.
For its part, the Minister of Justice, Nicole Belloubet, announced in an interview on BFM TV its intention to propose a change in the law to expand the use of electronic bracelets in the context of sexist violence. Currently, this device, which alerts the victim of violence when his attacker approaches him geographically, can only be imposed on people already convicted of sexist violence when they leave prison. A measure "too limited", said Belloubet, who indicated that his intention is that it can be applied already "before the conviction, civil and criminal", of the aggressor, for which, he said, the current law has to be modified, something that he hopes to be able to do "in the fall". The minister revealed that she has ordered an "inspection mission" to analyze the classified files on sexist violence in recent years to "see what we could have done better". He also expressed his desire for justice to issue more orders of removal. As has been reported in the past few days, while in Spain -all a reference for France in this matter- each year about 20,000 are issued, in France they barely reach 1,300.
About a thousand people demonstrated on Saturday in Paris to denounce the "silence" of the French president on male violence and demand "immediate" measures, such as increased use of electronic bracelets, sensitization of police officers and gendarmes responsible for receiving complaints from victims or an increase in places in emergency shelters to accommodate them. The demonstration was the culmination of a week in which French media brought gender violence to their front pages and published several columns of legislators, activists and various social actors calling for a stronger response from the government, whose president has declared women's equality. man as the "great national cause" of his mandate.
Macron answered Saturday night with a message on Facebook in which, after enumerating by name the fifty victims of sexist violence in 2019, he said that the reasons for his death are "disgusting" and that France "must protect all the women whose lives are today danger". In addition to advancing the celebration of the multidisciplinary conference, he recalled that "Solutions already exist", but that "they must be known" and be "used in case of a minimum doubt".