The fourth edition of MAPS will be held in Gran Canaria and Tenerife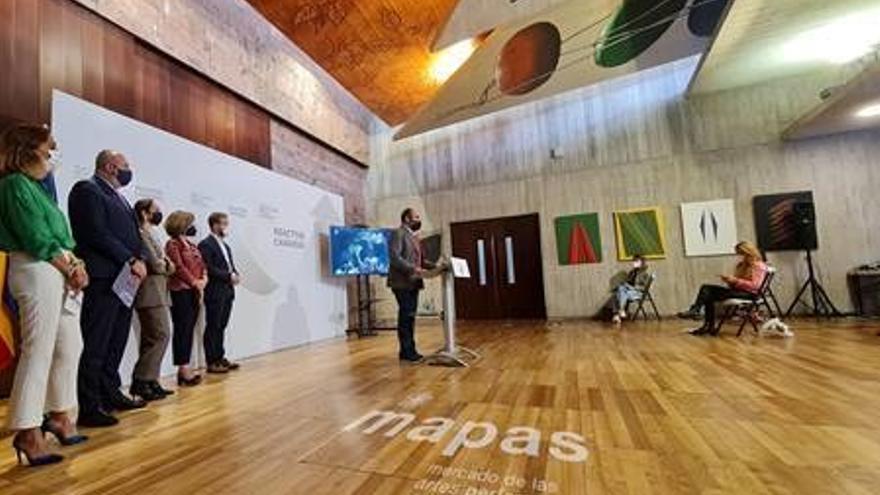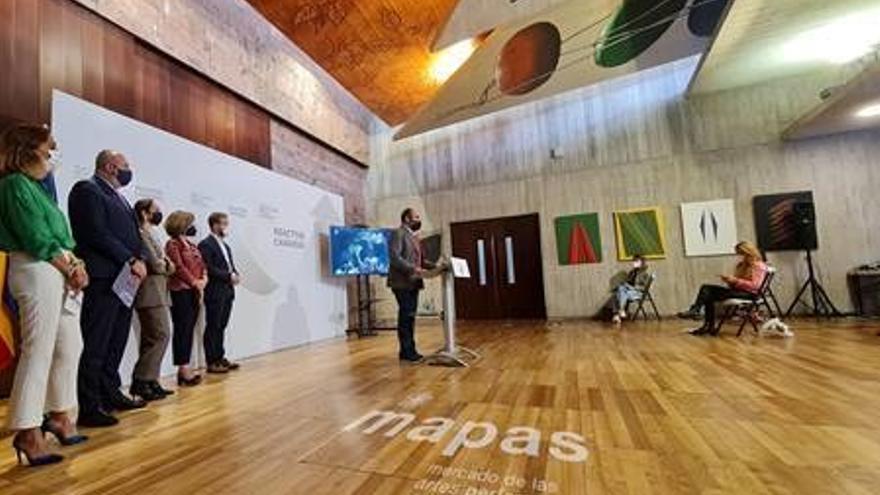 MAPS, Market of Performative Arts of the South Atlantic, will celebrate its fourth edition from December 14 to 18 in The Gran Canarian palms and Santa Cruz de Tenerife in order to create an environment of trust and recovery of the corporate culture for the live arts at a defining moment.
The meeting is organized by the Canarian Institute of Cultural Development (ICDC) of the Government of the Canary Islands, Cabildo de Tenerife, Cabildo de Gran Canaria, unahoramenos and Circulart, with the collaboration of the City Council of Las Palmas de Gran Canaria and the City Council of Santa Cruz de Tenerife.
MAPAS acquires a regional dimension with the aim of marking a turning point in an edition that adapts to the current context and the needs of artistic groups and programmers who, with their support and participation, support this annual event as a benchmark for the internationalization of industries. creative.
The details of this meeting were released at a press conference by the Deputy Minister of Culture and Cultural Heritage of the Government of the Canary Islands, Juan Márquez; the Minister of Culture of Cabildo of Gran Canaria, Guacimara Medina; the Councilor for Culture of the Cabildo de Tenerife, Enrique Arriaga; the Councilor for Culture of the City Hall of Las Palmas de Gran Canaria, Encarna Galván; the Councilor for Culture of the Santa Cruz de Tenerife City Council, Gladys de León; and the director of MAPAS, Mario Vega.
All those present agreed to highlight that the South Atlantic Performing Arts Market has become a project that has brought together the different Canarian institutions in a common strategy to develop a model for the culture of the future.
International reference meeting of music, theater, dance and circus
It will be a strategic edition in which the Canary Islands will become the focus of international reference for professionals in live music, street theater, contemporary dance, circus and theater created and developed in Africa, Latin America and southern Europe (Spain and Portugal).
His celebration in person, in a safe health environment, offers the possibility of strengthening commercial relations, exchange or strengthening networks and circuits. Not surprisingly, MAPS is the first professional trading market for the performing arts and live music in the South Atlantic, and the possibilities of recovering personal encounters take on more value for the artistic and economic reactivation of the sector.
In its commitment to optimize its call, scope and representativeness, MAPAS offers creators and representation agencies a space that enhances the circulation of their cultural works and services, as well as a series of tools so that they can generate synergies with programmers and programmers from all over the world.
In this sense, this year it once again has its main lines of development in artistic exhibitions, business meetings, training and international meetings. All this concentrated in five days of artistic and commercial activity aimed at strengthening the cultural and creative industries as a strategic sector of the knowledge economy, showing future trends in terms of specialization, technology and sustainability.
This fourth edition of MAPAS – initially scheduled for July 2020 and which was postponed due to the health crisis – will schedule activities related to the performing arts in spaces in Las Palmas de Gran Canaria such as the Cuyás Theater, SIT Insular Theater Hall, Alfredo Kraus Auditorium and Pérez Galdós Theater (Canary Foundation Auditorium and Theater of Las Palmas de Gran Canaria), Miller Building and Guiniguada Theater on December 14, 15 and 16.
Likewise, the Tenerife Auditorium, the Guimerá Theater, the La Recova Art Center stage space, the La Granja Space and Tenerife Espacio de las Artes will host in Santa Cruz de Tenerife from December 16 to 18 a complete artistic and professional program of the music industry.
With all of this, the Mercado de las Artes Performativas del Atlántico Sur is preparing an edition that not only enriches its contents as one of the great engines of growth for professionals -promoting training, collaboration and business meetings-, but also for the Canarian population and visitors, since the presentation of live shows brings with them a necessary contribution in the recovery of daily life and coexistence with new scenarios after the paradigm shift caused by COVID-19.
Registration period for artists and companies
The registration period for artists, companies and agencies from Latin America, Africa and southern Europe as well as for program managers from around the world who want to participate in this international meeting that will take place in the two Canary Islands capitals opens on 31 December. May.
The call for creators and management, booking and distribution agencies of live performing arts – music, theater, dance, street arts and circus – will remain open until July 31, 2021 and the results of the selection process ( with a 50% quota of Canarian groups), which will be in charge of an advisory committee made up of experts of recognized international experience in the field of culture, will be made public in September.
Those responsible for programming, artistic directors, curators, curators of festivals, cultural managers of public or private institutions and entrepreneurs of the performing arts industries You are invited to register to take part in the business meetings and also to learn about the artistic proposals from the three continents that will be exhibited during those days in both Islands. Registration is free and will remain open until November 29.
An edition for recovery
In a context marked mainly by the need to recover the cultural and creative industries, MAPAS focuses all its efforts on programming an edition dedicated to promoting knowledge spaces that contribute to relaunching the activity of regional, national and international live arts, as well as offering the professional reunion of creators, agencies and programmers.
The coronavirus crisis It has been a global medical, logistical and economic challenge, but it is also a cultural challenge for governments and citizens alike. MAPAS becomes an essential meeting space to address common problems, as well as to propose reflections and actions for the future not only for the sector, but for its relationship with a society also in crisis.