The five variables that Spaniards take into account when looking for work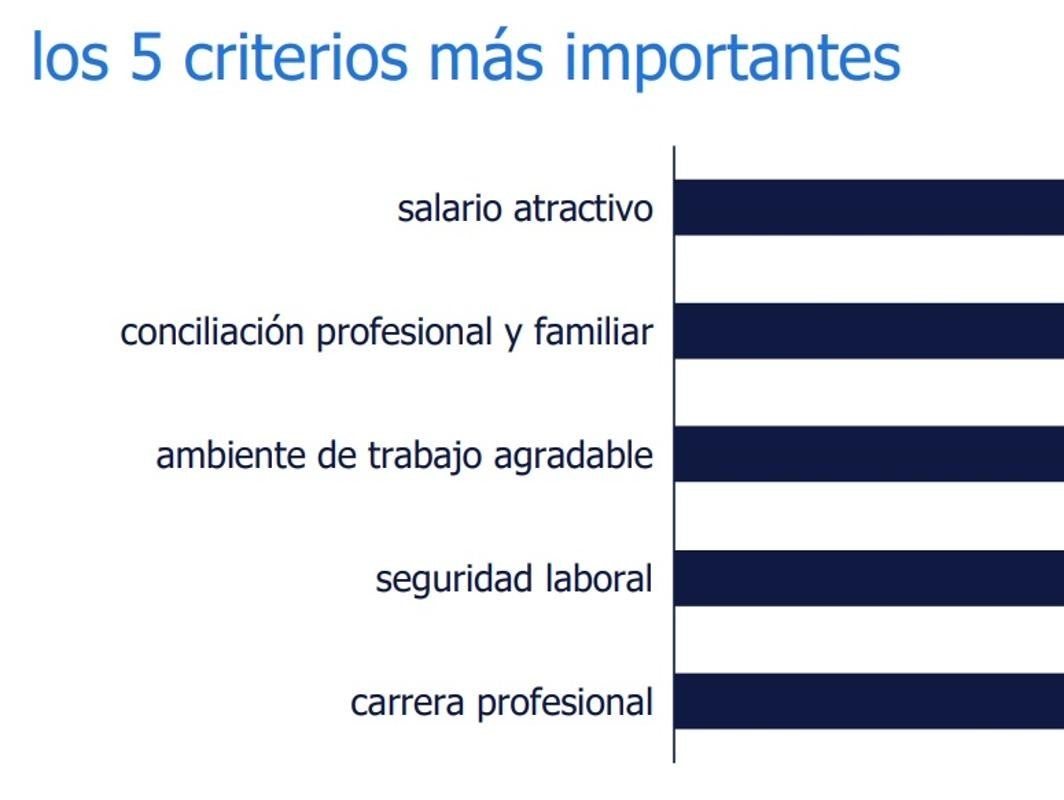 Updated:
Keep

A attractive salary (70%), a good conciliation work and family (66%) and a pleasant work environment (64%) are the main criteria that Spaniards look at when looking for a job, especially women, those over 35 years of age and those with a higher education. These are followed by job security (62%) and career progression (57%), according to the Randstad Employer Brand Research 2021 report.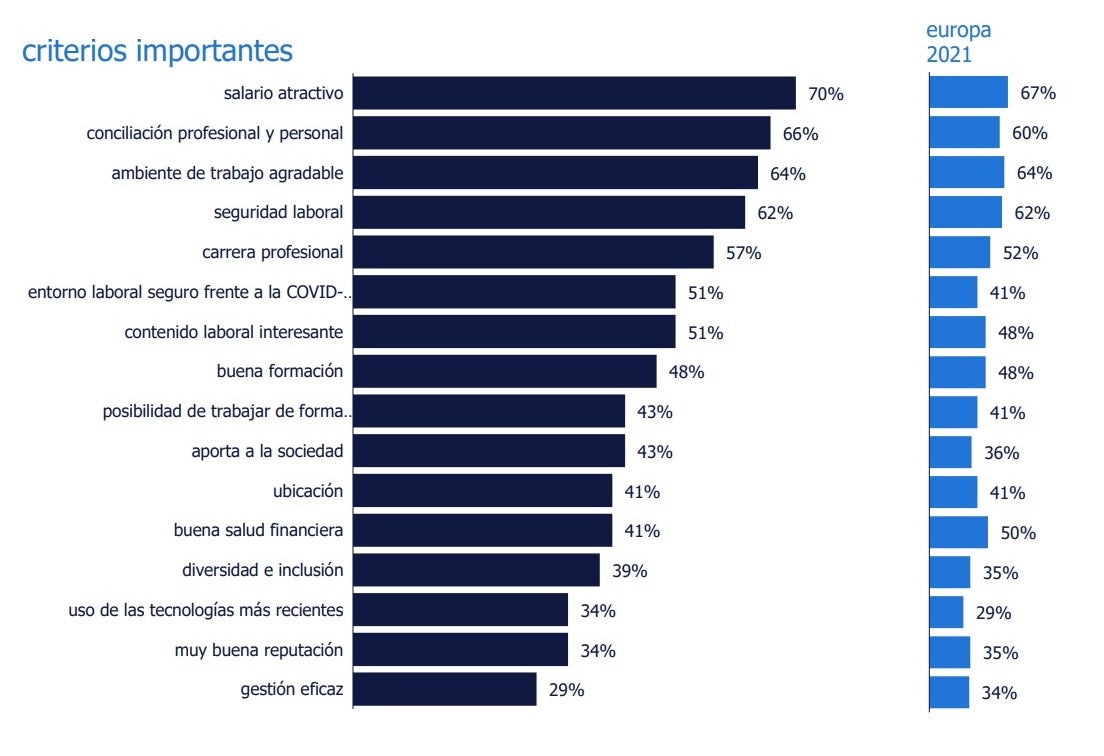 Benefits and salary are by far the most important criterion in Spain. For this reason, from Randstad they recommend companies "to pay attention both to salaries and to a good professional and personal conciliation, in order to be in a position of competitive advantage compared to other companies in the country." In terms of occupational safety and a pleasant work environment, Randstad considers that companies in Spain are doing relatively well: "They are recommended to maintain this performance."
On the other hand, good training is considerably more important for those between 18 and 24 years old, as well as professional and personal conciliation is more important for those between 35 and 54 years old. Women and people with higher education are the most demanding groups of employees, since they chose, on average, about 8 factors that are important to them, compared to men and people with a lower education who selected 7 and 6, respectively.
How the coronavirus has affected work
Due to the pandemic, in Spain companies that provide a safe work environment against Covid-19. Second, good reputations are valued, followed by good financial health.
Half of the interviewees saw their employment situation change in the last year. 47% of employees were laid off, lost your job, worked a different number of hours than usual or suffered other consequences that caused your work situation to change due to the coronavirus. Most of those who lost their jobs were between 18 and 34 years old (19%) or a lower level of education (27%). However, among those who have continued to work normally (42%), men and people with higher education predominate.
A large proportion have fear of losing my job due to job insecurity caused by the pandemic (42%). Women, young people between the ages of 18 and 24 and those with less education are the people most likely to fear being fired. 30% of workers who fear losing their jobs intend to change companies in the first half of 2021.
In which companies do Spaniards prefer to work?
1. Amazon
2. Nestlé
3. Post office
4. Sony
5. Coca Cola
6. Meliá Hotels International
7. RTVE (TVE, La2, RNE ...)
8. The English Court
9. Siemens
10. Iberia
Telecommuting
The possibility of teleworking is of growing importance. Although the pandemic has increased this desire, only the 43% of Spaniards are attracted to the possibility of teleworking. Women consider that working from home is more important compared to men (47% vs 40%), as well as people with a higher education consider it a more important factor than people with a lower level of training (47 % vs. 35%). There are no differences between those who work full time or part time.
About half of the employees began telecommuting (more) during the pandemic. Of the 49% who started telecommuting, half were involved in making that decision, while the other employees who now telecommute had no choice. For the most part, it was people between the ages of 18 and 24 who experienced changes in their employment situation due to Covid-19: only 18% continued working as before.
Multiple ways to find another job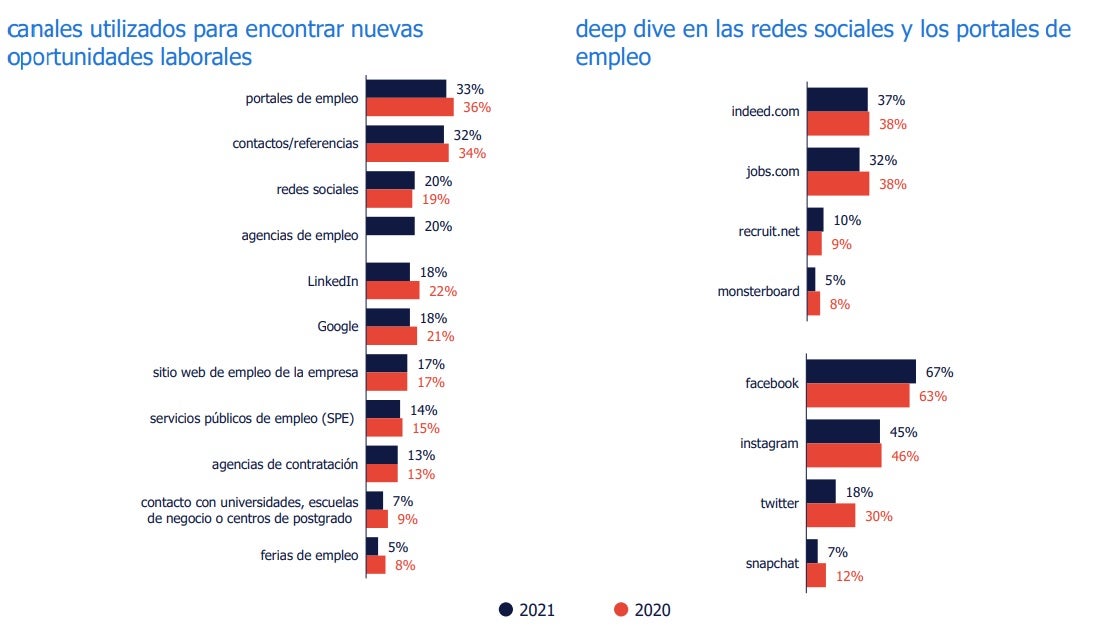 Job portals (33%) and personal contacts (32%) are the most used ways to find work in Spain. Men use platforms such as LinkedIn, Google and recruitment companies more than women.