The first tourist town of Marbella
Madrid
Updated:
save

Paradise Town It is located on the slopes of Marbella, in the heart of the municipality of Benahavís, just a few minutes drive from Puerto Banús, Estepona and the golden beaches of the Costa del Sol. A privileged environment, surrounded by peaks, on the slopes of the Sierra de las Nieves, in the foothills of the Serranía de Ronda from which you can see more than 100 kilometers of the Spanish coast and a good part of that of North Africa. A paradise for nature lovers, a landscape without equal that is a relaxation for the mind and an exaltation of the senses.
Marbella, located between Malaga and the Strait of Gibraltar on the Costa del Sol, is one of the cities that arouses the most interest among foreign tourists who travel every summer to enjoy its beaches. In fact, many of them have fixed their vacation residence in it due to their extraordinary climate, with more than 320 sunny days a year. An average of 2,905 hours of sun, according to the State Meteorological Agency (Aemet).
The sun is synonymous with happiness, serotonin is the substance that generates a feeling of well-being and happiness. The human body accelerates its production with the sun. For this reason, Malaga people stand out for their open character and happiness. Its average temperature is 18 degrees, while the difference between the hottest and the coldest month is only 11 degrees. This makes the Costa del Sol a Unique place to live throughout the year, and a refuge for those who, for health reasons, need to avoid high or very low temperatures.
Traditional atmosphere of the Andalusian people
The design of Paraiso Pueblo is designed to provide maximum security and exclusivity residents with 24-hour surveillance. It has cobblestone streets and walls adorned with flower pots, a traditional Andalusian village atmosphere. A total of 206 homes with 2 and 3 bedrooms from € 260,000 with spacious rooms with integrated kitchens and dining rooms surrounded by natural green spaces and the best comforts. They are 16,000 m2 of communal areas, which include 3,300 m2 of green areas, 6 indoor and outdoor pools, SPA, gym and crossfit areas, and 750 m2 of children's areas, a restaurant and a store.
The Paraiso Pueblo homes stand out for their Contemporary styleSpacious, open-plan living room and generous bedrooms and bathrooms
Dimensions with the additional option of balconies or gardens, ideal for creating your own private outdoor space to socialize with family and friends. It also has luxurious interiors with open spaces in the midst of a Mediterranean village concept.
A construction of AZMER with the best qualities for both installations and finishes. With extensive experience, the company was founded in 1994, in the building construction sector in general, we aim to provide the best service to our customers, with the highest quality and safety.
Continuous floors and impressive floor-to-ceiling sliding windows create a seamless transition between interior and exterior rooms. The open and integrated kitchens to the living room, have high-end appliances and all homes can be optionally equipped with a home automation system for installations, lighting and blinds.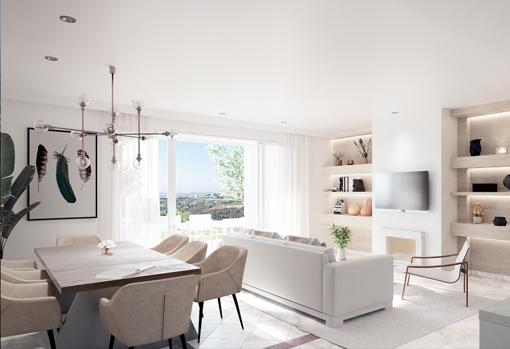 Paraiso Pueblo is located between two international airports, Malaga (45 minutes by car) and Gibraltar (30 minutes by car) with connection to the most important European and international routes. It is also surrounded by the best private hospitals and the best schools.
Being outdoors facilitates the practice of sports activities, which is a very important health advantage. With nine golf courses in the vicinity, several soccer fields, a driving range, sports fields and a municipal swimming pool, Benahavís has a very wide offer for lovers of sports and healthy living.
Advantages of having a beach house
More and more lucky people can boast of having their second residence on the beach because it has ceased to be a luxury to become the new trend on vacation. Living in front of the sea is a continuous source of benefits because it allows you to always have an incomparable background such as the sea. In addition, sports can be practiced within the reach of a privileged few, such as swimming, surfing, or diving. And another of the great advantages of living near the sea is to contemplate the sunsets every day and enjoy the moment with family or friends.
And having a beach house is equally synonymous with return on investment once it is always possible to rent it. In economic terms it can be estimated an average occupation of 18 to 22 weeks in medium / high season. Starting from an average price of € 1,200 per week, for a 3-bedroom apartment you would obtain a gross annual return of 9% and a minimum annual net profit of 6-7%. This type of rental allows owners to generate passive income with the advantage of being able to enjoy the property whenever they want.
For more information contact:
Commercial Information: 900 861 021
Professional Information: 900 861 022