The first rural hotel that welcomes alpacas is in Asturias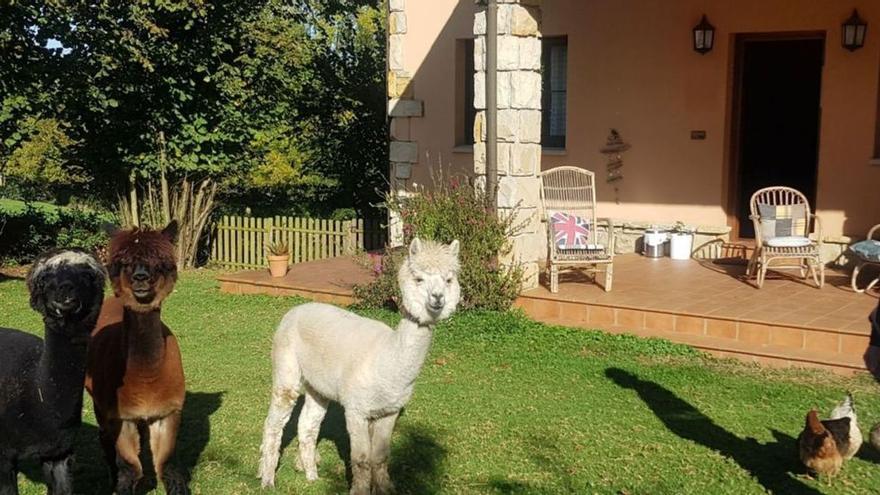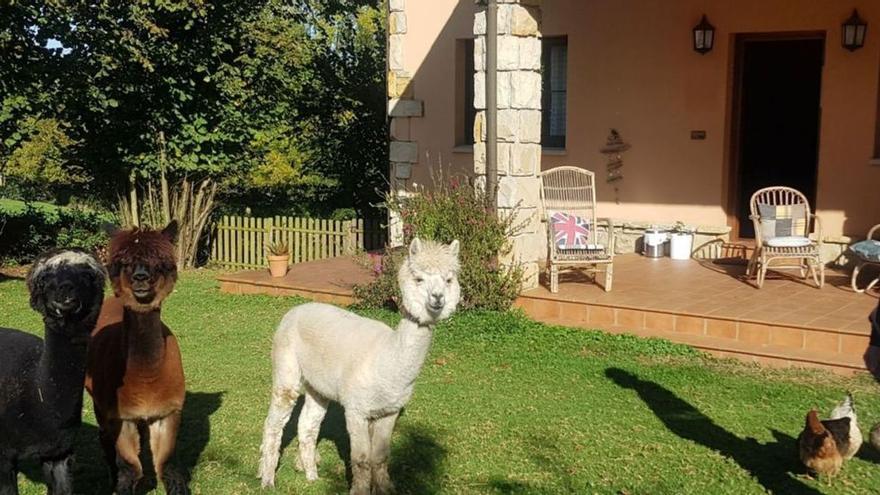 Three alpacas, a native species of the Peruvian Andes, are the real stars of a rural hotel that they give their name in San Justo (Villaviciosa, Asturias). Of names "Peter Pan", "Pedro" and "Pikachu", since their arrival in the Cadamancio neighborhood, they have become for guests and neighbors, adults and children, a great attraction of the original establishment, the first of Spain in having these kinds of animals.
The idea of ​​bringing these unique specimens to the establishment came from the English couple Jonathan Holden and Alla Varta who, after living in different parts of England and Barcelona, ​​decided to focus their lives by opening the hotel Tres Alpacas, where to have different animals that, in addition, in view of success, serve as a claim. After searching in different parts of northern Spain, they say they have made their dream come true and have found the perfect place for their lives and to open the business in the town of San Justo.
However, they remember that getting the alpacas was not an easy endeavor. "For the Asturian Administration it was something new because this is a rare animal and there was no hotel with alpacas. The paperwork was long, We had to request permission for the zoo because there is no possibility of a farm since there is no exploitation", They point out. "We brought them from Cantabria and they have lived here perfectly for three years," they explain about the arrival of the three alpacas, who lead a very quiet and comfortable life in the vast natural environment that surrounds the hotel.
"Pedro", "Pikachu" and "Peter Pan", which do not require excessive care, roam at ease on the establishment's 3,000-square-meter estate. "They have adapted perfectly to the Asturian climate, which is mild. They only get scared when there are strong storms that take shelter in the greenhouse ", their owners say.
Jonathan Holden and Alla Varta also assure that they have become accustomed to the presence of the guests. "They are docile and approach the customers they live with, who even feed them apples, carrots or feed from their hands. The only thing they don't like is when they are approached by a woman who wears strong perfume ", they point out. They are "prudent" and "have a calm and sociable character", they point out to later add that, at the beginning, the children were also somewhat impressed by the size of the animals, whose owners offer them the best care and profess a huge darling.
Jonathan Holden and Alla Varta state that this species has become used to the presence of other animals that live in the same environment. "We have our two dogs, cats, chickens and a rabbit, and customers' pets are always welcome," they say.
And they recall some anecdotes. The alpaca named "Pedro", when there are other dogs that are not from the house, likes to protect our chickens. However, "Pikachu" and "Peter Pan" accept the dogs and accompany them. " However, the owners insist that the three alpacas "coexist perfectly with the pets that the clients bring, being good companions during the stay."
But the presence of these unique animals, and each one of a different color, is not the only claim of the hotel, which has seven rooms decorated with the personal touch of their owners, a garden, terrace, library and ample parking. They also offer breakfasts with home-made products. "We have homemade jams, fruits and eggs", they mention among part of the gastronomic offer, among which they also have tapas. "Our guests are usually young couples, others with children in summer, and older couples who already have more time to travel," they explain.
But without a doubt, one of the greatest attractions that clients and hosts enjoy is the tranquility and relaxation that this beautiful corner of Villaviciosa offers and the experiences that can be lived in this natural paradise. "Having breakfast with alpacas is quite an experience, but the best thing for both us and our guests is this relaxed way of life in this incomparable setting of green landscapes and beautiful nature. Here we have nearby, among other attractions, the river Merón with mills, several beaches and coastal paths, a large estuary, the fishing port or the town of Villaviciosa. You can walk alone or in the company of our dogs through the river and forests and you never get bored because every day everything is different. It is an incredible place that invites you to disconnect and enjoy the most rural Asturias ", say Jonathan Holden and Alla Varta.
They do not doubt that their present and their future is in this rural area of ​​Villaviciosa, for which they do not skimp on praise: "Our future is here, we live from our business and we find in San Justo the best place of our lives".