'The first question' closes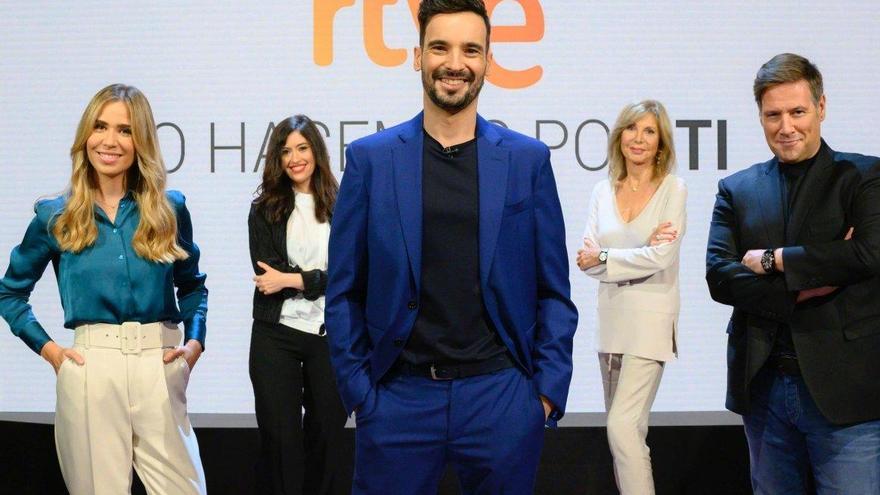 The TVE-1 program The first question asked the last one last Saturday. Just three weeks after its premiere, its discreet audience results have caused the sudden closure of the space for debate and entertainment presented by Lluís Guilera and María Gómez on Saturday night.
The program had premiered on September 26 with the daring intention of being an alternative to spaces already consecrated on that day and time slot such as Sálvame Deluxe (Tele 5) and La Sexta Noche (La Sexta). Bold, because the space presented by Jorge Javier Vázquez and María Patiño dominates with screen shares of around 17% and the program headed by Iñaki López and Verónica Sanz has collected data from 9%, 7.6% and 8.8% in the last three weeks.
On the other hand, in its debut program, the TVE space had achieved a 5.1% screen share and 609,000 viewers, and that it had an interview with the singer and presenter Mónica Naranjo and with the first appearance of the tenor Plácido Domingo on a Spanish TV after accusations of sexual abuse by several co-workers.
Even lower data
But far from recovering, in the following weeks the results worsened. In its second broadcast, it fell to 4.4% and 520,000 viewers, which caused some changes to be made to reshape the formula. How to eliminate the section of Pilar Eyre, and do without the journalist, who had provided information as powerful as that of the infidelities of Juan Carlos I.
This Saturday, despite the fact that it had been broadcast after the match of the Spanish soccer team, which achieved a 23.3% share (the program that follows always drags some audience), the data decreased even more: 4.1% and 502,000 viewers, which has caused the public network to say enough.
Lluís Guilera, who had approached this innovative project with enthusiasm, published a tweet yesterday afternoon in which he confirmed it: "Thanks to the colleagues of La 1 and Visiona TV for their work and dedication these weeks. Now the only thing left to do is keep working and not stop learning. "
This weekend there have been farewells on the public channel, since it also said goodbye, without pain or glory, and with only five episodes of broadcast, the José Mota series Histories of Alcafrán. Although in that case the chain did not seem to have placed as much hope as in The first question, his big bet of the season.