The firm that launched the OPA on Parques Reunidos eliminates the minimum acceptance | Economy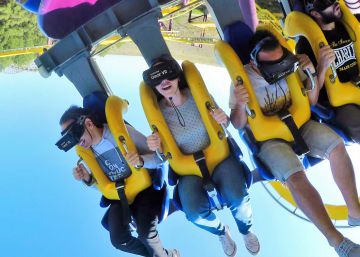 Piolin BidCo, the company formed by the Swedish fund EQT, Alba Financial Corporation and Miles Capital (owned by Groupe Bruxelles Lambert (GBL)) to launch a Opa on Parques Reunidos, the company that owns the Madrid Amusement Park or the Warner Park, announced today that it has acquired 5.91% of the shares of the leisure group and that, consequently, it has decided to eliminate the minimum acceptance requirement of 30, 79% with which launched the OPA.
In a relevant event referred to the CNMV, Piolín BidCo informs that on July 5 it reached agreements with two shareholders of Parques Reunidos (which it does not name), through which it formalized the acquisition of 4.77 million euros. shares at 14 euros per share (66.8 million euros), reaching a share of 5.91%.
In fact, after taking that 5.91%, Piolin BidCo, together with Corporación Financiera Alba and GBL, already controls more than half the capital of Parques Reunidos, since Alba owns 23% and GBL, of 21.19 %. Thus, the buyer decides to eliminate the acceptance requirement of 30.79% that had been set when he launched the bid, announced on April 26.
At that time, between Alba and GBL they already controlled 44.2% of the group of amusement and leisure parks. The rest is in the hands of different funds. The OPA was aimed at 55.79% of the shares it did not control, but in reality it was the Swedish EQT fund that was going to contribute the money, since Corporación Financiera Alba and GBL pledged to contribute their shares to the operation, which it supposes to value Parques Reunidos in a total of 1,130 million euros.
Of Spanish origin, Parques Reunidos operates more than 60 amusement and leisure parks in Europe, North America, Australia and the Middle East. These are amusement parks, aquatic parks, zoos or aquariums, as well as an occasional urban leisure center (such as the one They were planning at the Príncipe Pío station, in Madrid, that they have finally abandoned given the low profitability of those already open). According to its own figures, it is the second operator of leisure parks in Europe and the eighth largest in the world, with close to 20 million customers per year. In 2018 it billed 583 million euros and won 13 million.
(tagsToTranslate) signature (t) throw (t) opa (t) assembled parks (t) eliminate (t) minimum (t) acceptance (t) biddy bid (t) take (t) decision (t) do (t) package (t) action (t) give (t) control (t) half (t) group (t) leisure



Source link