The fire does not give truce in Ávila and remits in Galicia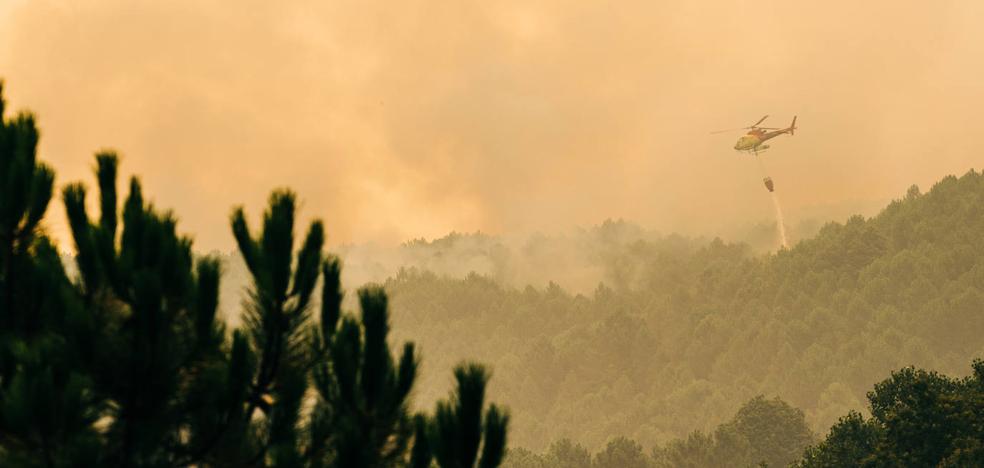 In this last community, it has devastated more than 4,500 hectares in the last week with seven active fires in its four provinces.
The flames barely let up this weekend, with at least eight large active fires throughout the Spanish geography, several of them presumably intentional. More than 4,500 hectares were burned in Galicia, with seven active fires in its four provinces. The firefighting teams managed to perimeter this Sunday the most voracious, in Boiro (La Coruña), which allowed the return home of more than 700 evicted neighbors.
This was not the case in Ávila, where the flames kept advancing in the south of the province, in the Valle del Tietar, destroying large areas of trees around the towns of Pedro Bernardo and Santa Cruz del Valle. The wind changes rekindled the flames that prevent the flanks of the fire from "anchoring" in Lanzahíta, San Esteban del Valle and the aforementioned Pedro Bernardo. They also forced to cut the provincial highway AV-922 from Pedro Bernardo to the port of the municipality of Avila.
The technical director of extinction of the operation of the Junta de Castilla y León, Ángel Iglesias, explained that the conditions to work in the area and contain the flames were "very unfavorable" due to the orography, fuel and temperatures that cause there to be "constant jumps". ».
40,000 hectares in less than a month

In Galicia, the flames were controlled near municipalities such as Caldas de Reis, Vilagarcía de Arousa, Arbo, Mourentán or Ponte Caldelas. The Boiro fire alone, which also affected the municipalities of Ribeira and A Pobra do Caramiñal, destroyed an area of ​​2,200 hectares. In the last three weeks the flames have devoured about 40,000 hectares throughout the community.
Alberto Núñez Feijóo, leader of the PP and former president of said autonomous community, condemned the fires caused by "heartless people" and demanded that the Government create a Ministry of the Environment and not one of "energy intransigence."
Feijóo assured that the arsonists cause the fires "with different sources, mainly at night, when aerial means cannot fly." "They do it with the interest of producing an environmental catastrophe and sometimes they even put lives, villages and assets at risk," he denounced from the Pontevedra town of Cambados.