The fight of the mind against the volcano of La Palma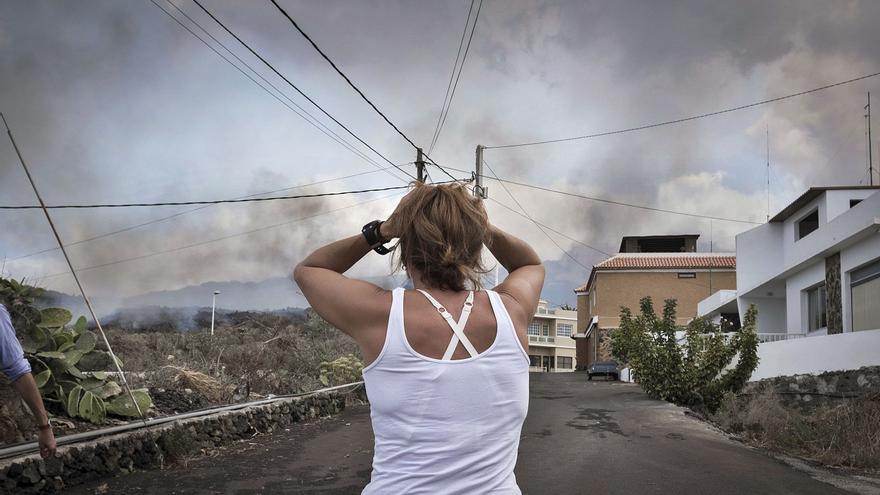 The Fuencaliente Hotel, where 375 of the 7,000 evacuees have taken refuge, has become a true community united by a maxim: to get ahead all together
At the foot of the canyon is, since the first fissure was opened in Cumbre Vieja, the psychologist Alicia Pérez Bravo, attached to the College of Psychologists of Santa Cruz de Tenerife. Flagging the commitment and solidarity, La Palma tree also moved to the Fuencaliente Hotel where, little by little, it has been sheltering evacuated neighbors, and in which today 375 of all people and lagoons sleep.
The first days, as Pérez admits, the psychological performances were difficult. The psychologist narrates that, not knowing anyone, she had to go "picking here and there", trying to introduce herself to those affected and offer her help. However, many showed reservations to open up completely to the new member of that recent family.
"The strength shown by these people in the difficult situation they are going through stands out." they feel guilty and don't want to be violent »
"Today they are the ones who come up to me to talk or even to warn me that one of their colleagues is having a worse time," explains Pérez. "After lunch, they meet in the common areas to share their concerns," says the psychologist. Thanks to these groups, they have become among themselves like metaphorical "fairy godmothers", who help psychologists to know where to act, and also the rest of their colleagues to be encouraged to ask for help when modesty stops them. And thus, without this being the initial claim, the Hotel de Fuencaliente has become a true community united by a precept: to move forward together. "It is noteworthy the strength shown by these people, even in the very difficult situation they are going through," emphasizes Pérez Bravo.
Psychological action is vital in an emergency of this caliber. In a natural disaster there are many scenarios related to mental health problems that can be detected. However, all of them have a common component, and that is that they are derived from loss, uncertainty and the feeling of helplessness in the face of what is happening. In an event in which little can be done to change the course of nature «we find reactions derived from fear, such as anguish or anxiety; or problems falling asleep ", as recounted by the psychologist Leocadio Martín.
These continual regrets fall as on the mind and the most common is that they lead to problems of "anxiety or even depression". The volcano also has a unique characteristic that differentiates it from many other natural catastrophes, and that is its duration. The effects that the emergency can cause on mental health are increased in a situation like this, because the volcano is a "living natural catastrophe" which continues to wreak havoc wherever it empties its lava tongues for a long time and with no certainty as to its completion.
On continuous alert
This obstacle to knowing where the end of the emergency falls, is one more obstacle for the mental health of the population in the long term. If too much time passes, and the population does not receive adequate psychological care, the most affected residents of La Palma –today there are more than 7,000 evacuees and 1,550 who have lost their homes– they could suffer post-traumatic stress "similar to that suffered by people affected in a war conflict or migrations due to persecution". This occurs because people may be forced, given the delay in the end of the crisis, to chronify their natural survival mechanisms, which means being in a continuous "fight or flight".
This defense mechanism of the human being is designed to face "short situations with a beginning and an end" and is activated in this type of emergencies and catastrophes. According to the knowledge of the historical eruptions on La Palma, the eruption could last up to three months, causing the affected palm trees to carry that feeling of being at risk during that same time.. "The problem is that this natural adaptation to the volcano ends up becoming pathological, because it can change those affected in many ways, making a dent in their mental health forever," concludes Leocadio Martín.
But the effects of poor psychological intervention – or not having help of any kind to get through these tough times – can take an even bigger toll. "A person who has gone through this could even try to commit suicide," warns Pérez, which is why he works to prevent all these tendencies.
"Relying excessively on our own resources to handle this impact can turn against us" "In the medium term, those affected may suffer from post-traumatic stress, as in a war conflict"
Experts advise, above all, not to face the situation aloneWhether they are directly affected by the volcano or people who are living the pain of the families from outside. "Relying excessively on our own resources to handle a disruptive impact of this caliber can turn against us," warns Martín. Taking refuge in family, friends, the community and professionals is the right way – and sometimes the only way – to be able to withstand these great and prolonged duels as well as the continuous tension due to the lack of certainties.
Psychologists remember it because they perceive with some concern that the volcano is making a dent not only in those involved, but also in the rest of La Palma. "It has absorbed the social life on the island," Pérez says, describing how people who live in the vicinity of the volcano or even those who live in more remote parts of the island, "are shy about attending or preparing recreational activities because they feel guilty and don't want to be violent. But as psychologists say, what this situation requires is the opposite: trying to lead a normal life. Martín is aware that this request is "complicated" to carry out, and more so "when you are next to a volcanic eruption and subject to confinements or evacuations." However, I would not stop recommending it. Nor does he forget those people who have lost part of their life in the volcano and urges them to "get in touch with the psychological care resources in the area."
More care with children
This maxim is the one that should govern all La Palma trees –as far as possible–, but especially in the smallest ones. "They should be forced to have a school, because apart from providing them with a certain normality, it establishes a safe space," insists Pérez. The little ones experience the eruption in different ways, always in relation to their maturity, but in any case, "they are very vulnerable in the medium term.", as emphasized, for his part, Martín. "It is essential to do work with their emotions," Pérez emphasizes, as children are more likely than anyone else to "absorb" uncertainty from their parents. "You have to help them understand and manage, as well as explain the phenomenon so that they see it normally", concludes the expert.
The Official College of Psychology has a team on the ground, in different hot spots such as hotels, hostels or the places where evictions take place, an online team and a telephone line open to anyone who can call for free (600759760, 696087014 or 922289060).
In addition, the Hospital de La Palma and the Island Council have set up a psychological care service. However, and despite all these care possibilities, Pérez admits that not too many people within the general population are participating in these devices and, therefore, encourages those who need it to go to their services "even if it is not a direct affected person ». The psychologist believes that many are restraining themselves from receiving this service due to "modesty" or because they believe that they are not such a priority. However, Pérez demystifies it: "We are here for everyone, if you have the need to speak, you can talk to us."