The fight between Raphael and Julio in the 80s that the documentary does not tell: "He took my bags and called me teacher"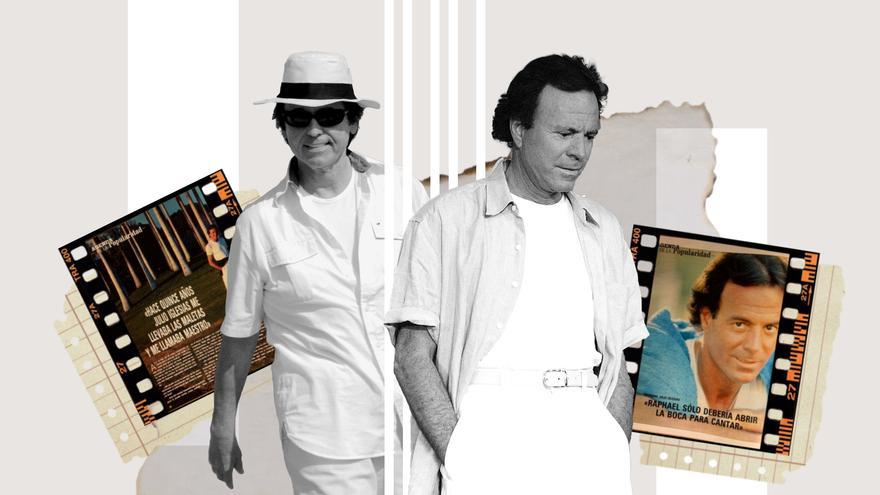 'Raphaelismo' does not mention the conflicts he had with his record label Hispavox in the 1960s or with the other great Spanish melodic artist

Like the 'beefs' between current musicians, but with the press as a stage, the competition between them became an open confrontation that was later buried
In 1962, Raphaël, with ph and umlaut, signed his first recording contract with Philips, a company with which he remained until 1963, the year in which he won first prize at the Benidorm Song Festival and signed for Barclay. After posting a couple of singles on the French record label, in 1964 raphael signed, now without an umlaut and at the age of 21, an exclusive contract with Hispavox, for which he was obliged to record 40 songs in five years. Months before the deadline, Raphael had already registered the 40 mandatory songs and seven more courtesy songs. Therefore, and considering that he had been released from his obligations to Hispavox, the artist and his representative decided to sign with the company Odeon.
To avoid losing one of its most profitable artists, Hispavox filed a lawsuit against the Linares singer, requested the seizure of the records that Odeon had pressed and distributed in countries such as France, the United States, Mexico, Argentina or Colombia and published full-page advertisements in different newspapers to inform the public and those responsible for record stores that Raphael was an exclusive Hispavox artist and that, consequently, any work published under another label was illegal.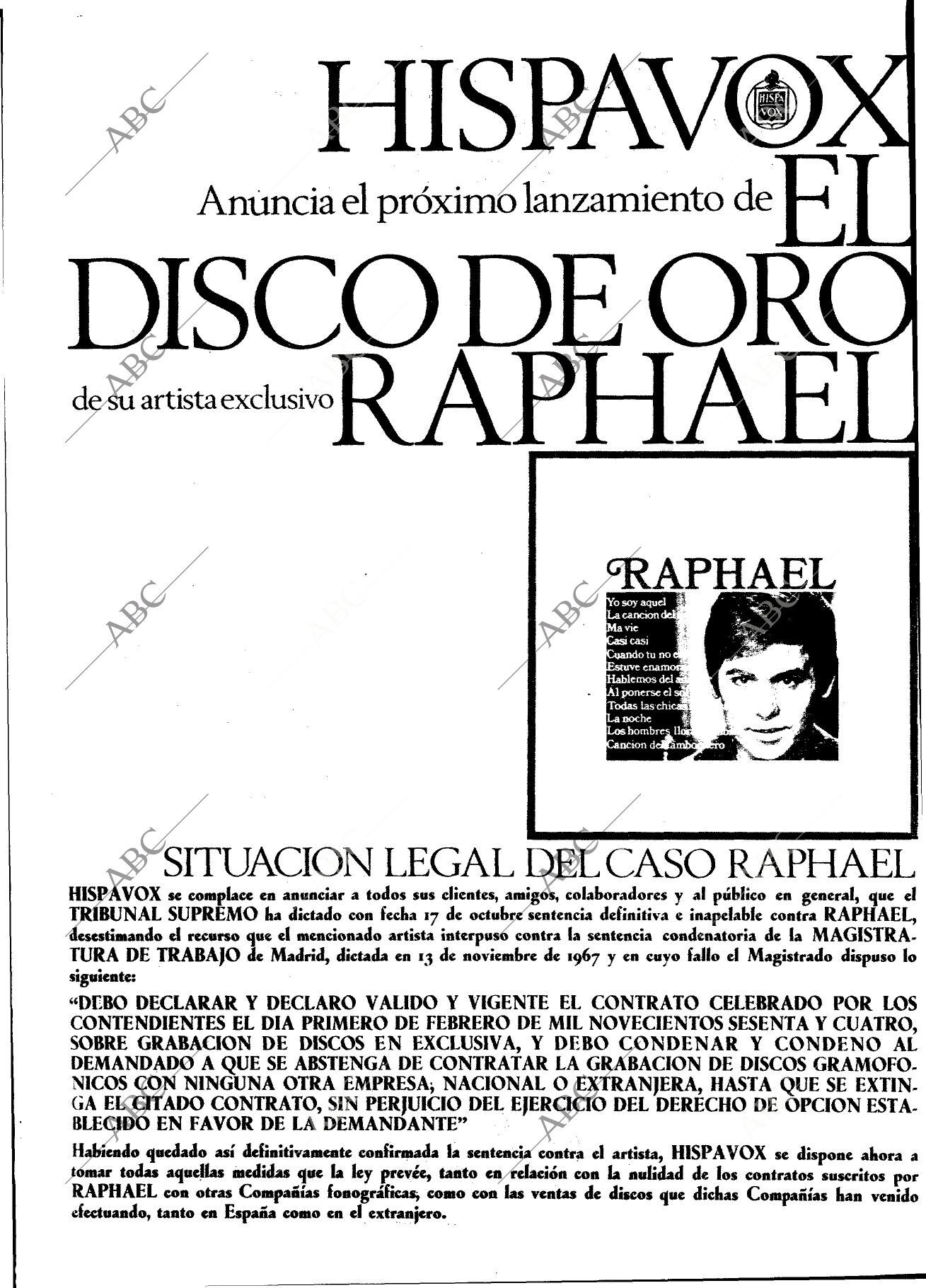 The labor court ruled in favor of Hispavox and Raphael continued to be linked to the record company, which did not hesitate to demand damages worth 87 million pesetas of then, to which another claim for breach of contract filed by Odeon would be added.
In February 1969, in statements to the newspaper ABC, Paco Gordillo, manager of Raphael, denied having any knowledge of Odeon's demand, at the same time that he was calm regarding Hispavox's claim, to whose managers he sent a veiled warning: "When Hispavox asks for that money, I suppose he will have his reasons, but is not in line with settlements what they have done to Raphael […]. The 87 million pesetas they claim do not agree in the slightest with the settlements they have made. I would like to know the number of albums that Hispavox thought to sell".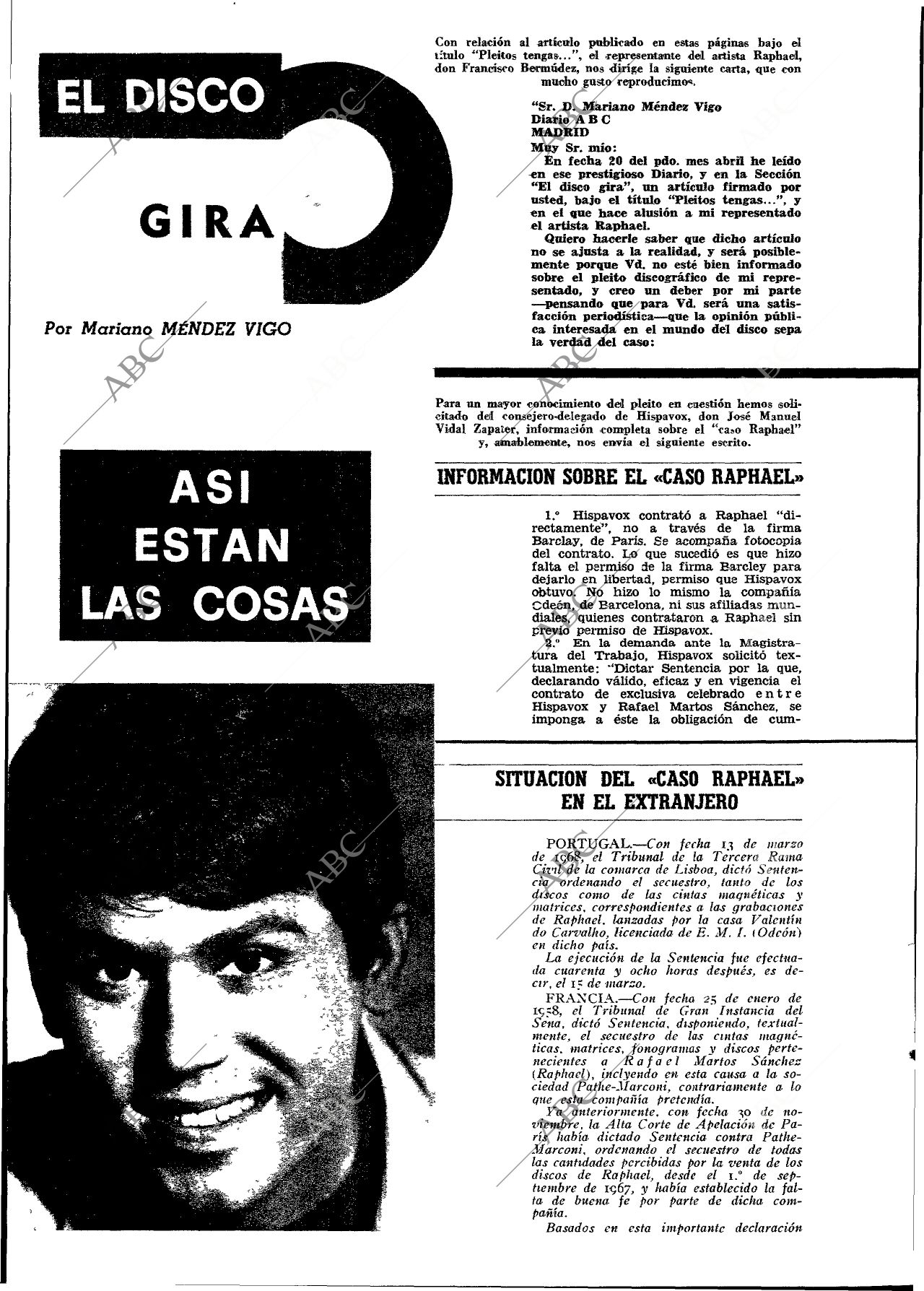 The press of the time did not mention the problems between the record company and the artist, who continued to be linked to Hispavox until 1988, the year in which he joined CBS. A detail that invites us to think that the parties covered the amount claimed with those assumptions royalties dissatisfied and redirected their employment relationship without major problems. On this question, the artist not pronounced in Raphaelism, the documentary series that Charlie Arnaiz and Alberto Ortega have directed for Movistar + and that is a rather hagiographic account of the singer in which the shadows of his biography hardly appear. The curious thing is that in the documentary appears Lucas Vidal, responsible for the production of the album Raphael Resinphonic Y grandson of José Manuel Vidal Zapater, founder and CEO of Hispavox when the litigation occurred and whose figure is treated cordially in the series, although without going into more detail.
Cockfight
Another of the thorny issues that is tiptoed over in this program are the political sympathies that the Andalusian artist seemed to profess at the time, that he participated in the Christmas charity galas presided over by Franco's wife, Carmen Polo, and that even in 1996 he said he hoped that "history do justice to Franco". "Raphael he was very right wing commented the journalist Rosa Villacastín. But nevertheless, when he met José Bono, he changed. I must have given him some speeches as a father and very sir, which made him change. If you have not managed to sign up for the PSOE, it has been a miracle. Julio Iglesias, for example, is not so. He is still from Aznar and of People's Party. Look how it will be, that calls me the Red".
The rivalry with Julio Iglesias It is another of the issues that the Movistar + documentary avoids, despite the fact that, in 1988, both artists starred in a bitter controversy. In March of that year, Raphael was in Venezuela presenting Looks are deceiving, his first album for CBS after leaving Hispavox. At the end of his performance at the Teresa Carreño Theater in Caracas, the artist and several directors of the record company met with a group of journalists. In that impromptu press conference, Raphael began to criticize Julio Iglesias, also a CBS artist, for whom he did not save scathing and derogatory comments.
Among them: "I find it very strange that a person who does not know how to vocalize has been able to gel in a nation where music is a queen", "I sing 100 times better than him, and my performances are hilarious, and his, extremely boring" or "15 years ago Julio Iglesias took my bags and called me teacher."
The statements were collected by black and white, Sunday supplement of ABC that, during the week prior to its publication, was baiting the issue through full-page advertisements in the newspaper. Despite this publicity and the echo that the controversy had in gossip magazines, Adrian Vogel —one of the most prominent executives in the Spanish industry who came to be at the CBS headquarters in New York— acknowledges that he had not heard of the incident and is surprised by Raphael's behavior. "I have no memory of this before, during or after. What's more, I think the two got along very well. They collaborated in the tribute to lola flowers in Miami and, as a result of that, Raphael signed for CBS", comments Vogel, in whose opinion, the comment of "carrying the suitcases" would be nothing more than "a catchphrase to define a rookie or amateur. In football it would be like eat at the same table".
Julio Iglesias did not understand the phrase in the sense proposed by Vogel. A week later and after the corresponding promotion by the newspaper ABC, the supplement black and white published the response of the singer from Madrid to the comments of his professional colleague. "Raphael should only open his mouth to sing", "I am triumphing everywhere and he does not eat a thread" or "Raphael invents gossip. He goes too far and there is no one to stop him. He gets Cassius Clay before a fight" were some of the phrases that Iglesias —who had just been awarded a Grammy for best Latin artist for his album A lonely man– he gave to Raphael.
"At that time, Julio had already gone to the Arab countries or to Israel and Raphael had acted in the USSR. Although it is true that this type of thing could generate a certain rivalry between them, they have always gotten along well. It is true that they are not to go out together, because Julio's life is not like Raphael's, whom Natalie Figueroa has always controlled, but they respect each other. That's why I don't like that behavior in Raphael. They must have caught him in a moment of anger because he is not a person who messes with anyone, at least as far as I know, "says Rosa Villacastín.
"We never see each other"
On March 29, 1988, Jesus Maria Amilibia collected in its section Gente de ABC Raphael's apologies to Julio Iglesias. "I have said things that I shouldn't say, things that are said without giving them much importance and that later, when you see them written in the newspapers, they hurt your eyes& mldr; I have said some stupid things. Well, then I apologize and as soon as I see Julio we will give each other a big hug. It won't happen again. What happened is water in the past", declared the artist from Linares.
However, and contrary to what he himself stated, the controversy would last for some time and, again, because of Raphael. In June 1988, and on the occasion of the promotion in Barcelona of Looks are deceiving, the newspaper The vanguard collected some new statements from the artist in which he denied the older one and stated that he had never said anything offensive against Julio Iglesias. "It is very painful to contemplate how things can be poisoned," he laments with a bitter mood, "for something that I have never said. This whole matter has made me feel terrible because I am sure that Julio has not said anything against me either. No We have never seen each other, for many years, but I know that he is very smart and it is not possible for anyone to catch him saying something derogatory about anyone", commented Raphael, who then took the opportunity to send another message to Julio: "At one time, about 15 years ago, we saw each other from time to time and I remember that he affectionately called me teacher. Now I don't see him act nor does he see me because we are both very busy." This time, Julio, didn't even notice.
Two years after that disagreement, Raphael and Julio Iglesias publicly showed that they had turned the page. It was on June 3, 1991, when the training ship Juan Sebastián Elcano made a stopover in Miami. That day, Julio Iglesias, his father the doctor puga churches, Chabeli, Julius Joseph, Enrique, Raphael, Natalia Figueroa, Alexandra, James Y Alexander swore to the flag, in an act in which he also participated Bertin Osborne, then based in the American city.
"Julio has absolute loyalty to Spain. Even José Bono says that, with relations with the United States stalled, the one who managed to open the doors was Julio Iglesias. In this aspect, at an international level, the star is Julio. has done a great tribute in this country, it weighs on him like a slab," explains Rosa Villacastín. "Furthermore, he has realized that, while his career is ending, Raphael's continues. After transplanting his liver, it has been a resurgence, he has been able to renew himself, listen to the advice of other people, of his children and reach a younger audience. On the other hand, I think it has also had to do with the fact that, after living in Miami for a few years, Raphael returned to Spain. People consider him from here, while Julio is seen as further away. In any case, if Julio sang tomorrow at the Bernabéu, I am convinced that he would fill it. The problem is that he is no longer able to sing because he has suffered a lot because of his leg. They had to operate on him and, although he is not as bad as they say, It is no longer July to eat the world and screwing 3,000 ladies, which seems like a lot to me, but coming from him, I even believe it".
Related news