The FiestaRon returns to Gran Canaria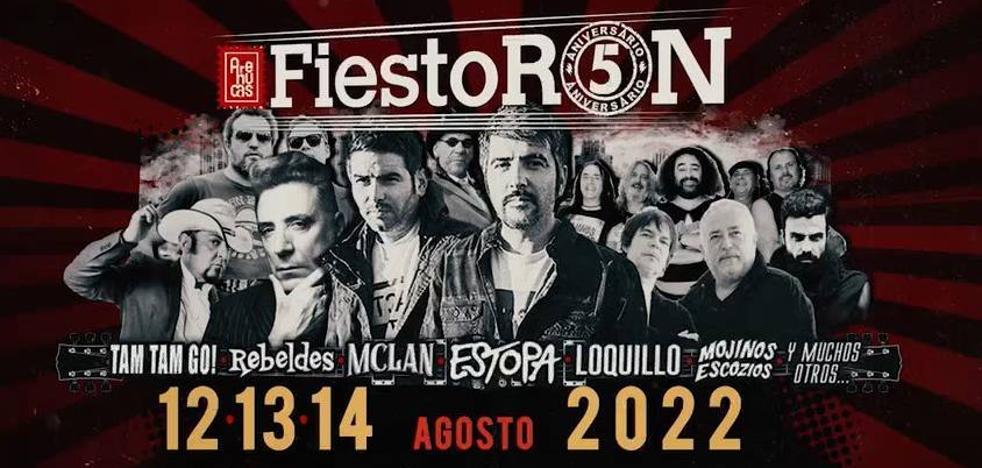 After two years of pandemic
Just two months after its celebration, the two-day bonus has already been exhausted. Last available tickets go on sale
The
pop/rock festival largest in the Canary Islands,
PartyRon, has hung up the "Last Entries" sign. And it is that, two months after its celebration, it already has almost all the tickets sold. There is no doubt that FiestoRon has a loyal public that has remained at the foot of the canyon throughout its history. «In 4 years of event we have never had any altercation. The good atmosphere, the friendship and the camaraderie that is breathed is one of our main signs", explains Adrián García, promoter of the event.
The festival has been held annually in the summer in the municipality of Arucas, coinciding with the anniversary of the historic Ron Arehucas factory, and has been postponed twice due to the pandemic. But now, at last, the festival can celebrate its long-awaited
fifth anniversary on the 12th, 13th and 14th of the next month of
August.
As novelties of this new edition, one more day of the festival stands out, which means almost 30 hours of concerts, the extension of the rest and food areas, better access, a larger stage and a significant investment in image and sound.
Sold out the two-day voucher

The organization of the festival announces that the
two day voucher for Saturday and Sunday, August 13 and 14, and it is expected that in these coming weeks the last tickets available to access the Festival will be sold out.
According to Adrián García, «since it is a bridge weekend and on top of that, in August, a large number of people come to spend the holidays and, incidentally, take the opportunity to see their favorite group, especially from cities with
direct flights to Gran Canaria, such as Madrid, Barcelona, ​​Seville, Malaga, Valencia, among others».
The fact that the event is held in
Arucasjust over 15 minutes from Las Palmas de Gran Canaria, with continuous and cheap connections by public transport and with a wide range of accommodation, makes a good part of the attendees come not only from other islands, but from many parts of the country. even from abroad.
This V edition of the Festival will have more than
25 hours of concerts of singers like Loquillo, Estopa, Mclan, Tam Tam Go, Mojinos Escozíos, Rebeldes, El Drogas and Huecco among others. Recently, Canarian groups such as Los Coquillos, Última Llave, The Hits and Ron Voodoo have joined the festival.
As in previous editions, the shopping catwalks are held in
www.entrees.es and in Rocasa's physical stores. More information in:
https://fiestoron.com/