The female CD Santidad Banot kisses the saint in its first season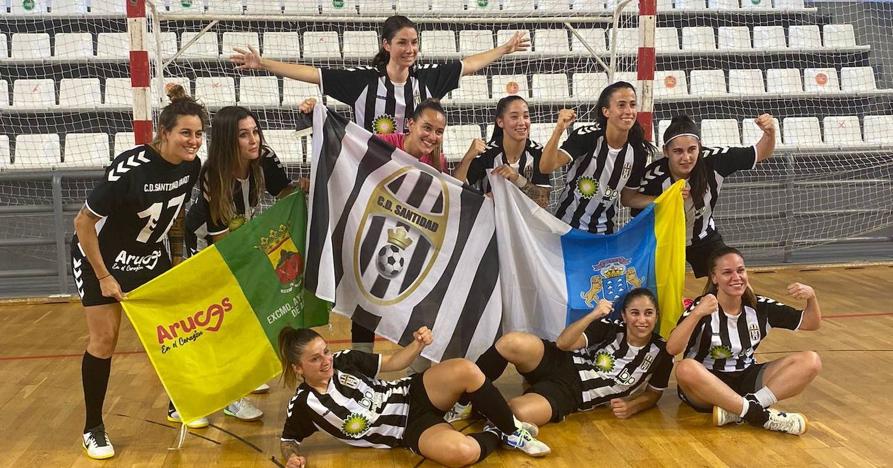 indoor football
The team is proclaimed Champion of the Canary Islands and the playoffs for promotion to the 2nd national division begin this Saturday
The
CD Holiness Banot female get the victory in his first season. The women's futsal team of the Arucas club (Gran Canaria) has finished an exceptional season in which they finished undefeated in the League (there was only one draw) and runner-up in the Cup in the preferred category.
The Canary Islands champions travel
Saturday June 11 to Pontevedra to play the first leg of the playoff for promotion to the 2nd national women's futsal division.
The Aruquense team played the Canary Islands Championship with Valle de Aridane FS (La Palma), which they beat 15-1 in the first leg and 1-5 in the second leg. Both teams have maintained a special relationship since in October 2021 the Gran Canarian club organized a tribute match in Gran Canaria to the Valle de Aridane team, which was then suffering the effects of the eruption in La Palma.
Those from Arucas, who were exempt from playing in the first round of the playoffs, will play for promotion with Cidade de Pontevedra. the first leg
will be in Pontevedra on June 11 (8:00 p.m., peninsular time) and the return leg on the 18th at the José Juan Navarro Batista Olympic Indoor Pavilion, in Arucas (7:00 p.m.).
The president of CD Santidad Banot, Raúl Armas, explains that this success responds to «
the club's commitment to promote women's sport». The arrival of coach Rafa Vera together with a good squad of players such as Irina del Río, Sarita Domínguez, Eu Jiménez or Carolina Chinea, allowed the creation of the women's futsal section in Arucas.
The club, founded in 1995, decided three years ago
bring back futsal to Santidad, a neighborhood with a long tradition that at the beginning of the 90s had a team in the Silver Division of Men's Futsal, Arucas FS. The men's futsal section of Santidad Banot was promoted to
3rd Division in its first year; the following year a team was formed for the preferred category and in the third year the children's and women's teams were launched, which is now at stake for promotion.