The Federation accepts the proposal that unlocks the first agreement of the Women's Soccer League | sports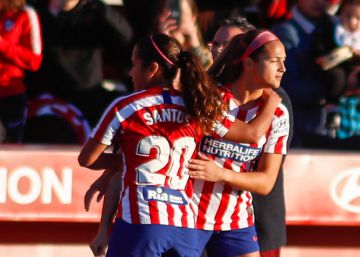 The Royal Spanish Football Federation (RFEF) has informed this Tuesday that it has accepted the proposal of the Association of Women's Soccer Clubs (ACFF) to join the Elite Program, which will allow employers to have the necessary financial funds to face the conditions agreed with AFE and Footballers On during the negotiation of the first collective agreement, which should ratify this Wednesday the unions and the employers.
With this agreement, notes the RFEF, "all clubs of the First Iberdrola and the Iberdrola Challenge can join the Elite Program, which offers 500,000 or 100,000 euros, respectively, per season, or the proportional part from the moment of signature to those who were not already integrated into the Elite Program ".
The thirteen associated clubs of the highest category — all except Athletic Club, Barcelona and CD Tacón, which must also be accepted to the collective agreement – they put as a condition to sign the agreement reached on December 20 with the unions dispose of these economic funds.
The RFEF has accepted entry into the Elite Program of the thirteen associated entities, which in turn have agreed to unlock "the broadcast of the First Iberdrola matches, "according to the statement of the RFEF.
"The ACFF proposed to release the clubs from the agreement with its operator –Mediapro—, keeping the broadcast of two games per day with a certain television operator in conditions that are accepted entirely for this RFEF, "he adds. With this decision, the RFEF "intends to give a definitive impulse to a competition that it considers a priority and for which it has bet and invested firmly from the first moment".
Thus, it invites "all clubs to participate in it and to market together television rights to achieve greater value and a total consolidation. "
You can follow EL PAÍS Sports in Facebook, Twitter or subscribe here to the Newsletter.