The families of the journalists killed in Burkina Faso receive their bodies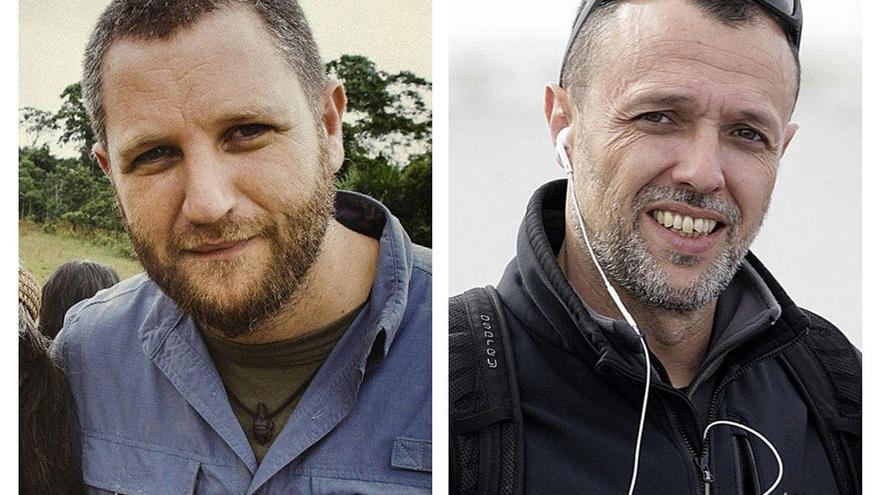 Coffins with the bodies of journalists killed in Burkina Faso arrive at nine in the morning this Friday at the Torrejón de Ardoz air base (Madrid), where they will be received by their families and by the Ministers of Foreign Affairs and Defense, Arancha González Laya and Margarita Robles, respectively. The military plane in charge of repatriating the bodies of David Beriáin and Roberto Fraile from Ougadougou to Madrid also moves the body of the Irish citizen murdered together with the Spanish, the conservationist Rory Young, co-founder of the NGO Chengeta Wildlife, dedicated to fighting poaching. In addition, there will be the ambassador of Ireland in Spain, Síle Maguire, and the journalist and general secretary of Reporters Without Borders, Alfonso Bauluz, as spokesman for the families of the deceased.
The coffins will be received by a military cord of honor and carried on the shoulders of twenty-four soldiers of the Air Force, as reported by the government.
From the Torrejón air base, the corps of David Beraín (44 years old) will be transferred to his hometown, the small town of Artajona, in Navarra, where his mother lives and where family, friends and neighbors gathered after hearing the news of the attack to pay tribute to him in front of the City Hall.
The camera Roberto Fraile (47 years old) will be buried in the town of Valdespino Cerón (León), of which his mother was a native, but before that his body will be veiled in a funeral home in Valladolid. The reporter was based in Salamanca, but he used to spend the summers of his childhood in that Leonese town, a district of Matanza de los Oteros, for which he had great attachment.
The two veteran reporters they were working on a documentary about poaching, one of his many brave and committed jobs in dangerous areas of the planet with armed conflicts.
The Government has asked the authorities of Burkina faso "That they investigate the facts, that they clarify them and that they identify those responsible so that they can appear before Justice." "We do not want events like these, which are terrible, to fall into oblivion or into impunity," the Foreign Minister stressed this Thursday.