The fakes of the great forger that are exhibited in Ibiza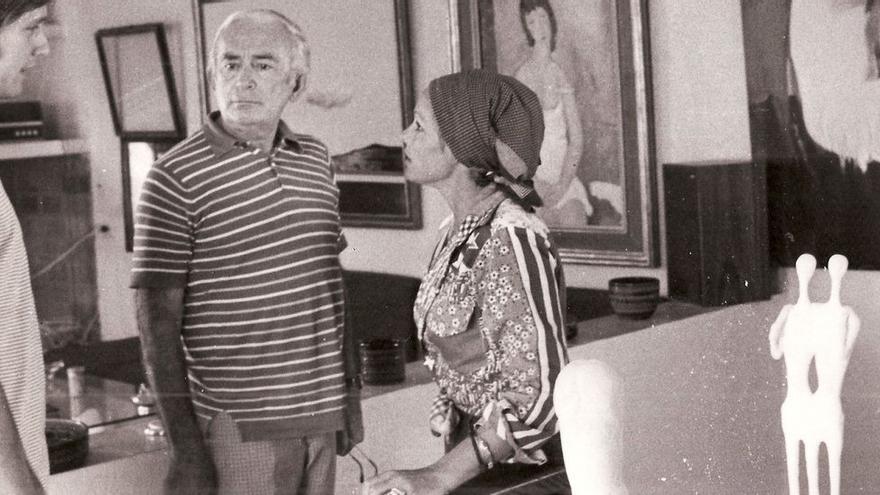 The story of Elmyr de Hory (Budapest, 1906-Ibiza, 1976), the greatest forger of works of art in history (or so the legend assures or magnifies) is a never ending tale. A few days after the conclusion of the exhibition in Far de ses Coves Blanques with works attributed to that artist that are part of the businessman's collection Pepe RosellóMark Forgy, who was De Hory's secretary and makes himself known as the heir to his estate, assures that the paintings hanging there are not from the forger, but forgeries from the forger. The meta-forgery. The forged forger. A mess within a mess within another monumental mess.
In a letter sent to a contributor to this newspaper, Forgy explains that he saw Roselló's collection in the Ibicenco's house "in 2014." It is composed, he assures, "of works, oil paintings made 'in the manner of' or direct copies of existing paintings signed with the names of Modigliani, Matisse, [… y] with the Elmyr signature on the back of the canvas. "But he warns that the fact that they bear his signature (in this case double, that of the forged artist and that of the forger, one on the front, the other on the back) does not mean that be his: "Elmyr warns Forgy- he never created a painting with a double signature like the ones attributed to him in this current exhibition in the Roselló collection. Works like these that are supposed to be the product of Elmyr are certainly not. They are fake Elmyr, not Elmyr fakes"It's" ironic, "Forgy acknowledges. A joke within a joke within a gigantic joke.
In his opinion, "most of these fake Elmyr come from a British, Ken talbot», Who, as he recalls," bought only a few works by Elmyr "in his presence at La Falaise, the chalet where the Austro-Hungarian painter lived in Vila. "None," he insists, "had a double signature."
Works registration
He gives details about it in his memoirs, written in 2012 ('The Forger's Apprentice: Life with the World's Most Notorious Artist'). "Over the years," Forgy says in the letter, "that I lived with Elmyr, I kept records of the works he created. Once again, none of them had a double signatureThe reason: Elmyr was terrified of being arrested for it. to sign false when his main defense was always that he never signed the names [de los autores originales] in his forgeries. "Of course, he makes the following warning:" Not while he was alive. "
"Dead Legrós and De Hory, the one who continued to paint was Réal Lessard. Probably, some of the paintings I have may be by Lessard. I only expose what I have. Period"
Pepe Roselló, owner of the collection, smiles when Forgy's complaint is brought up: "In a certain way we are giving life to Elmyr's work, whether or not it is his. The debate is still alive." Just these days, Roselló is «devouring» 'L'amour du faux', written by Réal Lessard, another painter who, conditioned by his relationship (of love-hate) with the peculiar dealer Ferdinand Legrós, played in the 60s and 70s a transcendental role in the spectacular (and endless, as you can see) mess of forgeries attributed to Elmyr: " Dead Legrós and De Hory, the one who continued to paint was Réal Lessard. Probably, some of the paintings that I have could be by Lessard. I only exhibit what I have. on Saturday, he was at the Casa Encendida in Madrid, in Diario de Ibiza (2013) and in a gallery in Palma: "It is a magnificent show, regardless of what Mr. Mark Forgy says."
"He didn't even look at the pictures"
When the words "that gentleman" or "that gentleman" appear in a conversation, it is not usually to honor that subject afterwards, rather the opposite. Roselló remembers – as Forgy points out in the letter – that Elmyr's secretary approached him in 2014: "He came to Ibiza with some journalists. They filmed all the paintings that I had prepared on my farm for an exhibition, which were part of those now exhibited in Sant Antoni. Among them was one that Elmyr dedicated to me with his signature. The real signature, that with that matter there is also controversy. It was a print 'in the style of' Matisse that he donated for a charity raffle in the 70s and whose proceeds went to the Red Cross: "Forgy, when he came, did not pay attention to any of the paintings on display in the classroom. They recorded the dialogue we had, but he did not look at the works, which I found quite suspicious. "In that report, in an interview after that meeting recorded in Ibiza," Forgy already said that those paintings were false. Now he insists on that, "says Roselló.
And why do you insist? According to Roselló, because he is financially interested: "He has formed a kind of society to identify Elmyr's paintings together with Jose Luis Branger. Both authenticate their works and charge for it. That is to say, they have set up a society to decide what is false, true or imaginary ". To his name is the web elmyr.net, 'The Official Website by Mark Forgy' of the work of Elmyr de Hory.
"I never speculated, I have his work as a testimony"
Sales exclusivity
"Forgy wants to have the exclusive in the sale of the Elmyr, that's why it certifies them," he said in 2018 Diego Feliu, author of 'Desmontando a Elmyr', in an interview that appeared in Nou Diari. Feliu also believes that Roselló's collection is "nurtured by Elmyr who are not Elmyr."
"I never speculatedI have his work as a testimony, "says Roselló, who is bothered by only one thing from this debate:" I gave many Elmyr friends. They will be upset if they now believe they are not his. "The businessman is writing his memoirs (which may appear in November) detailing his relationship with De Hory. The debate will continue.