The fajana of the erupting volcano on La Palma breaks the wave of Los Guirres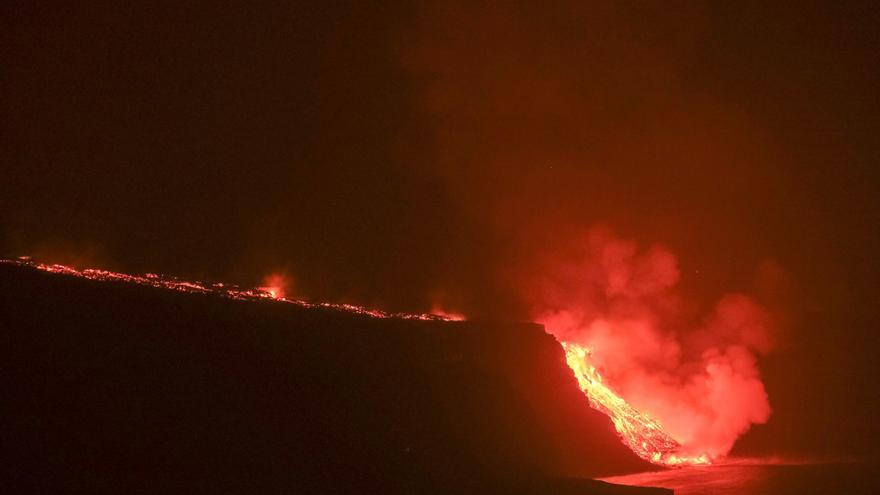 Los Guirres was one of those beaches that had a popular area for surfing and snowboarding, and it was considered a natural sports facility, as it is classified in lto the Canary Islands Sports Law.
Ramón Lobo, president of the Canary Islands Surf Federation, points out that it was a "recognized and valued" space, not only by palm surfers, but also by those from other islands and foreigners, to the point that it hosted various tests of the Canary Islands championship for years.
In the slang of these horsemen of the sea, Los Guirres, crossed by an extensive reef, offered the surfer "Different peaks at different distances", creating "a magical wave" that some considered unique on the Island. Due to its location, on the western side, it was protected from the trade winds and sheltered by the vicinity of the cliff. "The winter swells, from west to northwest, made it a unique setting, especially from September to April," emphasizes Lobo, who does not hesitate to consider it "the perfect beach for all types of surfers, as it has shallow waters, with little depth, and perhaps for that reason the lava is being deposited so quickly on her.
Wolf, who keeps some indelible memories of this place, recognizes that due mainly to the overcrowding "the areas for surfing are being lost, either by natural causes or by human intervention." All in all, he hopes that once nature finishes shaping the coast at will, "it may break a wave", perhaps similar to the one that runs through the islet of Lobos, the longest in the Canary Islands.
Standing on the boards
Solidarity fundraising
On the occasion of the tests of the Canary Islands championship that will be held in the royal beach of El Socorro, the registration fee of 5 euros per participant that in each edition is allocated to a charitable cause, this time will be destined for the island of La Palm.
Free registration
Between November 27 to December 5, 2021, the event called Spring SurFest Las Américas Pro will take place in Las Palmeras, Las Américas, Tenerife. It is a Surf Festival that includes three events and in which the surfers from La Palma will be invited.