The explanation to the pseudonym of Carmen Mola: it's the market, friend, now they sell more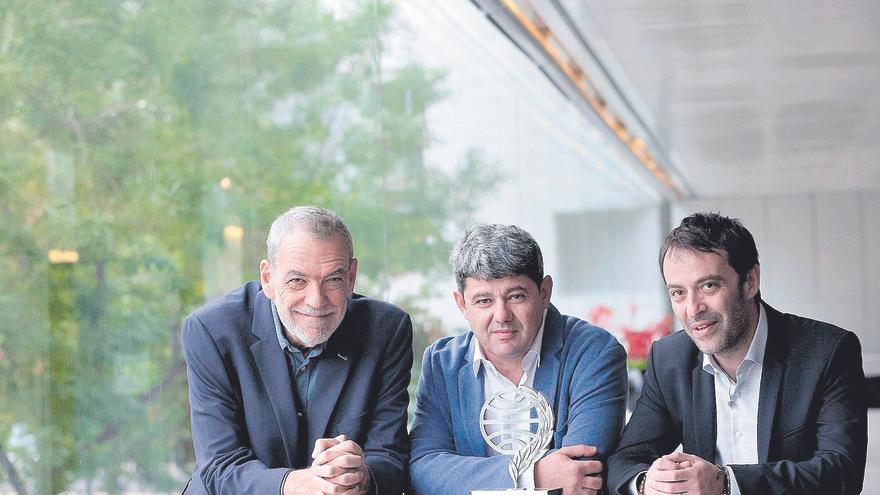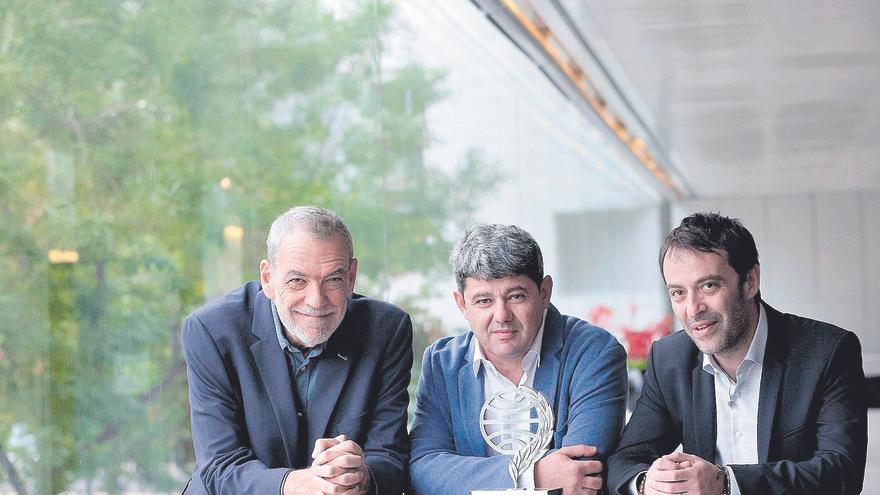 Did Messrs. Antonio Mercero, Jorge Díaz and Agustín Martínez decide sign under a female pseudonym by chance of fate or because they were aware that this way they could sell more?
In the most complete explanation they have given to date, in an interview with the newspaper The country, the winners of the Planet 2021 award said that in their search for aliases they launched "names of men, women, foreigners" and that they decided on Carmen for being "simple, spanish"and for Mola because" Carmen is cool. "
They also said that they did not have "not even the most remote idea" whether the female sold more or not.
The credibility of three people who have invented a mother-of-three teacher who defines herself as "conventional" not to reveal his identity is questionable. What is unquestionable are the sales figures.
According to data from the consulting firm GFK, used by all publishers to monitor the market, which have been accessed by EL PERIÓDICO DE ESPAÑA, currently female writers sell more.
Six of the top seven on the list of best-selling books so far in 2021 are written by women. Is about Sira, by María Dueñas, The humor of my life, by Paz Padilla, Boulevardby Flor M. Salvador, The art of cheating karma, by Elísabet Benavent, Aquitaine, by Eva García Sáenz de Urturi and The Infinite in a reedby Irene Vallejo. Only Javier Castillo, from Malaga – an author who began by uploading his novels to Amazon – is included in this ranking.
Taking into account the top twenty best-selling titles, women have sold 1.1 million books compared to the 770,000 that men have placed.
"The last great editorial phenomena are female," says an editor for a Spanish group. "From the phenomenon Maria Dueñas, above all, and then Dolores Redondo. Although it is true that Pérez-Reverte, Javier Castillo and Juan Gómez-Jurado, who are the main sellers, are still there. "
María Dueñas, best seller for years and author of The time between seams, published his new novel last April, Sira, which is already the best-seller with 302,000 copies. After her they have sneaked two new unexpected phenomena: Paz Padilla and Flor M. Salvador.
Salvador is still unknown in Spain, except for its young readers and for those who handle the strings of the publishing world. The author, Mexican and 22-year-old medical student, public Boulevard on Wattpad, a self-publishing platform. It is a book of youth literature that only there has more than 60 million readings. Its paper sales in our country have also excelled: it has sold 118,000 copies. The Montena Seal, from Penguin Random House, he already sells his second work: Silence.
Who is no mystery to the general public is the actress Paz Padilla. And yet its editor Olga Adeva (Harper Collins) talks about The humor of my life as a "totally extraordinary" success.
"That a book like that of Paz takes seven months more than 200,000 copies sold is not normal. And less in non-fiction. But we perceived that he had many interesting messages to offer, "Adeva comments to EL PERIÓDICO DE ESPAÑA, a newspaper that belongs to this group, Prensa Ibérica. The editor saw the television interview in which Paz Padilla was sincere after the death of her husband Antonio Vidal and he proposed to write about his experiences.
"In the interview I saw that he connected a lot with the viewers, because he had a wonderful love story and a positive vision of life and death. And at the same time you couldn't stop laughing. It had ingredients, but if I'm honest I don't know many phenomena of these characteristics, "she confesses. Paz Padilla is a television presenter, but according to Adeva that is not the only ingredient in the recipe for success." It works at first, so people know that the book exists. But the important thing is that it is very much enjoyed and people recommend it. "The book has been criticized for its advocacy of pseudo-therapies.
Elísabet Benavent ranks fifth on the list. The Valencian author is another of the revelations of recent years. His twenty novels have sold more than three million copies and his Valeria saga has already been adapted for television, with two seasons on Netflix that, surely, will have given another boost to sales.
"It has set a lot of trends. There is a literature niche there chick lit [género cercano a la novela romántica] it was very American until a few years ago it began to be exported, "says an editor consulted." And with the series you will be making good money. Now publishers have powerful departments and there are agencies that work with authors to pass the novels to series".
Was it always like this?
Ofelia Grande is the director of Siruela, a large publisher but smaller than the groups that dominate the market: Planeta and Penguin Random House. Infinity in a reed by Irene Vallejo has put them on the 2021 hit list with 84,000 copies sold. But to date his best-selling book is the classic Sofia's world by the Norwegian writer Jostein Gaarder. "It takes more than a million and a half," they say from the editorial.
"I can't say whether men or women sell more," Grande replies. "Have we ever been told that we post to a lot of women, but it is not premeditated. We publish the books we like. There have been catalogs with 70% men and others the other way around. Between the best sellers of the publisher is also Little Red Riding Hood in Manhattanby Carmen Martín Gaite ".
Grande recognizes that, in recent years, there has been a change in the institutions that indirectly benefits them. "We have had several important prizes: two Nobel authors, Herta Müller and Olga Tokarczuk, the Princess to Fred Vargas and the National Essay Prize to Irene Vallejo. Herta and Olga sold very little and The Nobel made them sell more, but we already had them published. Not the other way around, "he points out." Quzá from the institutions already sees in another way rewarding women and those awards give them a greater diffusion ".
Sales data for 2021 are the photo of a specific moment in which several factors converge, such as who has released news and therefore is higher. Within the genre of fiction – the one that sells the most -, in the top 10 accumulated sales between 2017 and 2020 there were only two women: María Dueñas and Eva García Sáenz de Urturi.
The question is whether the new feminine phenomena represent a trend or are they just another anecdote.
"Fernando Aramburu sells a lot," acknowledges the editor of Harper Collins. "That was unattainable. I think the fact that now more women are coming out is a coincidence. I have been an editor for twenty years and have had best sellers both women and men. Javier Marías, Pérez-Reverte, Javier Sierra … those have been up all the time ".
According to data from the Ministry of Culture compiled by elDiario.es, the publishing market publishes almost twice as many men as women. The figure has improved over the years (although there are only records by gender since 2017): in 2020, titles signed by authors were 36% (13,488 paper books) compared to 64% signed by men (23,691 titles). Before the difference was even greater. And that women read more than men: 68% of them read, compared to 56% of men who do.
In the world of fiction, indicates the publisher consulted, currently "It is not said that you have to look for women, but it is intuited". The figures begin to prove them right. Where there is a cultural change is in essays and non-fiction.
"Women wrote, but they were not published. The concept of expert was reserved for men," says Blanca Carromero, editor of Capitán Swing, specializing in essays and narrative. "The claim that has been made from feminism is important. Now there is a very powerful movement in editorials to that the voice of women has such authority like that of men. "
The truth about why three men hid under a woman's name is something we may never know. The opinions of those consulted differ. "Sometimes we get into bigger eggplants than they are in themselves. I don't know them, but I wouldn't dare to say that behind the choice of the female pseudonym is the certainty that they are going to sell more," says the director of Siruela. Others, like Carromero, are clear that "The choice is not casual".
"They are three types of scriptwriters who have built a millimeter script. They orchestrated a product to work because they knew which keys to play"concludes the editor." The last step: what do we sign? Perhaps it could have sold, because Gómez-Jurado and Javier Castillo are men and one of those who sell the most. But it is hard for me to imagine that three people who know this trade and who perhaps know that with a woman's name they have a better chance of succeeding will leave it to chance ".