The exception of the Red Star: chants in favor of Russia and defense of the agreement with Gazprom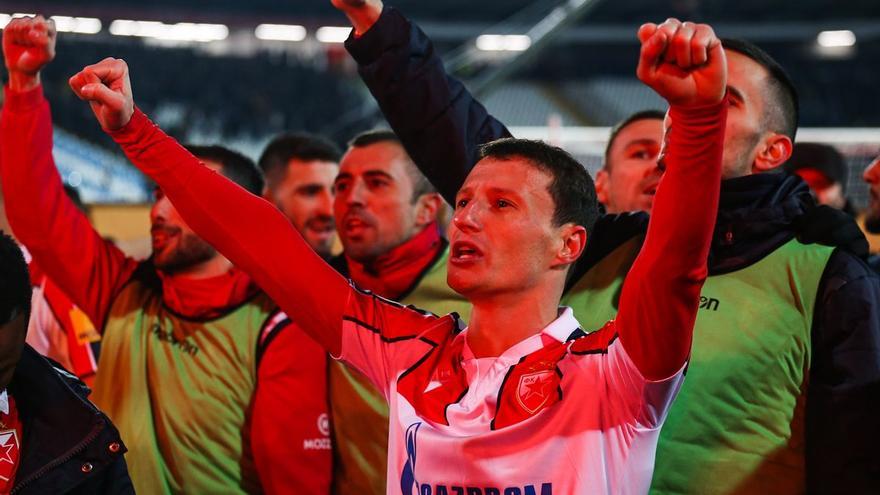 Almost all of European football has positioned itself against the invasion of Ukraine. In addition to the messages condemning the aggression of Russiathe UEFA and the German Schalke have decided break their sponsorship contracts with Gazprom. The energy giant, the largest Russian company and in which the Kremlin is the majority shareholder, does not, however, lose its sponsorship of the Red Star of Belgrade, aligned with Red Square in Moscow: Their general manager has railed against UEFA and "anti-Russian hysteria throughout Europe" as his fans chanted in support of Russia during the last game.
"If it weren't for Gazprom, the question is whether the Red Star would exist. People who love Red Star will never forget what Gazprom did for the club", explains in the 'Daily Mail' the general manager of the club, Zvezdan Terzic. "Gazprom has been with Red Star since 2010 and was with us when the worst financial problems threatened us."
The club's spokesman went further, highlighting the historical ties between Serbia and Russia and criticizing UEFA's decision to expel Russian teams from its competitions. "Politics has interfered beyond reason in sport. We do not approve of what FIFA and UEFA have done to Russian clubs. There is no basis in international law. Now there is anti-Russian hysteria throughout Europe. The Russian people are close to the Serbian people and will always be."
"Russians and Serbs, brothers forever", chanted the fans of the basketball section in the last game of Euroleagueas did the fans who moved to the Vozdovac stadium on Thursday.
Until the outbreak of war, Gazprom sponsored Zenit Saint Petersburg, Red Star Belgrade and Schalke. The latter announced on Monday that, in addition to removing the brand from the chest of his shirt, he was ending 15 years of an alliance that reported nine million euros per year.
The Red Star will continue to wear the brand on the shirt in all their matches, including those of Europe League. The duel against Glasgow Rangers in the round of 16 (round that the Serbian club, like Barça, has reached) will be the only one of the competitions organized by UEFA in which the logo of the Russian company will be seen.
Until Monday Gazprom sponsored the Championsthe Youth League, the European Super Cup, the Nations League and the European Championship, as well as the futsal Champions League.