The excavation that seeks reprisals of the Franco regime in Alicante discovers a possible case of a stolen baby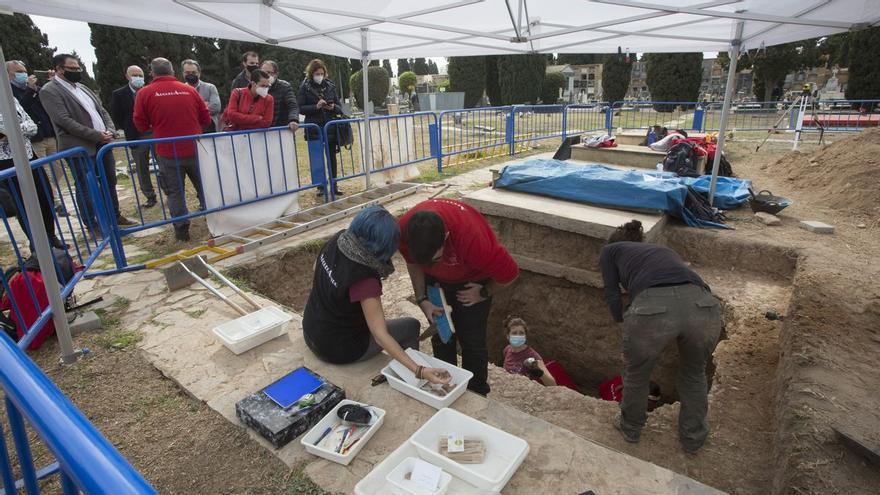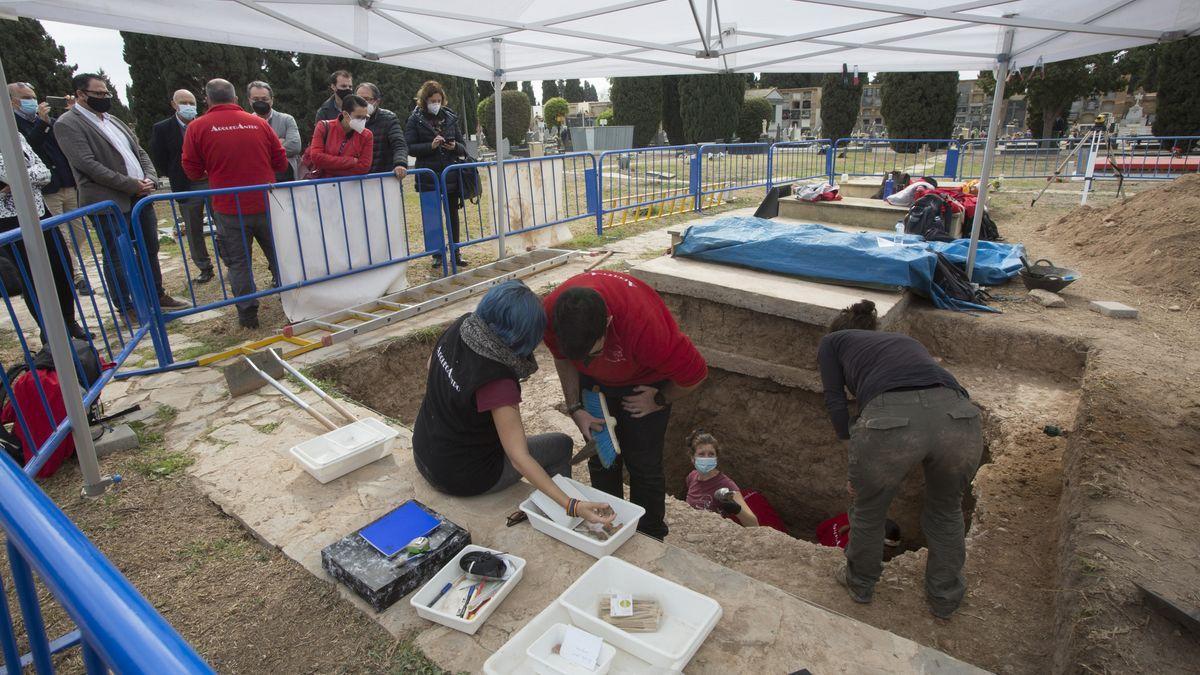 The works of excavation in pit X of the Alicante Municipal Cemetery, where the remains of the retaliated from Francoism, have discovered a possible case of stolen baby, after finding a individual burial wooden box without bone remains and with two pieces of tile inside. According to the preliminary report of ArqueoAntro, the interdisciplinary team that develops the excavation and exhumation worksn, the funeral box found is 12 centimeters high and would correspond to a burial of a child, with maximum dimensions of 56 centimeters by 33 centimeters approximately, but no bone remains have been found inside.
The Department of Participation, Transparency, Cooperation and Democratic Quality, responsible for this project, has denounced the alleged simulated burial to Court number 1 of Alicante, in person to report the finding and possible proceedings are opened in this regard. The Minister of Democratic Quality, Rosa Pérez Garijo, has stated that "unfortunately we can not only find remains of people shot in the postwar period and under Franco, but, as in this case, also possible evidence of another series of crimes considered against humanity, such as the systematic theft of babies."
Inside the box have been found two fragments of ceramic tiles, orange in color, with a smooth surface on one side and rough on the other. It is not possible to know if they are part of the same piece, since the fragments do not fit, and the width of the pieces is irregular, as stated in the report. The finding of the team that directs the exhumation work in the Municipal Cemetery of Alicante corresponds to burials made between 1963 and 1964.
Pit X
This discovery has occurred in the first exhumation works in pit X of the Alicante Municipal Cemetery that began on February 22. The remains of 11 Republican victims shot in 1940 are expected to be recovered. that are buried in the Common pit, at the request of three families. The objective is scientifically exhume the remains of the people murdered during the Franco dictatorship for, at a later stage, to be able identify and hand them over to family members. This project has been awarded by the Department of Democratic Quality to the company specialized in archaeological excavation work ArqueoAntro, with a budget of 13,037.75 euros for the investigation and investigation, location, delimitation, exhumation and anthropological study of victims of Franco's repression in the Municipal Cemetery of Alicante.