The eruption marks a month with the lavage of La Laguna about 160 meters from the coast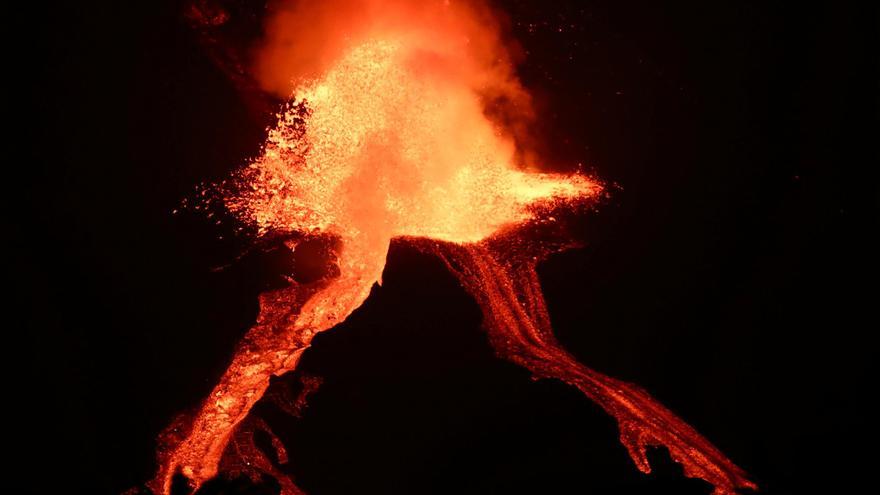 After a month from the beginning of the eruption of the Cumbre Vieja volcano on the island of La Palma, the area affected by lava has already reached 763 hectares and 1,956 buildings destroyed, according to the latest report from Department of Homeland Security (DSN) issued early this Tuesday.
National Security has also reported that the eruption is continuing and the main flow of lava flows runs along the north flank, going down the northern part of the previous flows, following paths towards the west and northwest, and within the current exclusion zone.
As for the laundry that could reach the sea again, located to the southwest of the La Laguna mountain, is located about 160 meters from the coast, although in these last hours has slowed its progress to 2 meters per hour.
Air traffic at La Palma airport remains operational this Tuesday, but with delays in inter-island flights caused by the volcanic ash cloud, which already forms a column 4,200 meters high; Tenerife airport also operates normally, although yesterday Monday there were flight cancellations and diversions.
The direction of PEVOLCA, Special Plan for Civil Protection and Attention to Emergencies due to Volcanic Risk, has recommended to the population of El Paso that at least until today, between 2:00 p.m. and 9:00 p.m., they remain indoors in view of unfavorable weather conditions for air quality that announce the intrusion of haze and wind coming from the sea.
Meanwhile, the DSN has communicated that today the face-to-face classes have been suspended in the two educational centers of Tazacorte due to the possibility that the lava reaches the coast and after yesterday, Monday, more than 4,500 students and almost 600 Aridane Valley teachers will resume classes after one month.
From the National Geographic Institute (IGN) The data indicate that since last midnight the seismic activity on the island of La Palma has decreased slightly in relation to previous days, with 14 movements registered in the early hours of this Tuesday, most of them in Fuencaliente and only three in Mazo .
In the last hours, the earthquake with the greatest intensity, of 3.9, has taken place in the municipality of Fuencaliente, 37 kilometers deep, according to IGN measurements.