The enormous anger of Xavier Sardà and Pilar Rahola: "But what 'long live Spain' or what the heck?"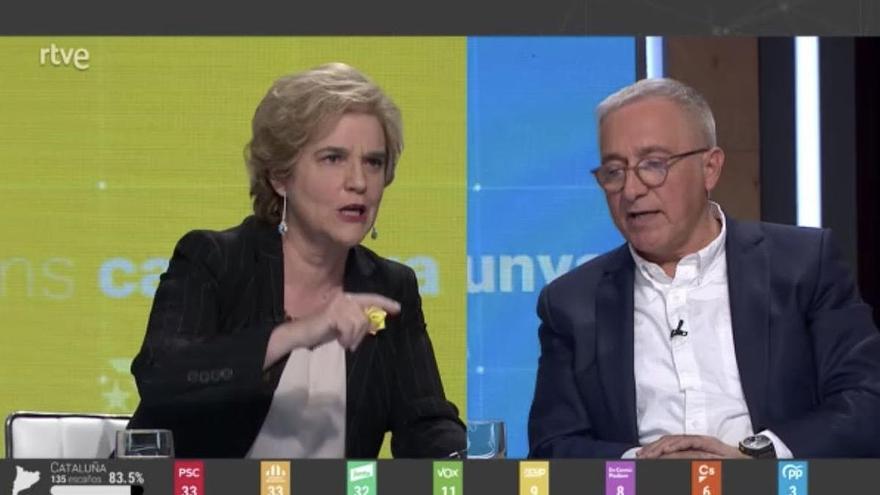 The special of Catalan elections of La 1 was marked by the disagreements between Pilar Rahola and Xavier Sardà on the occasion of the tight result between the independence bloc and the constitutionalist. "It would be something unprecedented for you and I to agree on something tonight," Sardà began saying sarcastically at the beginning of the debate without knowing what was going to come shortly after.
Although they were heating up throughout the night, the sparks ended up jumping when, with almost all the votes counted, Rahola said that "the most reasonable thing" was the formation of a Government with the three independence forces (ERC, Junts and the CUP) , although he saw a second election in Catalonia very likely. "You independentistas are your worst enemies!", he commented between laughs.
It was then that Rahola stirred: "The only thing that is clear is that the option of 'long live Spain' of Mr. Xavier Sardá has lost the elections. And the option of independence has won. 73 deputies and more than 50%. Do we talk like that? You have a failed super minister. Is he going to be able to govern with his own or is he going to have to do wonders? "He wondered.
Sardà did not ignore the taunt and replied: "By 'long live Spain' do you mean that I am a façade?". Before the visible anger of the collaborator, she replied:" No, of course not. You have never been a façade. "" Well, when you say it, you say it as an understatement, "he replied." I say it however I want! You are not a façade, you are a democrat and also from time to time a friend, "she said in a more conciliatory tone, although Sardà did not hesitate to show her anger and raised her tone:" So, what 'long live Spain', or what the heck ? There are many Spaniards who are not for 'viva España', that we are people of tolerance and coexistence ".
"Well, there are many Spaniards who are tolerant and coexist who are in favor of a referendum," Rahola insisted, while Sardà returned the dart: "The 'long live Catalonia', but your Catalonia, only your Catalonia"."In your Spain I don't fit either"The journalist criticized before settling the matter.