The endless legend of Chuso García Bragado | sports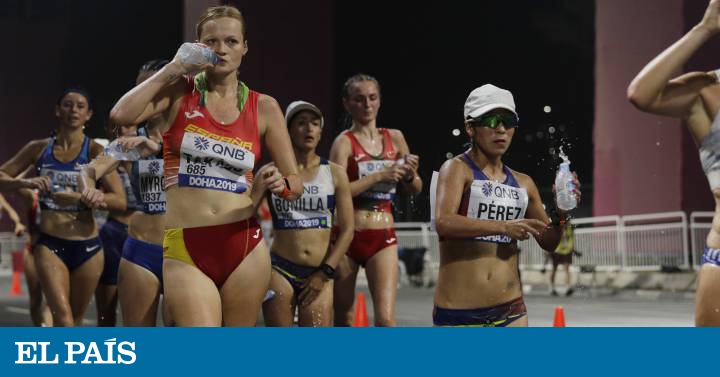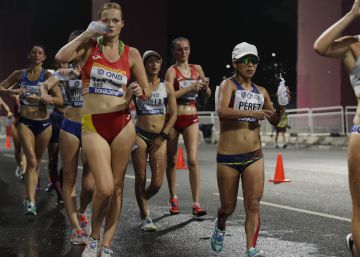 The march, the 50 kilometers, is a matter of ancient civilizations, Iberians, Chinese, Japanese, Magyars, Ecuadorians, Mexicans, hardy, hard people, and Chuso García Bragado, 49, poorly shaved, stubborn and sucking, is a bandit of the mountain range of Ronda that does not forgive. It does not fear heat or humidity. He hugs them and dominates them. March to Tokyo. No one can stop him. He finishes eighth and steals all the planes when he crosses the finish line, half confused, and for the clock of his wrist, which marks 4h 11m 28s. No one can say anything about him that has not been said before. And he, who, when he was young, liked to be an edge whenever he could, and sharp, does not care if they say much about him. He is in this for more than applause.
"Athletics is my life and it is my passion," he says, and smiles. He has managed, with his partner and coach, Montse Pastor, one more goal, to finish in the position of finalist, something he needed after getting excited in Beijing four years ago thinking that he had finished eighth before knowing that he was actually ninth.
In men he has won a Japanese, Yusuke Suzuki (4h 4m 20s), and second is Joao Vieira, who resists the arrival of Evan Dunfee. In women, gold and silver for China, for Riu Liang (4h 23m 26s) and Maocuo Li; bronze for Italian Eleonora Giorgi and eighth place, another finalist, for Julia Takacs (4h 38m 20s).
Vieira, Portuguese of Portimao, 43 years old and 11 World Cups, competes in the Corniche with an icy scarf on his neck, and, dry, fibrous, tireless, is the stamp of a farmer from the Alentejo, and only lacks in rough hands of tripe a sickle; the icy handkerchief of Japanese Yusuke Suzuki, as methodical as his last name suggests accelerates, is rather a black tie as elegant as the waltzes of the Budapest of Julia Takacs, which is also Spanish and standing upright, and is prudent and cerebral, and, as He knew what would happen, he dedicated the last kilometers to overtake the optimistic rivals that began marching at the rhythm that their hearts were asking for and they were shipwrecked. He advances Inés Henriques, compatriot of Vieira and world champion two years ago, when, in London, women were allowed to play 50 kilometers for the first time, he tries to endure, but he does not resist. Yes, they endure the Chinese, which devastate, Liang and Li, athletes who laugh at the heat and humidity, because in Beijing they have more, and dirtier.
Icebags in the hands, white like Tokyo's taxi driver's gloves, which the Japanese hold tightly, and make them melt in their fists, complete the elegant air of Suzuki, 31, who, with his black spy glasses and his cap also black that fills with ice every two kilometers seems to want to go incognito, but accelerates from the exit, fast, ahead of all, and sucks camera, because he is the best and will win.
If the conditions of heat (32 degrees) and humidity (70%) were not known, its rhythm, very regular, around five minutes per kilometer (12 kilometers per hour) would make any professional laugh, but on the seafront in Doha one night almost October, it is a devastating rhythm that neither the world record holder, the Frenchman Yohann Diniz, champion two years ago, nor the Slovak Matej Toth, the Olympic champion of Rio, endured, both who dared to challenge him at the beginning.
The rhythm is not broken at the beginning or his meticulous and studied supplies that he orders a kilometer in advance, when passing through the road in front. In them he receives from the table two water bottles joined by a plastic tube and a surprise bag from which he takes out small details, an ice scarf, which is placed on the neck like a choker, a custom ice pack for Insert it between the lining of your black cap and the ice mittens. The first 44 kilometers, Suzuki, performs all these maneuvers without losing pace. Then, in the final six kilometers, decisive, he suffers as an illumination, and when he approaches his table he leaves the march position and starts to walk calmly, as one who walks a spring afternoon through the Espolón de Burgos. His pace drops to almost five and a half minutes, and his methodical gait is beset by stress and anxiety. Scallop goes for him. Accelerate Approaches. Suzuki then looks at the clock in anguish, as who knows that he will miss the train. But Suzuki arrives on time.
It is also very hot in Tokyo, you can say, and in a year the Games will be there, I have to try strategies. For him, and for everyone, Doha is a general essay with everything.
In his 13th World Cup, García Bragado, who is able to drink glycerin, teaches everyone, the 46 men and the 23 women who leave together at 23.59 on Saturday. There is no chaos or drama. What happened in the women's marathon has alerted everyone, who, as Bragado advised, leave at a much slower pace than what they consider their own. Except for Suzuki, of course, he follows his own method.
You can follow EL PAÍS Sports in Facebook, Twitter or subscribe here to the Newsletter.