The end of the 'omertà' of payments in black to Second B and Third footballers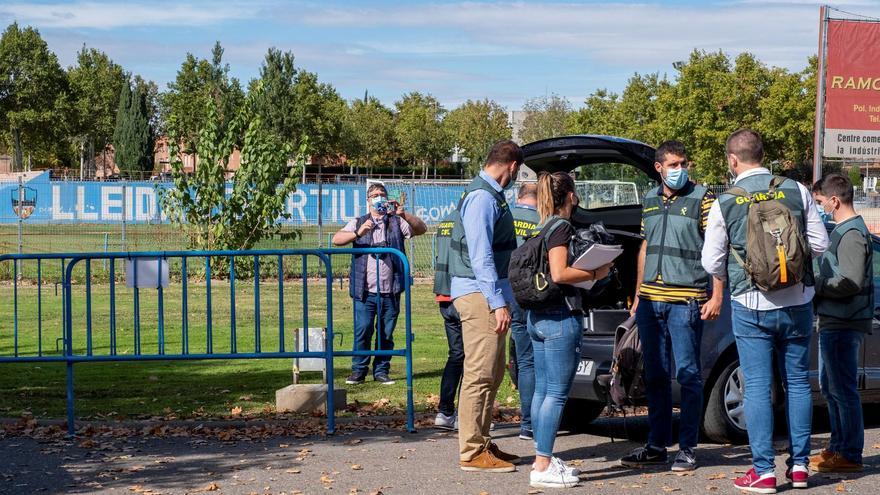 "A club from Segunda B approached us with an offer for one of our players. The offer consisted of an official and legal payroll of about 1,000 euros per month plus others 1,500 in an envelope, signing a receipt. We said no and left there, but many others did. gladly accept. And it was neither the first nor the last time it happened ".
This testimony of a representative of footballers illustrates the 'modus operandi' that some (or many, depending on who you ask) Second B and Third have historically practiced to configure their templates. An extended practice in non-professional football on which there has always been a kind of 'omertà' that is coming to an end.
The wick was lit 11 clubs of Second B that last year joined to denounce jointly before the RFEF the "Unfair competition" that was practiced in the category, with "agreements with payments that do not fully comply with the legislation and amounts of money that are received in an unofficial way", directly appealing to fraud in the payments of Personal income tax Yet the Social Security. At the moment there have been no arrests.
Records
The Civil Guard picked up the glove of the complaint and started, along with Work inspection, an investigation that was made public on Tuesday with the search of the offices of a dozen clubs, in search of documentation that proves those alleged frauds whose existence, beyond the complaint, is known to the entire football world. Already last month he had made a search at the Lleida headquarters.
"Until now no one raised their voices because many players and representatives entered this game, the clubs that resorted to this practice saved a lot of money and had access to better footballers and the rest … Apart from not having tests, who is free from sin, let him throw the first stone. Not everyone has had it institutionalized, of course, but who hasn't ever given an envelope with money from the box office for some important victory or promotion? There will be some, but … ", reflects the former president of a Second B club, under condition of anonymity, as do the rest of the sources consulted for this report.
Professionalization
Until recently, the teams in these categories were very amateurish, but in recent years they have become professional, with the entry of major investors with ambitious business projects and greater rigor in the economic and financial control of its activities. And that has been putting a brake on tolerance towards this type of fraudulent practice. ProLiga, employer group that groups more than 200 clubs, conducts training so that less professionalized clubs work in accordance with the law, facilitating models of labor contracts, raising awareness about the responsibility of the boards of directors and providing legal support.
The RFEF, organizer of the highest ranking non-professional competitions (since this year, called First, Second and Third RFEF, replacing the old Second B and Third), is aware of this problem and has been working for a year and a half to establish a effective economic control to stop these practices. The problem for its implementation lies precisely in the accounting precariousness of many clubs, which makes it difficult to collect information and the lack of a legislative framework that regulates it, unlike what happens with professional football.
2022/23
The negligence of the organism in this matter during the presidency of Angel Maria VillarAs has happened in many other areas of the RFEF, it has forced Luis Rubiales' team to start almost from scratch, an added difficulty. The forecast is to launch from the season 2022/23 a new control system equivalent to or similar to the one already in force in the professional categories.
Of course, the elite were not always oblivious to these fraudulent practices. "Years ago, in the First Division, there were representatives who left the club offices with tens of thousands of euros in a brown envelope. And it also happened with players ", details an agent. The strict regulations now imposed by LaLiga prevent the existence of parallel or falsified accounts. "Nobody cheats anymore. And if they do, they are caught right away, as happened with the Reus", Detail sources of the employer's association.
Second division
Concern for these types of practices is also reflected in the rules that the body chaired by Javier Tebas applies to Second Division clubs to calculate their salary limits. There is a specific section for these clubs that takes into account the remuneration received by each footballer in previous seasons when setting how much salary margin to consume, not always considering the real salary that appears in the player's contract as valid.
Simplifying, and as an example, if a footballer comes from winning a million euros in his previous club, in which he has played regularly, he cannot be registered for less than half a million. Although the club and footballer have set a lower salary, the club will be fully deducted that half a million from their salary margin. That appease the temptation that following the practical example, a player signs a contract of 200,000 euros and wins as much or more in black money.
The challenge now is to implement effective control in non-professional categories, for which it would be desirable a similar legislative framework to which he has ruled in professional football for a few years. An instrument of these characteristics would contribute to tackling the existence of fraud widespread that some clubs have practiced although, as in the rest of the sectors, it will never be possible to prevent the existence of specific flows of money that escape the control of the Treasury and Social Security.