The emotional note that has moved the National Police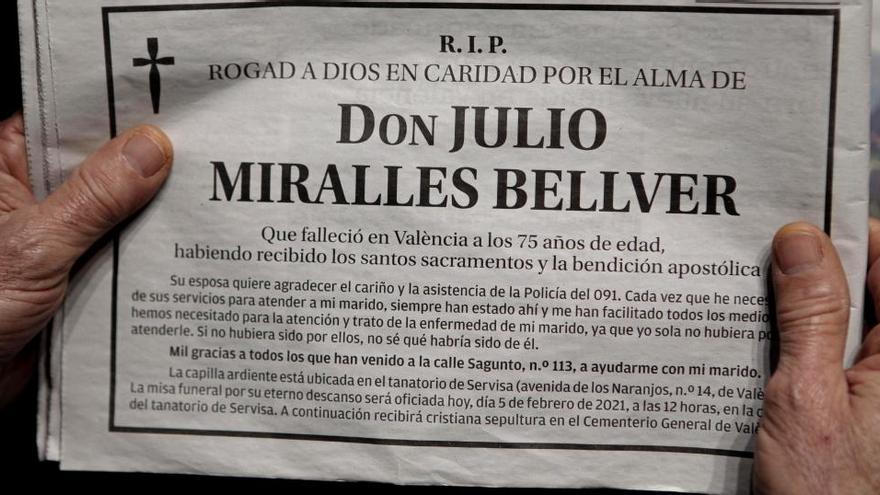 The tokens of appreciation for the work done, depending on the sectors in which the professional career is carried out, they are rather scarce and no less necessary. In recent times due to the pandemic of COVID-19, health personnel have been one of those who have received the most recognition from society: applause, posters … there have been several displays of support for these professionals.
Who, perhaps, are not so used to obtaining these gratitudes, and less in public, are the agents of the National Police. One of the functions of this body is to serve society and perhaps these actions are the most comforting for the agents. And of course, for those who receive this help.
Precisely as gratitude to a help service by the National Police, a Valencian woman wanted to express his recognition to the agents of 091 through the obituary of her husband who died a few days ago and that this police force wanted to share through his profile on the social network Twitter.
"I don't know what would have happened to him"
As explained Maruja tatay, her husband suffered from an illness that required the assistance of the woman, and on more than one occasion, she has had to notify the National Police officers to give her a hand.
After the passing of Julio BellverHis wife wanted to express her appreciation for "the love and assistance of the 091 police." "Every time I have needed their services to attend to my husband they have been there", explained this Valencian, who added in the obituary "they have provided me with all the means that we have needed to care for and treat my husband's illness" and end with an emotional phrase: "If it hadn't been for them, I don't know what it would have been his. "
Certainly some sincere and heartfelt words that have motivated the entire National Police Corps. And more, when they arrive from a moment as difficult as the loss of a loved one.