The emergency tanks will begin to supply water from this Saturday to the farms of La Palma affected by the volcano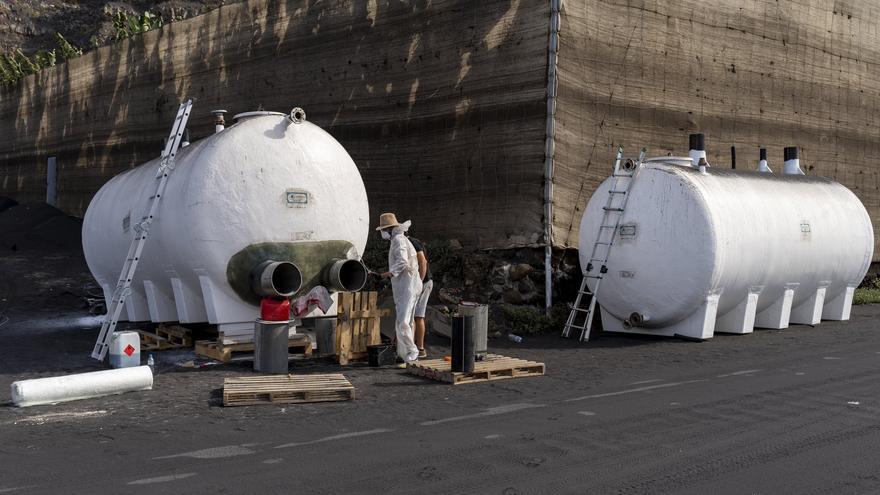 The Ministry of Ecological Transition, Fight against Climate Change and Territorial Planning of the Government of the Canary Islands has begun the installation of the mixing tanks in which the water of the five contributions planned for the irrigation supply and maintenance of the farms affected by the La Palma volcano.
The councilor responsible for the area, José Antonio Valbuena, explained that these tanks will house the water from the tanker provided by the State, the two portable desalination plants, the Peña Horeb well and an additional desalination plant from a hotel in Puerto Naos.
Valbuena also clarified that each of these infrastructures has a capacity of 25,000 liters and that they will serve to regulate the mixture and obtain guaranteed water for the professionals affected by the agricultural sector of La Palma.
José Antonio Valbuena also stressed that it is "another key milestone" that brings the objective of achieving that "this coming Saturday, if there are no notable setbacks, the first supplies to the affected farms are started and guarantee that these plantations will continue to survive. on the island after the end of this eruptive process ".
Among other advances, we have also proceeded to the installation of the inlet and outlet collectors of the pumping station, the closing of trenches for water and electricity pipes, pressure sensors and flow meters have been installed and they have been completed. several successful seawater well flow tests and injection from the tanker to shore.