The elongated arm of the octopus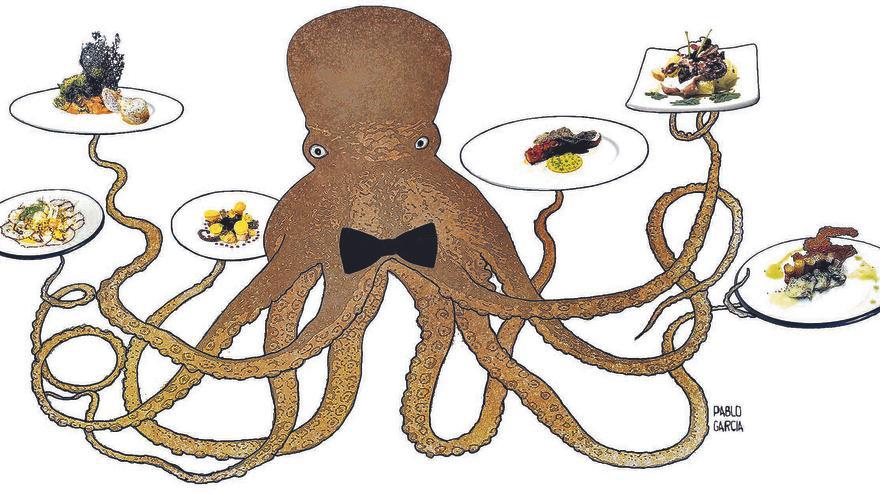 A friend of the hospitality entrepreneur told me not long ago how octopus has been imposed on the menus and increased demand while its price has skyrocketed. In return, I used the example of salted anchovies, which, on the other hand, are no longer ordered as much in restaurants as was customary. The price of anchovies, he told me, has remained as it was. It can be explained that lately there are generous coastal areas. But the octopus is not something that is in short supply. Octopuses abound. It may also be that its omnipresence in the letters has its explanation in the comfort of the cooked and packaged product that most use to cook it on the plates of their restaurants, whose kitchens, let's say it clear at once, are limited and do not have enough production . If, in addition to this, it satisfies the interest of a good part of the clients, it is not difficult to adopt it as a companion animal.
But despite its elongated arm, the octopus has its rules and its things. The tradition in Galicia maintains that it should be cooked even though the fashion of making it suffer later on El Hierro until it dries has been imposed. The water is allowed to come to a boil and put in and out three times for about half an hour for a medium-sized octopus, in order to scare it. The best way, they say, is to cook it in a copper cauldron, as is customary in pilgrimages, catering establishments and, also, in some houses.
Kitchens have long adopted the king of the cephalopods as a companion animal; comfortable and versatile, its tentacles are often charred on the plates
Once cooked, this cephalopod admits many variations, onions, with vinaigrette, and so on. But in Galicia, where it has been consumed the most throughout national history, there are three variants that reign over the others: a feira, in caldeirada or Galician, which is how the famous octopus from the island of Ons is prepared. In Ribadavia and Carballino, Orense, I have eaten octopus accompanied by cachelos and it was difficult to decide which was better, octopus or cachelos. In the dilemma of avoiding comparisons, every time I have ordered it lately I have given up potatoes. I have also eaten octopus in many other places in Galicia and almost always found in its flavor a fragrance that ends up returning me to the sea. If the octopus is eaten so much inside, it must be, among other things, because of its evocative aroma. To keep it, it is best to preserve it with its firm texture, cooked just right, with the intoxicating juice that it gives off.
The Galician, in general, is very pulpero, and the octopus ends up bringing to mind a fabulous one, Álvaro Cunqueiro, and what he wrote about him. "Before, most of the octopus that was cooked in the fairs of inland Galicia was half-cure or full-cure –that is, dried on the seashore in the sun and the wind–, but now frozen octopus runs a lot. The octopus arrived in Lugo, Orense, Monterroso or Carballiño, coming from Mugardos, in the Ferrol estuary; from Bueu, from Marín, from Muros, from the islands and banks of the Arosa estuary. There were always famous pulpeiras from Sarria, for example, who go from fair to fair with their large kettles, with their oil bowls, with their sacks of salt and paprika and their wooden plates ". Through Cunqueiro I learned about the testimony of that Frenchman, Jacques Mabille de Poncheville, "who, on the Camino de Santiago on foot, made an inn in Lugo, and going out to walk along the great Roman wall, between the gates of San Pedro or Toledana, and that of the Castle, in a field between two buckets, he saw some women dressed in black who were raiding, lighting a fire under immense black cauldrons, and he believed that those would be the witches or meigas of whom he had been told Galicia was abundant, and that they must have been little less than preparing the coven. But they were the pulpeiras from San Froilán ".
To one of those meigas de Cunqueiro, the very pulpeiras of San Froilán, I would gladly entrust a spell to make so many octopus battered by the inclement heat of the plates disappear from today's kitchens. A proper cephalalopod, son of the stone, does not deserve, in any case, hell.