The electoral battle is for attention and Vox is winning | Technology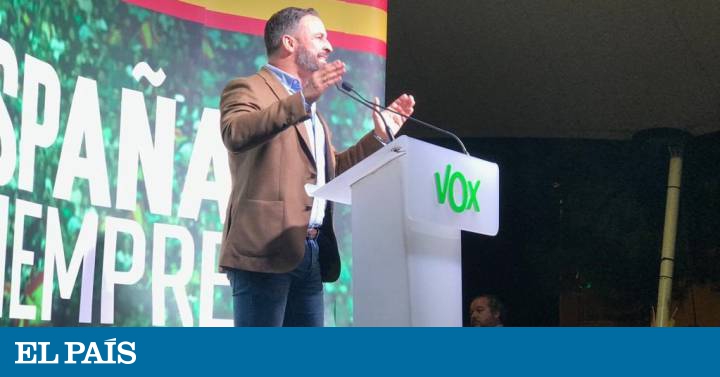 The audience of the electoral debate awaited the dog by Albert Rivera. He had to settle for a cobble and a lapsus by Pablo Iglesias. The most attention to a phrase was taken by Santiago Abascal on Herds and foreigners. In the two previous debates, the only thing remembered is the I don't greet Aitor Esteban, from the PNV, to Espinosa de los Monteros, and the threat of outlaw from Ortega Smith to the PNV.
Except the dog and the cobblestone, Vox wins. And with the dog Lucas, they knew how to take advantage of it with the image of the Tiger from Abascal.
They are scenes that may seem ridiculous or eccentric, but all were trending on Twitter and for many they are the main echo that elections are about to occur. It is impossible to measure the concrete impact these details have on the vote, but drawing attention is key in a campaign. In the Internet era, attention is not drawn so much with epic advertising, proposals for new measures and beautiful posters, but with memes. A meme is visual content of rapid digestion that viralizes in networks.
In Spain, memes have a dominator: Vox. On Facebook we can only keep up, and by far. The rest of the matches have remained in the pre internet era: in the most successful posts of each game on Facebook in all of 2019, the sum of reactions (likes, loves, I don't like it) from Citizens, PP and PSOE represents half of Vox. That is, they can't even compete. This difference is observed even taking into account that traditional parties spent hundreds of thousands of euros on Facebook in the April campaign and Vox, zero. The data collection for the graph was completed the day before the start of this campaign and was carried out for EL PAÍS by the researcher José González Cabañas and the professors of the University Carlos III Ángel Cuevas and Rubén Cuevas.
We can have almost a million more likes on its page than Vox, which with 352,000 is the second page of political party with more "likes". We can is the party that makes more posts, Vox is the least. "We have compiled many more posts by Podemos, followed by PP and PSOE, Citizens, Vox and More Country (the one we have compiled obviously for the short time of existence). And yet it looks like Vox and Podemos have more interactions with their users, "says González Cabañas.
We can have lost the throne of social networks. Although it retains the podium of post of 2019 on Facebook with more shares. It was a speech by Pablo Bustinduy about Venezuela in Congress in February. It is likely that many of those shares came from Latin America. But post with more interactions and more comments is the confrontation of the president of Vox Girona with rapper Valtonyc in Belgium. The only video Another party that approaches these two is from Citizens in April: "Inés Arrimadas defends Spain in the Parliament." Controversies with Venezuela and Catalonia are the dominant political issues on Facebook. It's easy to imagine who has more skills to take advantage of these controversies and create others
"Politics is very boring," says Rasmus Kleis Nielsen, director of the Reuters Institute in Oxford. "The way political parties talk about politics is very boring. It's easy to think why there are politicians who want to be different," he adds. There is a lot of free clue for parties that dare to talk about politics in another way.
During the 2016 campaign in the United States, CNN was criticized for giving Donald Trump plenty of space. The reason was that his presence raised the audience. That the policy raise audiences is news. In social networks it rewards even more. Who has more ability to attract attention, receives more interactions and reaches more public. "Facebook and Twitter reward the ability to achieve interactions. Populist parties have gained a lot of support with interactions," says Nielsen.
Interactions do not automatically translate into votes. Polls give a rise in Vox, but do not give victory. There are cases in other countries of parties with dominance in networks and less than 10% in votes. But a party that manages to keep the attention of the electorate has more options to keep growing. And more, like Vox, which has gone from zero deputies to third force options in six months.
During the last debate, the accounts of the parties fell into retweets with respect to the main debate of 28-A. Vox did not participate in that debate, but last Monday was the second force with more retweets, very close to Podemos. We can have 1.4 million followers on Twitter, while Vox has only 325,000, the formation with less among the big five.
These Vox figures are ridiculous compared to the two platforms preferred by young people: Vox has more subscribers on YouTube (210,000) than the other four big games together. On Instagram, there is little left with its 417,000 to also exceed the sum of the other four. In the most viewed videos or photos with more likes The advantage is extraordinary. Again, the community more excited It doesn't mean getting more votes. But there is no doubt that his messages are part of the public debate in Spain today and are encouraged by his followers.
From meme to meme to the center
How could something like this happen? It is not a Spanish phenomenon. Guillermo Suarez de Tangil, a professor at King's College in London, is one of the co-authors of the investigation deeper on how memes proliferate from communities in the confines of the internet to central social networks. A racist or anti-Semitic meme is an internal joke in dark places on the internet that spreads until it sneaks into Twitter or Facebook. The use of an image or gif is a secret greeting to initiates who suddenly see their decoy spread: it is an indication that thinking forbidden things is no longer so bad. Hence, "faca" is an adjective to wear with pride is a matter of time: one of the most viewed videos on Vox YouTube, with more than half a million views, is titled "Look!"
"Many of the interactions that generate certain ideological movements are first observed in more minority polarized communities," says Suarez de Tangil. From there to the center. This process has been evident in the United States since before 2016. "It is only a matter of time to see if the phenomenon we have observed outside of Spain will be replicated. In Spain, communities such as Forum cars They are very consolidated. More recently, Hispachan (the 4chan alternative in Spanish) seems to be taking traction. One can already find a wide range of memes, both acquaintances how originals ", Explain.
Suárez de Tangil has not analyzed this process in Spain, but it does not seem strange that boiling in hidden communities has allowed to simmer uncomfortable and often crazy beliefs. There they shared, became memes and leaked. It is as if until now the dam of the politically correct had contained the flow. Then came some filtration. Now the cracks can begin.
It is a process of many years, says Suarez de Tangil: "The media battle has been playing for decades and what worries me most is that today participating in this battle is more accessible. We will increasingly see actors with fewer resources, and even others , with direct access to this media battle. "
For traditional actors it is terrible. "Our democracy has become more unstable and popular at the same time," says Nielsen. What exactly is "more popular"? "More open to a wide variety of ways in which ordinary people can participate. That is in itself a force of instability in politics," he adds. It is probably the great debate of our time.
. (tagsToTranslate) electoral battle (t) (t) be (t) attention (t) vox (t) go (t) win (t) data (t) activity (t) network (t) party (t) abascal ( t) productive (t) productive (t) rest (t) training



Source link