The eggplant, the peach and the clown, the most misunderstood emoji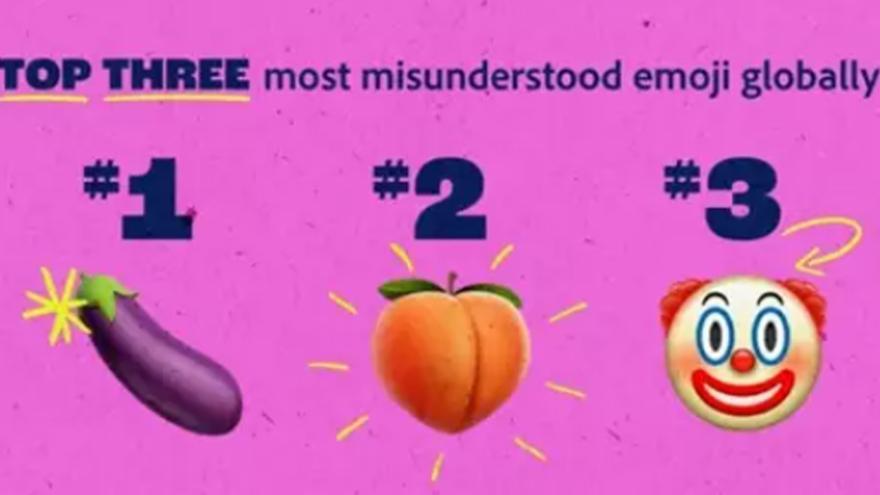 Emojis have found their place in digital communicationl where they contribute to making interaction with other users closer, above language barriers, although there are still some of these elements that have not yet found their recognition, as happens to the eggplant and peach, which are two of the three most misunderstood emojis.
For Paul D. Hunt, a type designer at Adobe and one of the company's representatives in the Unicode consortium, empathy is the most important aspect of communication, something that transcends language and allows you to fully understand what the other person wants to say.
Given the abstraction that language can acquire in digital communication, without seeing the other person's facial expressions or gestures, or hearing their tone of voice, Hunt defends that emoji can help connect more deeply with the feeling behind the messages submitted digitally, as posted in an Adobe post.
In this context, 88 percent of emoji users globally are more likely to empathize with someone if they use an emoji, a fact that emerges from Adobe's report on global emoji trends 2021, in which 7,000 people from the United States, United Kingdom, Germany, France, Japan, Australia and South Korea were surveyed.
More than half of global emoji users feel more comfortable expressing their emotions through emojis than in telephone conversations (55%) and in person conversations (51%).
According to Hunt, emojis give us the opportunity to stop and choose an appropriate image to convey how we feel and how we expect the other party to feel. Even more than half of users (55%) agree that the use of emojis in communications has had a positive impact on their mental health.
Breaking communication barriers
The Adobe study collects that people love to use emojis to express themselves, and that they even help people to overcome language barriers and make connections that would otherwise be more difficult.
Thus, the majority of emoji users agree that emojis make it easier for them to express themselves (90%) and communicate across language barriers (89%), and for 67 percent, people who use emojis they are friendlier and funnier than those who don't.
76 percent say emojis are an important tool in communication to create unity, respect and understanding towards others, a fact that is complemented by the response of 70 percent of users who agree that inclusive emojis can help engage in positive conversations about relevant cultural and social topics.
The favorites and the misunderstood
The face that laughs with tears, the thumb up, the red heart, the face that blows a kiss and the face that cries with a tear are presented as the five favorite emoji among the users of these communicative elements.
However, there are three that have not just found a homogeneous acceptance at a global level: the eggplant, the peach and the clown face rank as the most misunderstood emojis.