The economy creates a million jobs in the last year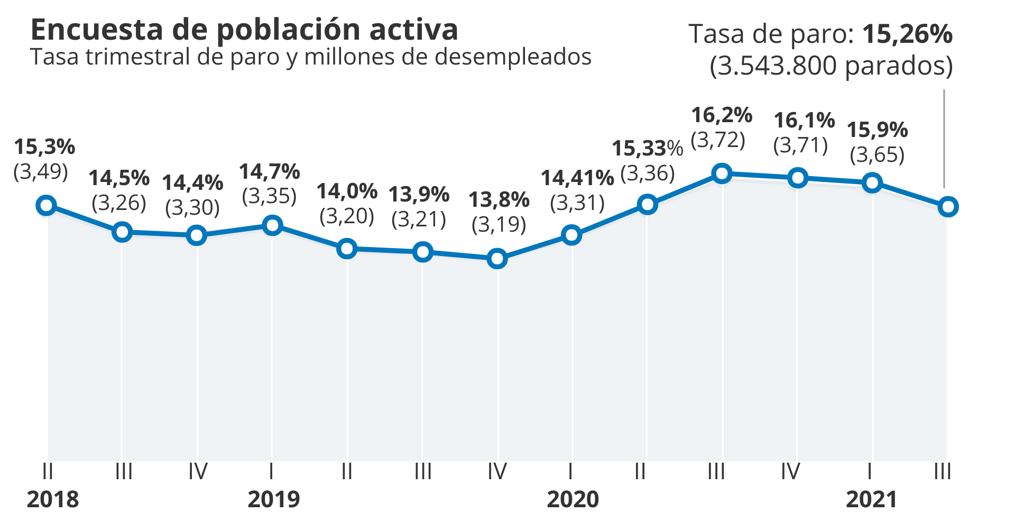 Madrid
Updated:
Keep

The number of employed It has increased by 464,900 people in the second quarter of this year to stand at 19,671,700 people, according to the Labor Force Survey released by the INE (National Institute of Statistics) this Thursday. This represents an increase that was not seen since the third quarter of last year. What's more the number of unemployed has decreased by 110,100 people. Which is the largest quarterly decline in two years. The Spanish economy has created 1,064,400 jobs (5.72% more) in the last year, after the first phase of the pandemic that took the occupation to a minimum due to the restrictions during the first confinement to economic engines such as tourism or hospitality. If we compare it with two years ago, the last year without the shadow of Covid, the number of employed has fallen by 133,300 people.
All this, with the wind favoring the summer, which is traditionally very positive for employment. However, the fifth wave of Covid and the travel restrictions imposed by our main tourist markets such as the British or French leave tourism at half gas while the hospitality industry must also face new restrictions. Namely, the hardest part of the year now comes after the summer truce and the return to the classroom, with the virus returning to do its thing.
For its part, unemployment rate it has stood at 15.26%. Which is barely a drop of six hundredths. Despite the good figures, there are some chiaroscuro that invite to moderate optimism: Between April and June, the number of wage earners has grown by 403,200. Of all of them, only 98,100 signed an indefinite contract and 305,000 who did so with temporary contracts, with which the high temporality continues to be very present in the Spanish labor market. Compared to a year ago, employed workers have grown by 980,600 people, although 666,500 did so through a temporary contract. In parallel, the number of self-employed has risen by 71,800 people and if we compare it with the last 12 months, this figure barely reaches 78,000 autonomous people. This is precisely one of the groups hardest hit by the health crisis.
What's more, There are still 1,157,900 households with all their active members unemployed despite the fact that these have decreased by 68,400 this quarter and increased in annual comparison by 9,100. Of these, 328,900 are sole proprietorships. At the other extreme, the number of households with all active members employed has also grown by 182,000, standing at 10,601,600.