The earthquakes have fallen to 18 in La Palma since last midnight, the highest of 3.5 magnitude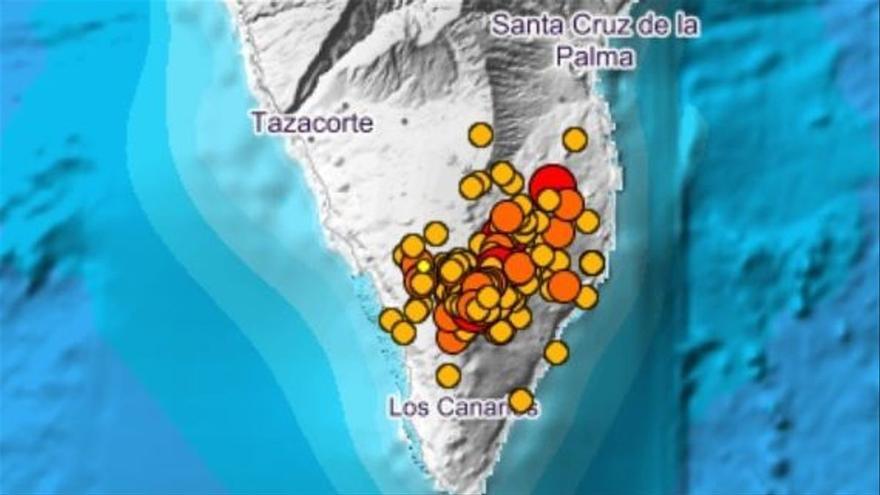 The National Geographic Institute (IGN) has located since last midnight and until 08.30 hours about 18 earthquakes in La Palma, below the 42 that were notified last the same period of this Saturday or the 20 that were between the dawn and the first hours of the morning of Friday.
In this sense, up to three of these movements reaching 3.5 of magnitude, one of them at a depth of 38 kilometers (02.42 hours) in Mazo and the other two between 12 and 13 kilometers (00.37 and 04.14 hours) in Fuencaliente.
For its part, the latest report from the National Security Directorate (DSN) states that the La Palma volcano has exceeded the emission of 10 million cubic meters of pyroclasts, so the Pevolca Scientific Committee decided yesterday Saturday to increase the magnitude volcano levels 2 to 3, which does not imply changes in the eruption.
Likewise, and taking into account the information from Pevolca, the three lava wash fronts that were in the day this Friday are still active but with less activity.
In this way, the one that runs between zones four and seven is occupying new ground and has advanced 130 meters until this Saturday morning; while on the emission centers, there are several assets with a variable activity of both pyroclasts and gases as well as lava.