The dilemma of staying with her husband in Wuhan or riding a plane back to Spain | Society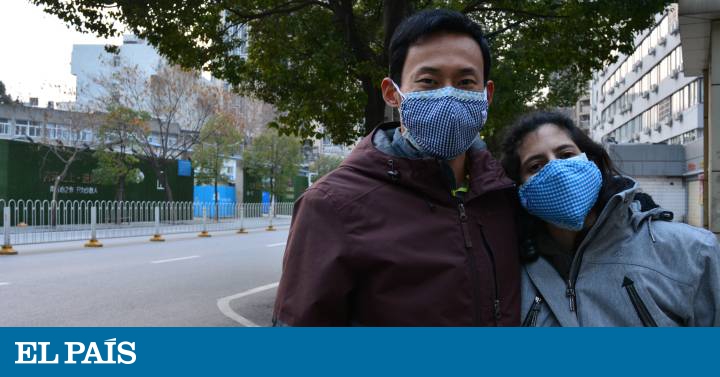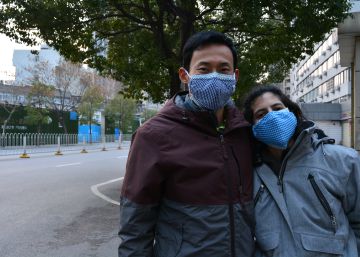 They had just woken up when Sun Naitian proposed to Dácil Sánchez. They were still in pajamas and with the first morning coffee in hand, so she had a hard time reacting. At first he thought it was a joke. But as soon as he realized that the thing was serious, his answer came out spontaneously: yes. Today, after two years married, Dácil is corroded by a much more complicated dilemma.
The couple lives in Wuhan, epicenter of the outbreak of the coronavirus 2019-nCoV which according to official data already leaves more than 131 dead and more than 5,300 infected. In recent days, the Government has launched an operation to repatriate the Spaniards trapped in the city, quarantined since last Thursday 23. Their Asian counterparts, however, have been blunt: no Chinese citizen will be evacuated. Dácil, therefore, has to choose. Or escape the starting point of a global pandemic, leaving her husband behind without knowing when he will see her again; or stay in Wuhan next to him, not knowing when they can leave.
"It's the first time we left home in four days," they say after greeting. The couple lives on the other side of the Yangtze River, in the Wuchang District, far from the original focus of the infection. Maybe that's why there are some pedestrians on the street, not many. He is 31 years old and she is 26. Through their masks, their faces can barely be distinguished: they wear two, one on top of the other, a protective resource that has become common in recent days. We are heading to a restaurant in the area, without customers, where they share their history. While they do they shake hands.
8 years ago, Sun Naitian, a boy from Chifeng, a small city - only by Chinese standards: it has 4.3 million inhabitants - from the province of Inner Mongolia, decided to emigrate to Beijing in search of work. Naitian had a degree in chemical engineering but was forced to do all kinds of work to get ahead: waiter, photographer, radio host, personal trainer. It was in the gym where he met Dáci Sánchez, a girl from Santa Cruz of Tenerife that in 2014 he had just moved to Beijing with his family. When her parents returned to Spain, she had to choose what to do. On that occasion he chose, "for love", to stay with him.
Dácil and Naitian mix Chinese with Spanish and even English. They understand each other. Together they moved to Wuhan a couple of years ago. Here she ran the only Spanish restaurant in the city, Alioli, until a year ago a municipal regulation threw down the street where the store was located. Since then, he has been giving private lessons in Spanish. None of his students are infected, "fortunately." Sun is in charge of a restaurant hot pot or Mongolian cauldron, a traditional Chinese meal. He works 12 hours a day and rests one day a week. This was the aspect of his normality, until it broke.
The appearance of the coronavirus caused a stampede in the city. "Around Monday 20th, people started to leave, lots of people. The subway was all suitcases, "recalls Dácil. On Wednesday 22, one day before the quarantine was decreed, they went to buy food for what might happen. They did well: "If you go to the market now you will not find fruit or vegetables, and that if it is open, because a majority are closed." "In those days people queued to buy masks, in some places they came to sell them for 30 euros (230 yuan, when their usual price is around 30)." Speculation is over when the government intervened to guarantee supplies of essential products and price stability.
"They told me that the Consulate was looking for Spaniards residing in Wuhan, so I contacted them and then explained our situation," she explains. However, the refusal of the Chinese authorities to have all persons considered nationals of their country evacuated has been resounding from the outset, as the Consulate reported today in a communication sent to the trapped Spaniards. This affects both Chinese spouses and children with dual citizenship, a concept that Chinese law does not recognize. Although these figures have not received official confirmation, this could be the case for up to 6 families.
"We are going to try until the end, I still have hope." The consular text made it known that they were still engaged in negotiations with the competent Chinese authority. In the event that there is no luck, Dácil and Naitian believe they have already made a decision: "If we do not succeed, I will leave alone, but I will do it with a very bittersweet feeling. It's very good to get out of here, but leaving your family behind is very hard, "he says.
"Every day I ask myself the same questions and I never find an answer, it's very frustrating." Docil curled his hair nervously. "If I leave and something happens to him, what are we going to do? I will be in Spain and from there I could do nothing. " Naitian, on the other hand, encourages his wife to leave. "Even if they don't leave me, she should leave anyway. This way your family will be calmer when you know that it is ok. "
The dilemma has another dimension: once they say goodbye, they will not know for sure when they can see each other again. "This outbreak has been underway for more than a month and it is not known how long it will last," says Dácil. "If I leave here, I will most likely have to spend a quarantined season, but even after that, I still don't know when I will be able to return." In the case of SARS, for example, the outbreak took seven months to stabilize. "We don't know how long we will be without seeing each other or what will happen next." When at the end of the week, if everything goes well, the repatriation starts, Dácil will have to choose: a plane back to Spain or her husband.