The dependency system suffers the first setback since 2015 | Society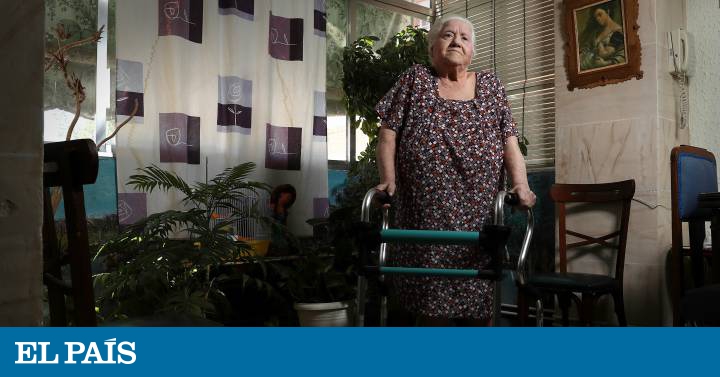 The anguish of families does not understand coalition or cooperation governments. Nor of Portuguese pacts. He does know about numbers: those who strangle dependency in Spain. So much so that the waiting list has increased these first six months of the year, something that has not happened in a semester since 2015. More than 256,000 people are waiting to receive help. Another 139,000, to be valued to know if this law that is screaming for more resources recognizes the right to a benefit. Funding is the great Achilles heel of a norm that was born in 2006 and has not finished deploying. He has not yet recovered from the 2012 cuts. The inability to form an executive condemns the sector to more paralysis.
If the data are studied by semesters, the decline in 2019 is observed. From January to June, the waiting list has risen by 6,700 people. Applicants and beneficiaries have been increasing in recent years, reaching more than 1.8 and about 1.6 million. But so far the system has been absorbing them, the balance from January to June or from July to December was negative. For the first half of 2018, for example, the waiting list was reduced by 21,000 people. This trend slows. You have to go back to the second half of 2015 to see an increase, due to the incorporation of mild dependents, who until then had not been able to submit their applications. Now the main obstacle is financing.
The fear of Antonio Miguel Comín is increasing. When he says goodbye to his mother, he leaves thinking about what can happen to him. Emiliana Hernández, who turned 90 this Friday, lives alone. She is diabetic, hypertensive, has an Alzheimer's principle, kidney problems, her son says, 51. "It has already happened to us that when we arrive in the morning we have found her without reacting, half dead. They have given him two hypoglycemia, "he laments. Therefore, in December they agreed to apply for a place in a public residence. "Now we have a benefit for care in the family environment. Especially my sister takes care of it. I help her, "continues this man, from Alcazar de San Juan (Ciudad Real) and is autonomous. The day sometimes lacks hours. "It's complicated. We have a daughter with intellectual disability that requires constant attention, "he says. "And my mother is deteriorated and older. 15 days ago we were told that I was on the waiting list, "says Comín.
The most serious
She is one of the severe or big dependents, the most serious, waiting to be taken care of. "At the end of 2018 there were about 98,000. In June there were almost 105,000. This is the biggest drama. Although the beneficiaries rise, the autonomous communities have prioritized the less serious ", explains José Manuel Ramírez, president of the Association of Directors and Managers of Social Services, experts in the sector. "If we add those who are on the waiting list and take into account that approximately 80% waiting to be assessed will be recognized, there are 368,000 people without attending."
Although the powers are transferred, the Government must co-finance the system at 50% with the communities. It only contributes 20% of public spending. Last year they budgeted 1,330 million euros. Since 2012, the cumulative cut to autonomies exceeds 3,000 million, According to this association. "While we continue with political blockade, without easing the burden of communities, more than 80 people on the waiting list die a day," says Ramírez. "They shouldn't go on vacation until they form an Executive to avoid this."
The system missed an injection of 515 million when Pedro Sánchez did not obtain the support to the accounts agreed with United We can. If the new Government is formed in August, it could allow time to have a new budget for 2020. If not, it is more than likely to renew it again for 2018, which has also been in force this year. Sources of the Ministry of Health point out that the dependency is "a priority", "as it was evident in the budgets" and with the recovery of the payment of the Social Security contribution of family caregivers.
"It takes money. If a rule has no funding, it ends up dying alone. Putting it back on its feet will cost, "replies Aurelia Jerez, president of the State Coordinator of Platforms in Defense of the Unit. During Sanchez's term, the games have not been uploaded. "We have stayed at the doors," recalls Ramírez. "First, the Government paralyzed the small climb that was going to take to the Territorial Council of Social Services (where communities and ministry meet) because it transcended which was the same as Rajoy's Executive raised. Then we run out of budgets. Then we live pending social Fridays without a decree that gives oxygen to the system. And now we remain without an executive, "he enumerates.
"You feel a lot of frustration," says Laura Clemente, a 34-year-old from Madrid. He took care of his mother since he was 18, when he suffered the first stroke, until he died, in June 2018. The woman was 59 years old. It was valued with a grade two (there are three), entitled to four hours of home help and 127 euros per month for family care. In 2017 he had another stroke and asked for a new assessment. "He could not walk or hold on. His house was adapted and I, with my administrative salary, could not do work, buy a wheelchair or an antiescaras mattress, "he continues. So she and her brother carried her freehand. 90 kilos
"We used the computer chair, with wheels, to take it to the lounge. If he fell, my brother would put a cushion under his head and wait for me to arrive from work to lift it between the two, "Clemente recalls. "We needed someone to help us. But the letter that recognized her as a great dependent arrived after her death. The law is wet paper without funding. Are you alone. Everyone turns their backs on you. "
The quoted caregivers are quintupled
The number of non-professional caregivers discharged from Social Security has more than quintupled since April 1, when the decree law came into force by which the State began to pay the fees. Until that day, and after the 2012 cuts, it had fallen on family members who had a dependent person at home. The government measure amounts to 315 million euros.
As of March 31, 7,304 people were discharged. Now more than 40,000 are quoted – almost 90% are women -, according to data from July 9 recently released by the Government. The figure contrasts with the more than 415,000 dependents who receive this benefit. Before Mariano Rajoy's snip, more than 170,000 caregivers were discharged. "We ask the communities to campaign, to notify social services and explain the procedure to those who can benefit from the measure," says José Manuel Ramírez, president of the Association of Directors and Managers of Social Services.
. (tagsToTranslate) system (t) dependency (t) suffer (t) first (t) setback (t) 2015 (t) January (t) June (t) list (t) wait (t) go up (t) 6,700 ( t) person (t) overcome (t) 256,000 (t) lack (t) government (t) approve (t) new (t) budget (t) advocate (t) sector (t) paralysis



Source link