The demonstration for life brings together 20,000 people in Madrid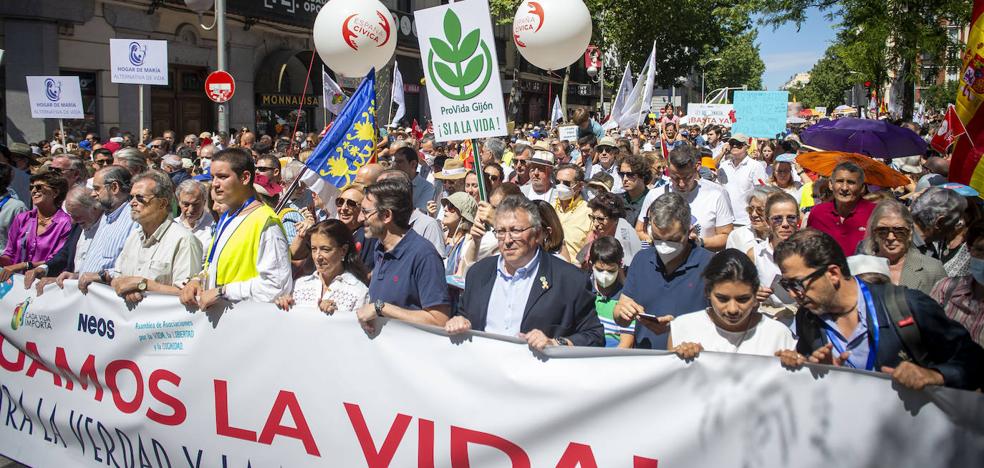 The attendees, summoned by an organization promoted by Mayor Oreja, charge against the Government's abortion and euthanasia laws
The demonstration in defense of Life and Truth held this Sunday has brought together 20,000 people in Madrid, according to the Government Delegation. The march, which has passed through Plaza de Colón and Calle Génova in the capital, had been called by more than 200 civil society entities led by NEOS -the cultural alternative based on Christian foundations, promoted by former Interior Minister Jaime Mayor Oreja-, the Assembly for Life, Liberty and Dignity and the Platform Every Life Matters, to protest against the abortion and euthanasia laws, and against the "totalitarian nature" project of the Government of Pedro Sánchez.
In his speech, Mayor Oreja welcomed the decision of the Supreme Court of the United States to ban abortion because "the culture of life will always win over the culture of death". "Today we demonstrate not against those who govern us, but against those who are rather inventors, who generate occurrences more than laws, and who do not seek the common good but rather that the Spanish confront each other for their arguments," said the Ex minister.
The leader of Vox, Santiago Abascal, has joined the act, "as one more" to "be with society defending those whom nobody defends" and "against a government that is committed to the culture of death."
«It seems important to me to always support the causes of the weakest and support the right to life, in the face of a government that is committed to the culture of death in all aspects. I prefer to be with society as one more defending those whom nobody defends at the moment," Abascal told Europa Press.